Ex-U.S. General Urges Against Finger Pointing Over Chinese Spy Balloon
Retired U.S. Army Lieutenant General and former National Security Advisor H.R. McMaster urged against finger pointing among Americans after a Chinese spy balloon was shot down by the U.S. military.
"Let's blame the Chinese Communist Party [CCP]. Let's stop pointing fingers at each other. We're on the same side," McMaster, who served as national security adviser in former President Donald Trump's administration, said during an interview with CBS News' CBS Mornings.
"I'm hoping that we can all come together and this is really one of the few areas...everything is so partisan these days, everything is so political. This is one of the areas where there's a really high degree of consensus. Maybe we ought to point fingers at the Chinese Community Party instead of at each other."
McMaster's comments came shortly after U.S. President Joe Biden confirmed that members of the U.S. military shot down the Chinese spy balloon that was seen flying over parts of the U.S.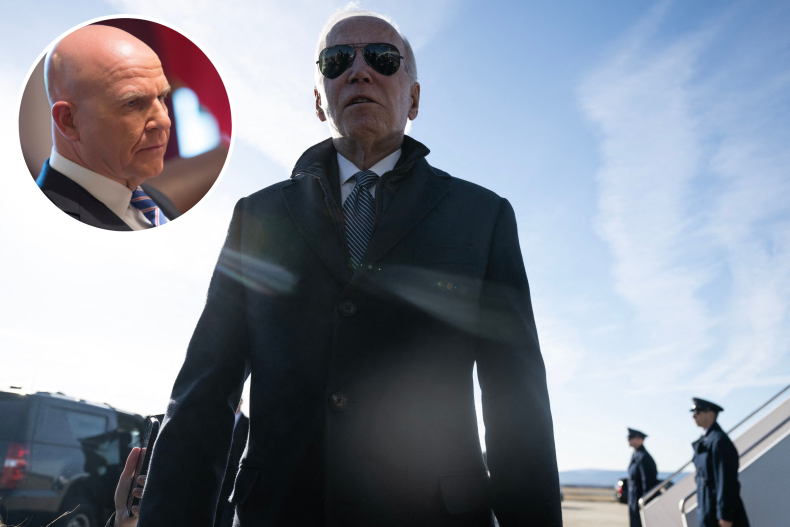 "On Wednesday, when I was briefed on the balloon, I ordered the Pentagon to shoot it down, on Wednesday, as soon as possible. They decided—without doing damage to anyone on—on the ground...they decided that the best time to do that was as it got over water, outside—within our—within the 12-mile limit," Biden told reporters on Saturday. "They successfully took it down. And I want to compliment our aviators who did it. And we'll have more to report on this a little later."
Prior to Biden's remarks on Saturday, he was criticized by many Republicans for not taking swifter action.
"President Biden should stop coddling and appeasing the Chinese communists. Bring the balloon down now and exploit its tech package, which could be an intelligence bonanza," Republican Senator Tom Cotton wrote on Twitter.
House Speaker Kevin McCarthy said: "China's brazen disregard for U.S. sovereignty is a destabilizing action that must be addressed, and President Biden cannot be silent."
Trump also railed against the balloon in a series of posts to his Truth Social account.
"The Chinese Balloon situation is a disgrace, just like the Afghanistan horror show, and everything else surrounding the grossly incompetent Biden Administration," he wrote. "They are only good at cheating in elections, and disinformation—and now they are putting out that a Balloon was put up by China during the Trump Administration, in order to take the "heat" off the slow moving Biden fools. China had too much respect for "TRUMP" for this to have happened, and it NEVER did. JUST FAKE DISINFORMATION!" Trump wrote.
On Monday, the Chinese Foreign Ministry responded to reports that the balloon was shot down and said that it was a "civilian airship."
"As a responsible country, China strictly adheres to international law and respects the sovereignty and territorial integrity of other countries," Chinese Foreign Ministry spokesperson Mao Ning said.
"As history shows, it is the U.S. that has repeatedly trampled on international law and violated the sovereignty and territorial integrity of other countries. The Chinese side has made it clear that this is entirely an unexpected, isolated incident caused by force majeure. The U.S. side's deliberate hyping up of the matter and even use of force are unacceptable and irresponsible."
Newsweek reached out to the White House for comment.