'Explore America' Tax Credit 'Crazy' Idea for Next Stimulus Bill: Economist
A tax credit proposed for the next stimulus bill which would see households able to claim back travel costs within the United States has been dismissed by economists.
The "Explore America" measure, mentioned by President Donald Trump in a roundtable with restaurant executives earlier this month, could see people able to claim for expenses on domestic travel up to $4,000 per household.
A document pitching the idea, from the U.S. Travel Association, suggested this to be in the form of a tax credit worth up to 50 percent of travel costs up to the $4,000 amount, in order to boost industries and the economy amid damage caused by the COVID-19 pandemic.
It said expenses should cover costs for items and services such as meals, accommodation and transportation within the United States.
Trump said the Explore America tax credit would be one "Americans can use for domestic travel, including visits to restaurants" and said it would be "a big deal."
With a further bill remaining stalled in Congress, after the Senate halted the House-approved HEROES Act, economists have expressed reservations over the tourism tax credit.
Mark Gertler, Henry and Lucy Moses Professor of Economics at New York University and a research associate of the National Bureau of Economic Research, told Newsweek: "A tax credit for tourism strikes me as crazy. The best way to help the economy would be to bring the virus under control. Encouraging tourism would seem to do just the opposite. Aid to state and local governments, along with streamlined extensions of unemployment insurance aid to small businesses strikes me as a more efficient use of stimulus funds."
Kenneth Rogoff, economics professor at Harvard University and former chief economist at the International Monetary Fund, said the idea may be being touted to soon.
"Americans love to travel and love to eat out, so there is huge pent-up demand. But as the lockdowns ease, it is fear of the virus that will hold people back, and sensibly so. In fact, the faster long-distance travel resumes, the harder it will be to contain the next waves of the pandemic," Rogoff told Newsweek.
He said that once an "all clear" signal is indicated by health authorities there may be a case for helping industries impacted by the decline in domestic tourism, but said "right now this idea seems premature."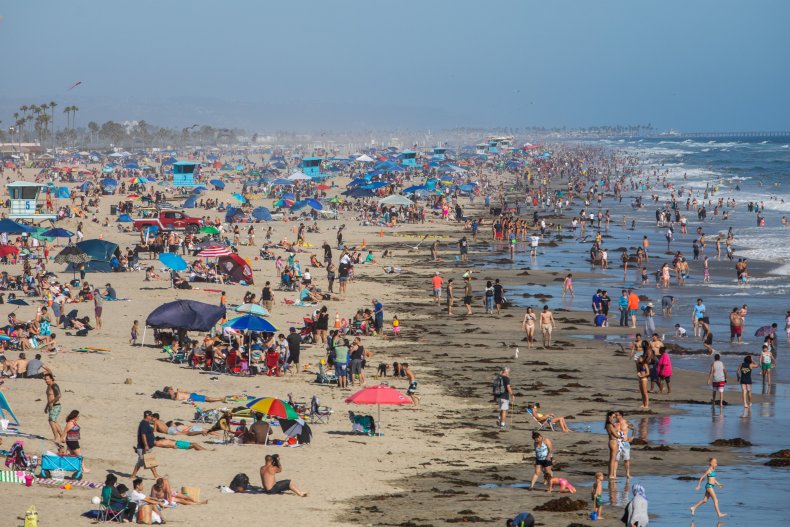 Barry Ickes, the department head of Penn State University's Department of Economics, agreed with Gertler that support in unemployment benefits might be a better course of action at present.
Commenting on Explore America proposal he told Newsweek: "I do not think it is a great idea. I am not in favor of sectoral subsidies. I think help should go to extended unemployment benefits."
Newsweek has contacted the White House for comment.
The mention of further unemployment benefits comes with a boost on such payments, made under the CARES Act, due to expire at the end of next month with no further package as yet approved.
Lawmakers want to see a further stimulus bill to address the impacts of the coronavirus pandemic, likely the last, passed by Congress before those measures expire.
Unemployment figures continue to rise at exacerbated rates compared to figures pre-pandemic, with the amount of jobless claims last week seven times higher compared with early March.
Both chambers of Congress and the White House all seem to agree a further stimulus bill is needed. The House narrowly approved the $3 trillion HEROES Act, Senate Majority Leader Mitch McConnell (R-KY) has indicated another measure is on its way and White House advisers have also suggested they see further relief as necessary.
However, there still remain points of disagreement as to the size of the bill, what issues it should address and how to do so. The GOP leadership in the Senate previously called for pause, to see the impact of previous action, while Democrats have pushed for immediate action.
As the U.S. continues to return to normality, with every state in phases of reopening, COVID-19 numbers across the nation continue to rise.
According to Johns Hopkins University figures, more than 2.2 million cases have been confirmed since the beginning of the pandemic.
The below graphic, from Statista, shows the states with the highest number of cases as of June 22.