Ezra Miller 'Unlikely' to Serve 'Significant Jail Term' After Arraignment
Ezra Miller may not spend much time behind bars, if any, after pleading not guilty on Monday to felony burglary and petit larceny charges in Vermont, a former federal prosecutor told Newsweek.
The Flash star, 30, who is non-binary and uses they/them pronouns, appeared virtually in Bennington Superior Court for an arraignment stemming from the May incident in which they allegedly took bottles of alcohol from a man's home.
As part of Miller's plea, they agreed to conditions that they will not have any contact with the homeowner or go to the residence.
Miller's attorney, Lisa B. Shelkrot—who appeared alongside Miller on video—said in a statement, "Ezra Miller this morning pled not guilty to one count of burglary and one count of petit larceny in Vermont Superior Court and accepted the court-imposed conditions of not contacting or entering the home of the inhabitants."
Shelkrot continued, "Ezra would like to acknowledge the love and support they have received from their family and friends, who continue to be a vital presence in their ongoing mental health."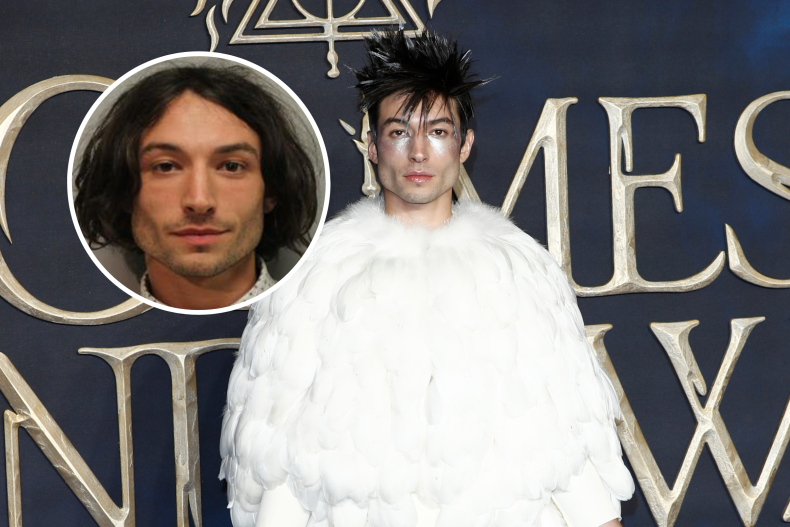 On May 1, Vermont State Police said it was alerted of a burglary in Stamford at around 5:55 p.m. local time.
"The initial findings indicated that several bottles of alcohol were taken from within the residence while the homeowners were not present," VSP said in a press release at the time.
Upon further investigation, including looking at surveillance footage and obtaining statements, they said they had probable cause to charge Miller with a count of felony burglary into an unoccupied dwelling.
Authorities located the Fantastic Beasts actor on August 14, and they were summoned to attend a hearing in Vermont Superior Court.
The next court hearing in the case is set to take place January 13.
The alleged burglary occurred after the Perks of Being a Wallflower alum was charged with disorderly conduct for causing a disturbance at a karaoke bar in Hawaii. Miller pleaded no contest to the charge, and a judge sentenced them to a $500 fine.
Following a slew of arrests and erratic behavior from the troubled star, former federal prosecutor Duncan Levin told Newsweek that prison may not be the right fit.
"The charges, which involve just a few bottles of stolen liquor where no one was harmed, are relatively minor," he explained. "That said, they come amid allegations of a series of other unrelated unlawful activities."
"It is clear that the actor is going through a hard time right now. All of Ezra Miller's recent behavior points to some serious mental health issues, and that should be mitigating to the court," Duncan continued.
"It is exceedingly unlikely that the case will result in any significant jail term, and, to the extent that he is convicted, Miller will be much better served by an alternative to incarceration that addresses his issues. The statutory maximum of 25 years will not in a million years apply to this case."
Miller issued a statement in August apologizing for their actions.
"Having recently gone through a time of intense crisis, I now understand that I am suffering complex mental health issues and have begun ongoing treatment," they told Variety. "I want to apologize to everyone that I have alarmed and upset with my past behavior. I am committed to doing the necessary work to get back to a healthy, safe and productive stage in my life."
Despite the controversies, Miller's forthcoming film The Flash is still scheduled for a 2023 release.
Correction 10/19/22 2:43 a.m. ET: This article was updated to correct that Ezra Miller pleaded not guilty.