Johnny Depp May Return to 'Fantastic Beasts' Post-Court Win—Mads Mikkelsen
Mads Mikkelsen has teased Johnny Depp may return to the Fantastic Beasts franchise after the star said he was asked to quit the film series.
The Danish actor replaced Depp as the dark wizard Gellert Grindelwald in 2020 after Depp lost his libel case over over domestic abuse allegations stemming from his marriage to ex-wife Amber Heard.
Depp played Grindelwald in the first two films of the Harry Potter spin-off franchise, Fantastic Beasts and Where to Find Them and Fantastic Beasts: The Crimes of Grindelwald. Mikkelsen stepped in for the third installment, Fantastic Beasts: The Secrets of Dumbledore, which hit theaters in April 2022, just before Depp's highly publicized trial began.
But Depp could be making a comeback to Fantastic Beasts following his win in a $50 million defamation lawsuit against Heard in June.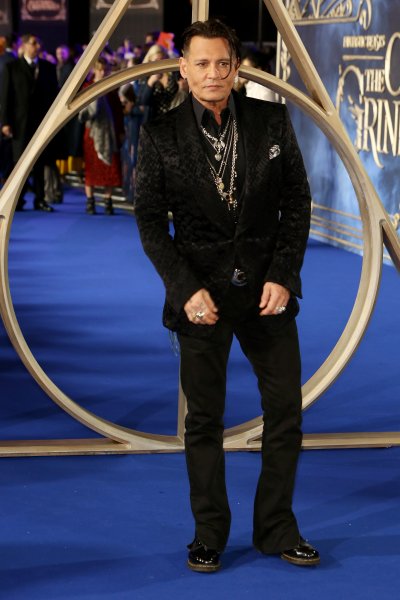 Mikkelsen hinted the door could be open again for Depp after his headline-dominating court battle.
"Obviously, well, now the course has changed—he won the suit, the court [case]—so let's see if he comes back. He might," Mikkelsen said at the Sarajevo Film Festival, as reported by Deadline.
The Hannibal actor also heaped praise on Depp, saying "it was intimidating" to take over the role from the Hollywood star.
"I'm a big fan of Johnny. I think he's an amazing actor, I think he did a fantastic job," he said. "Having said that, I could not copy it. There's there was no way I could just copy it, because it's so much him. It would be creative suicide.
"So, we had to come up with something else, something that was mine, and build a bridge between him and me. So, yes, it was intimidating."
Depp and Heard have been embroiled in legal battles since she filed for divorce in 2016.
Depp sued the U.K.'s News Group Newspapers, its flagship newspaper The Sun and its executive editor Dan Wootton after it labelled him a "wife beater" and claimed he had abused Heard. The headline of the 2018 article read: "Gone Potty: How Can J.K. Rowling Be 'Genuinely Happy' Casting Wife Beater Johnny Depp in the New Fantastic Beasts Film?"
But the British court ruled in favor of the newspaper, with the judge calling The Sun's words "substantially true." In the days following the ruling—and one week into filming the third Fantastic Beasts film —Depp announced on Instagram he would be stepping down as Grindelwald.
Part of the lengthy statement read: "I wish to let you know that I have been asked to resign by Warner Bros. from my role as Grindelwald in Fantastic Beasts and I have respected and agreed to that request."
Depp added: "The surreal judgement of the court in the U.K. will not change my fight to tell the truth and I confirm that I plan to appeal."
Warner Bros. also confirmed Depp's exit, saying in a statement: "Johnny Depp will depart the 'Fantastic Beasts' franchise. We thank Johnny for his work on the films to date."
Depp would go on to sue Heard for defamation in a Virginia court over a 2018 op-ed about domestic violence that many assumed referred to events that took place during their marriage. In June, a civil jury reached a verdict in favor of Depp and awarded him a total of $8.35 million. The judge lowered the punitive award and figured in $2 million the jury awarded to Heard in her countersuit for nuisance.
Both parties filed separate appeals within days of the verdict.
Depp quickly returned to work following his victory, first releasing an album with Jeff Beck and touring Europe with him.
He then signed a new multi-year deal with Dior as the ongoing face of its Sauvage men's fragrance.
The actor was also spotted in costume as King Louis XV in French director Maïwenn's historical feature Jeanne du Barry, which will be Depp's first major film role in three years. This week Depp also confirmed his return to directing after 25 years to helm a biopic entitled Modigliani.
"The saga of Mr. Modigliani's life is one that I'm incredibly honored, and truly humbled, to bring to the screen," Depp told The Hollywood Reporter. "It was a life of great hardship, but eventual triumph—a universally human story all viewers can identify with."
Fantastic Beasts: The Secrets of Dumbledore is available to stream exclusively on HBO Max now.