Seven Trial Moments That Helped Johnny Depp Triumph Over Amber Heard
Legal experts weighed in to determine the moment that won the defamation trial for Johnny Depp against his ex-wife Amber Heard.
Depp sued Heard for $50 million in damages after Heard wrote a 2018 op-ed stating she was a survivor of domestic abuse. She never mentioned Depp by name, but his team claimed it was suggested that it was him, causing defamation and affecting his career. Heard countersued her ex-husband for $100 million.
The trial took place in the Circuit Court in Fairfax County, Virginia, from April 11 to May 27. Depp was awarded $10 million in compensatory damages and $5 million in punitive damages following the jury's verdict Wednesday afternoon.
Judge Penney Azcarate lowered the punitive award to $350,000 per Virginia's legal maximum. Meanwhile, Heard was awarded $2 million in compensatory damages in her countersuit.
"The disappointment I feel today is beyond words. I'm heartbroken that the mountain of evidence still was not enough to stand up to the disproportionate power, influence, and sway of my ex-husband," Heard said in a statement following the verdict.
Here are seven moments from the Depp vs. Heard trial that might have won the case for the Pirates of the Caribbean star.
1. Depp's testimony on finger
Much had been made of Depp's severed fingertip that happened while the former married couple were in Australia. Depp claimed his finger severed after Heard threw a vodka bottle at him, though Heard maintained it was self-inflicted.
Attorney Alan Holcomb of Turnbull Law Firm believes this focus on the finger incident by Depp's team had a purpose. "In addition to Depp's extensive testimony on the alleged incident, the jury saw graphic evidence of Depp's finger injury and heard expert testimony from both sides. While Heard argued Depp's injury was self-inflicted, Depp had the last word."
Holcomb continued: "His testimony that he would never compromise his ability to play the guitar appeared reasonable and credible. Of course, you would expect Heard's team to address the finger injury. But, the resources and time devoted by both sides to addressing Depp's alleged injury suggest the attorneys thought the jury found this incident important."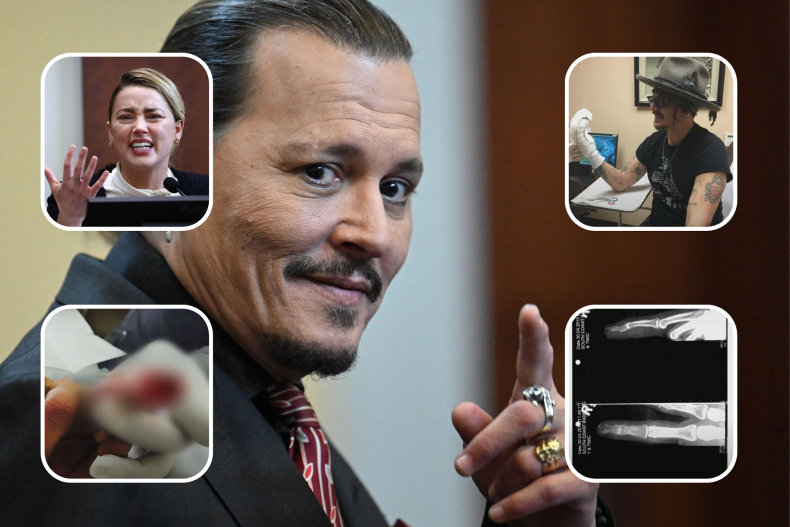 2. Heard editing photos
Heard's team showed multiple examples of photographic evidence of bruises to her face and body that they claim were caused by Depp.
One set of photos, in particular, caught everyone's attention as Depp's team claimed that Heard had edited a picture to make her injuries seem worse. Heard said that they were two separate photos taken—one with a light on, one without.
In the final week of testimony, Depp's team called a metadata expert to the stand to weigh in. Norbert "Bryan" Neumeister said that all three files "don't match forensically" and all "had to go through some type of transformation to change sizes."
Through Exif data analytics, some of the photos, Neumeister explained, showed that the software for the file was not from an iPhone, but that it was rendered in an editing program.
3. Swaying the court of public opinion
"The Depp team has been extremely effective in the court of public opinion," said Halim Dhanidina, a partner at the law firm Werksman Jackson. "[They have] leveraged their natural advantage of Depp's popularity and the goodwill he has built up over his career."
The Depp and Heard trial had been a huge trending topic online throughout the proceedings. However, support for Depp had vastly outweighed support for Heard online. Minor moments had gone viral from the case, and even Depp's lawyer, Camille Vasquez, was singled out for praise by millions online.
Discussing Depp's legal team, Dhanidina said: "They have successfully made this case about the simple question of whether Heard is a liar. This strategy was very smart as it clearly resonated with the jury and allowed Depp to avoid some of the legal hurdles of proving defamation.
"All they had to do was show Heard was lying about anything in the case. The wider the range of topics covered in the trial, the more vulnerable Heard became because of this strategy," he said.
4. Multiple audio recordings
Hours of video and audio recordings were played for the court throughout the trial. Much of it was taken by Depp and Heard themselves during their marriage.
There have been multiple accusations of physical violence made throughout the trial, and some of the audio recordings feature admissions of violence.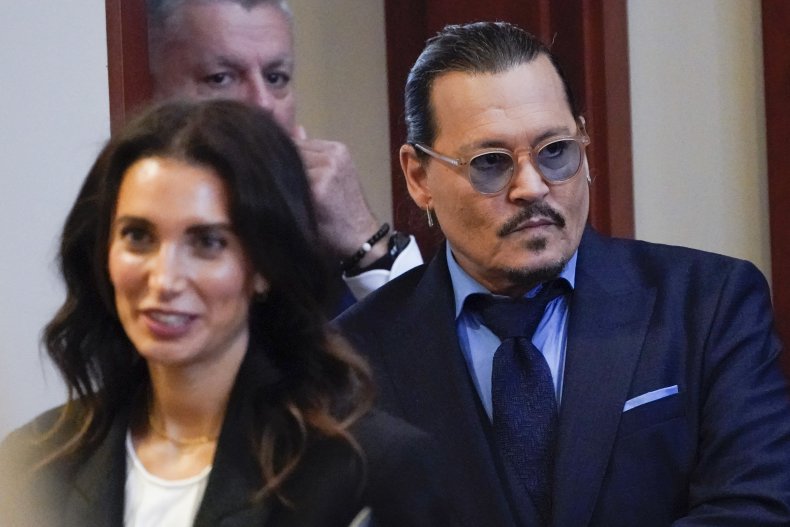 During an argument towards the end of the marriage, Heard appears to taunt Depp over the phone.
"Tell the world, Johnny. Tell them, 'I Johnny Depp ... am a victim of domestic violence,' ... and see how many people believe or side with you," Heard told Depp in the recording.
When his lawyer asked Depp what he said in response to what Heard said about him being a victim of domestic abuse, Depp said he answered: "Yes, I am."
5. Heard's one-sentence slip-up
One sentence spoken by Heard in court could have cost her the whole case, according to one lawyer. In the final week of the trial, Heard told the court: "I know so many people will come out and say whatever for him. That's his power. That's why I wrote the op-ed. I was speaking to that phenomenon."
David Lin, an attorney in New York who specializes in defamation law, believes that Heard's motives for writing the piece are more important than whether she actually wrote it or not.
"In terms of her potential liability, Amber Heard's motive for writing the op-ed is somewhat relevant, but it isn't really a main issue," Lin earlier told Newsweek, prior to Wednesday's verdict announcement.
"In order for Johnny to win his case, he needs to prove that Amber wrote the op-ed, that her statements were false and were about him, and that they injured his reputation."
Lin suggested the acknowledgment of Depp's power could imply jealousy, spite or ill will. He summarized before the verdict: "If Johnny wins the case, then Amber's motives for making the statement (including a desire to undermine his power) can be extremely relevant for an award of punitive damages."
6. Kate Moss testimony
The sensational celebrity trial got even bigger towards the final days of the trial as supermodel Kate Moss was called to testify on behalf of Depp. Earlier in the trial, Heard had testified that she often thought of Moss, Depp's ex-girlfriend, and a rumor that he had thrown her down a flight of stairs in Jamaica. At that time, Depp's attorney, Ben Chew, appeared to celebrate her bringing it up.
Moss appeared for a short but memorable four-minute virtual testimony as she denied those rumors. She was asked about a specific holiday the former couple took in Jamaica during that time. Moss testified that as she left their room, she slid on some wet stairs.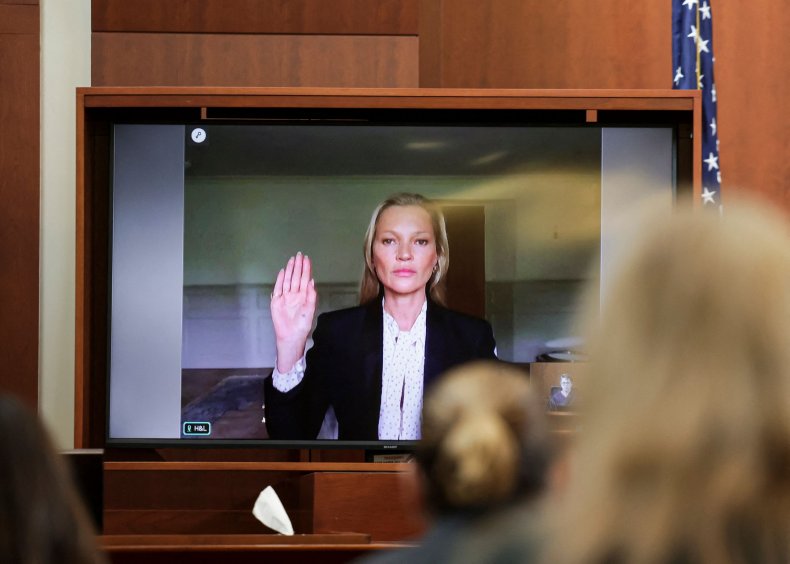 "I screamed because I didn't know what happened to me and I was in pain, and he came running back to help me and carried me to my room and brought me medical attention," Moss testified.
Denying any moments of violence in their relationship, Moss said: "He never pushed me, kicked me, or threw me down any stairs."
7. Closing statements
"In closing, Depp's team argued that Heard was the aggressor, taunter, and physical abuser—and Johnny is the real victim," said Manny Arora, of the Arora Law Trial Attorneys. The closing statement made last Friday gave both sides the chance to summarize and emphasize aspects of the six-week trial for the jury.
Depp's team pointed out that Heard's allegations against Depp were untrue and had ruined his life.
Arora continued: "This theory is bolstered by the fact that Heard's allegations don't add up; in that her injuries (if any) were not ever seen or treated by any medical professional.
Now the trial has come to a close, Dhanidina thinks there are two key factors that "hobbled" Heard's defense: her inconsistent demeanor on the stand and her attorneys' struggles with trial advocacy.
Update 6/1/22, 3:58 p.m. ET: The story has been updated with the amount of damages awarded to Depp and Heard, as well as Heard's statement.