Ezra Miller Taunts Police As They Remain Missing: 'You Cannot Touch Me'
Ezra Miller taunted police on Instagram before deleting their account, as a court remains unable to locate the actor accused of grooming a teenage fan.
The Justice League and Fantastic Beasts star posted a number of images to their Instagram stories seeming to mock the authorities.
"You cannot touch me, I am in another universe," read one meme posted by Miller.
Another read: "Message from another dimension."
Although Miller's Instagram account has been deleted, screenshots of the stories have been circulating on Twitter and published by news site The Direct.
Another stories message read: "I am shielded from negative people & their ill intent. My spirit, mind, body, soul + success are not altered by anyone's envy. I am protected from all negative [energy] people attempt to throw at me. Subconsciously & consciously. I clear any & all hidden peers who are hidden enemies."
Newsweek has contacted Miller's legal representative for comment.
Last week the parents of Tokata Iron Eyes, an 18-year-old environmental activist, petitioned the Standing Rock Sioux tribal court to issue a protective order against Miller, whom they have accused of using violence to "hold sway" over their daughter.
Legal documents obtained by The Los Angeles Times state that her parents, ​​Chase Iron Eyes and Sara Jumping Eagle claim the actor, now 29, "uses violence, intimidation, threat of violence, fear, paranoia, delusions, and drugs to hold sway over a young adolescent Tokata."
A tribal court judge approved the interim order earlier last week but "the Court cannot locate or serve" Miller a copy of the petition, according to the Times.
The parents allege that the Perks of Being a Wallflower actor was 23 when they met their daughter, who was 12, at the Standing Rock Reservation in North Dakota.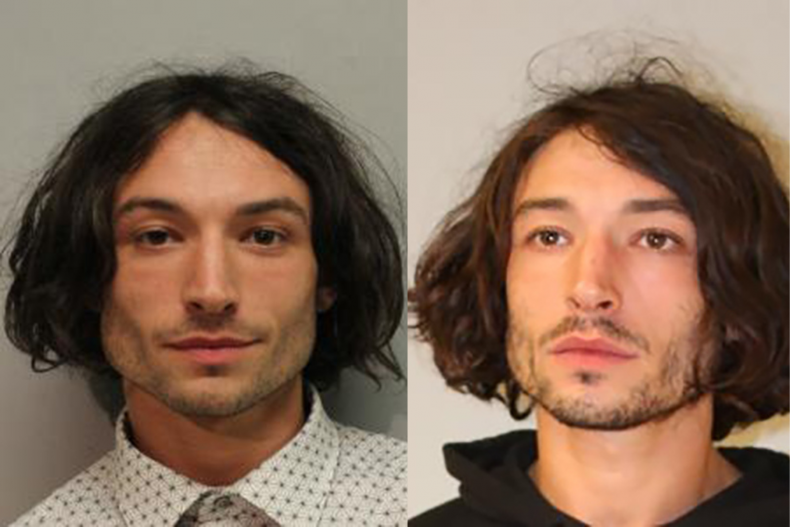 In an interview with the Los Angeles Times, the parents alleged that Miller gave the girl alcohol, marijuana and LSD during their friendship.
Miller has still not been located by the authorities and Tokata Iron Eyes has continued to defend them.
On June 6, an unverified Instagram account, apparently belonging to Tokata Iron Eyes, posted: "I'd like to make a statement to acknowledge the tragedy that is the narrative of the general public and the assumptions made on my behalf by my family and friends regarding my stability and otherwise.
"I dropped out of Bard five months ago, my friend and comrade William passed shortly there after, my mind was incredibly impacted and I've needed space and time for the processing of grief."
The message concluded: "My comrade Ezra Miller for the entirety of the aforementioned era has only provided loving support and invaluable protection throughout this period of loss."
Miller has had several brushes with law enforcement this year, after being arrested twice in Hawaii for harassment and assault.
On March 28, they were arrested in Hawaii following a confrontation at a karaoke bar between a woman singing karaoke and a man playing darts.
Miller was charged with harassment and disorderly conduct. They paid $500 in bail and were released from custody.
In April, Miller got into trouble with the law for allegedly throwing a chair at a 26-year-old woman, leaving her with a half-inch cut to the forehead. They were arrested in the early hours of April 19 for second-degree assault at a private property in Pāhoa, Hawaii's Big Island.