Did North Korea Kidnap a U.S. Citizen in China? Family Hopes Singapore Summit Will Help Bring Their Son Home
For more than a decade, the Sneddon family has been trying to make sense of the disappearance of their son David, who went missing while traveling through southwestern China in 2004.
Chinese authorities have indicated he had died or drowned while hiking the Tiger Leaping Gorge, but his parents always believed it more likely that he was languishing in a Chinese jail.
But then came a third possibility—that he was abducted by North Korean agents.
In 2016, Choi Sung-yong, head of South Korea's Abductees Family Union, said sources in Pyongyang had told him that Sneddon, who would now be 38, was teaching English to none other than North Korean leader Kim Jong Un. He reiterated this claim in 2017 during an interview with Voice of America.
Now David's family are hoping that a warming of relations between the U.S. and North Korea and the historic summit between North Korean leader Kim Jong Un and President Donald Trump could offer some answers.
Sneddon, then 24, was last seen in August 14, 2004, in a Korean cafe in Shangri-La, a city in the Yunnan province of China, near the Myanmar border. He had just finished a hike at the Tiger Leaping Gorge, and told the owner of the cafe that he was making his way back to Qiaotou to pick up his bags from a youth hostel and continue his journey through China.
Sneddon had been studying Mandarin at Brigham Young University in Utah and had decided to take a summer class in Beijing with his roommate George Bailey to improve his language skills before starting his senior year. He already spoke Korean, which he learnt during a two-year missionary trip to South Korea, and was planning on becoming an international lawyer, his family said.
After the summer course ended, Sneddon and Bailey traveled together for a few days in the Guangxi province before they separated on August 9 to follow different routes. "That was the last time I'd seen him," Bailey told Newsweek.
His friend remembered Sneddon as a wonderful, adventurous, fun-loving and outgoing person. Throughout their staying in China, there had been no sign of danger. "We both felt very safe, we thought no Chinese would ever touch an American because there'd be trouble," he said.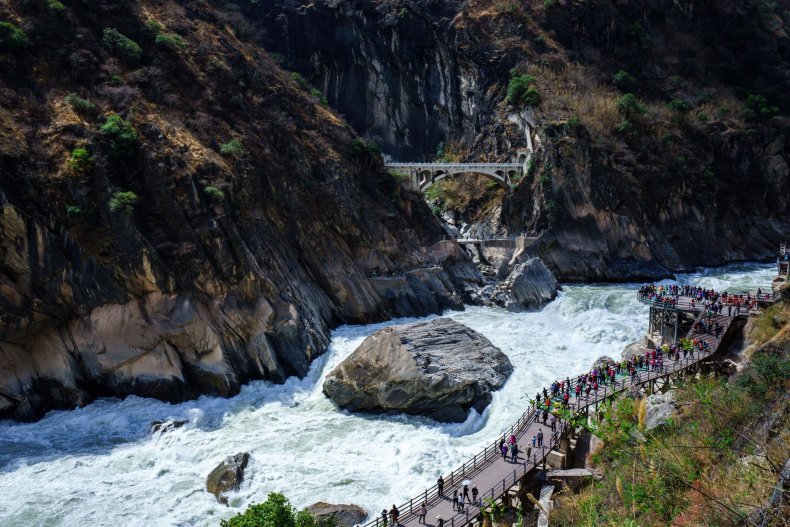 Sneddon's family last heard from him on August 11. He had been in touch with them regularly, writing emails two or three times a week and his prolonged silence was worrying. When he failed to show up to an arranged meeting with his brother Michael in Seoul, South Korea, on August 26, his parents alerted the authorities.
Police found his backpack still in the hostel, untouched, along with his plane tickets. Sneddon only had a fanny pack on him when he disappeared which, according to his family's reconstruction of the events, likely contained a toothbrush, a Book of Mormon, and a travel guide.
No money had been taken from his bank account since the beginning of the month. His body was never found. No explanation of his disappearance made sense to Sneddon's parents, Roy and Kathleen. "We thought he was alive and we just didn't know what happened to him, but we never thought of death," Kathleen told Newsweek.
As time went by, the Sneddons began to suspect North Korea's involvement. One of those who contacted them was a source Kathleen would not further discuss with Newsweek because of the person's "high profile." Another was a man living in South Korea who married a North Korean defector, who called Roy to tell him that a man fitting David's description had been seen in Pyongyang. "I thought it was a pipe dream," Kathleen said.
In May 2012, the Tokyo nonprofit National Association for the Rescue of Japanese Kidnapped by North Korea said one of its most reliable sources had obtained documents showing the Chinese authorities arrested a 20-something American student in the Yunnan province and that the student, released in September, later ended up in the hands of five North Korean agents. The website that the Sneddon family set up dedicated to David published a summary of the evidence supporting the North Korean abduction hypothesis later that month.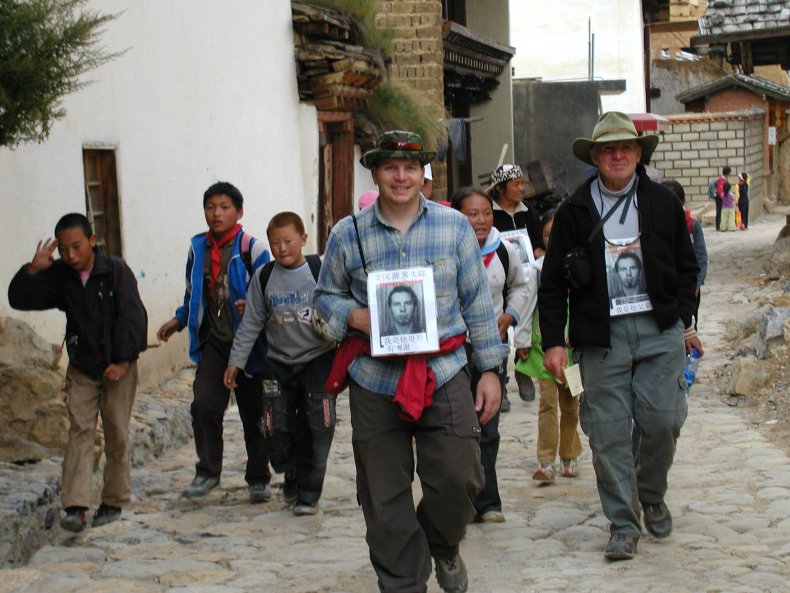 At the time of David's disappearance, Kathleen and Roy knew little about the program of abductions of Japanese, South Korean and other foreign nationals whose knowledge and skills were needed by North Korea. Pyongyang has denied the existence of such top-secret operations for decades, until leader Kim Jong Il admitted to it in 2002 after meeting the then Japanese prime minister Junichiro Koizumi.
The New York Times described the admission as "astonishing," while The Guardian called it "a stunning confession to one of the most bizarre crimes ever committed by a state."
Hitomi Soga was one of the five abductees North Korea released shortly after the meeting. While in captivity in North Korea, she had married Charles Jenkins, an American defector whom the regime employed as a teacher, translator and movie actor who was released from North Korea in July 2004.
After meeting Soga as well as other Japanese families whose relatives were abducted, Sneddon's parents believe Jenkins' release and their son's disappearance were related. "I don't think it's coincidental," Kathleen said.
Japanese citizens abducted by North Korea is still top of the agenda for the Japanese government in dealing with North Korea, and it's been a key point of discussion in Prime Minister Shinzo Abe's meetings with Trump on the Korean situation and upcoming summit. Trump highlighted the issue of North Korean kidnappings at the U.N. in September, and met with the relatives of the disappeared Japanese citizens during his visit to the country in November. Former Presidents George W. Bush and Barack Obama had also done so.
The former Japanese minister in charge of the North Korean abduction issue, Keiji Furuya, told Melanie Kirkpatrick, a senior fellow at the Hudson Institute and the author of "Escape From North Korea: The Untold Story of Asia's Underground Railroad," he believed it was "most probable" that a U.S. citizen was abducted, as she wrote in a 2013 opinion piece for the Wall Street Journal.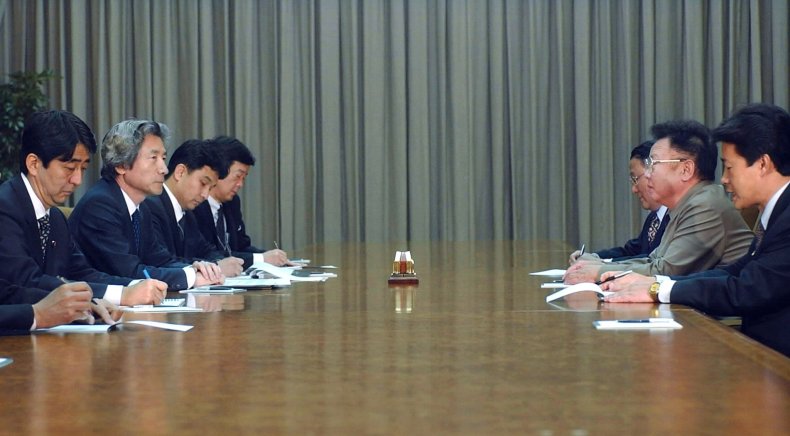 "The evidence is circumstantial, but it is powerful," Kirkpatrick told Newsweek via email.
While the southwestern Yunnan province is on the other side of China's northeastern border with North Korea, it is part of the route North Koreans defectors take to ask for asylum in South Korean consulates in neighboring Myanmar, Laos, and Vietnam. As such, it's likely North Korea would have agents in that part of China to monitor defectors.
"China wanted to stop this activity, and I believe it would have been only too happy to allow North Korean agents to take care of the 'problem' for them," Kirkpatrick said.
The State Department position on the issue has long been that they have seen "no verifiable evidence" of an abduction. An official added to Newsweek that there is also no verifiable evidence of any other U.S. citizen being detained in North Korea following the release of three Korean-American prisoners in May.
A North Korean foreign ministry spokesperson denied the abduction in a statement carried out by the state-controlled media in October 2016. "This is just a plot hatched by the Obama group, destined to sink like the setting sun due to the total bankruptcy in its hostile policy toward the DPRK, to dramatize the non-existent "human rights issue" of the DPRK and tarnish its international image," the statement read. "We flatly deny and categorically reject this far-fetched assertion as a swindle which does not deserve even a passing note," it added.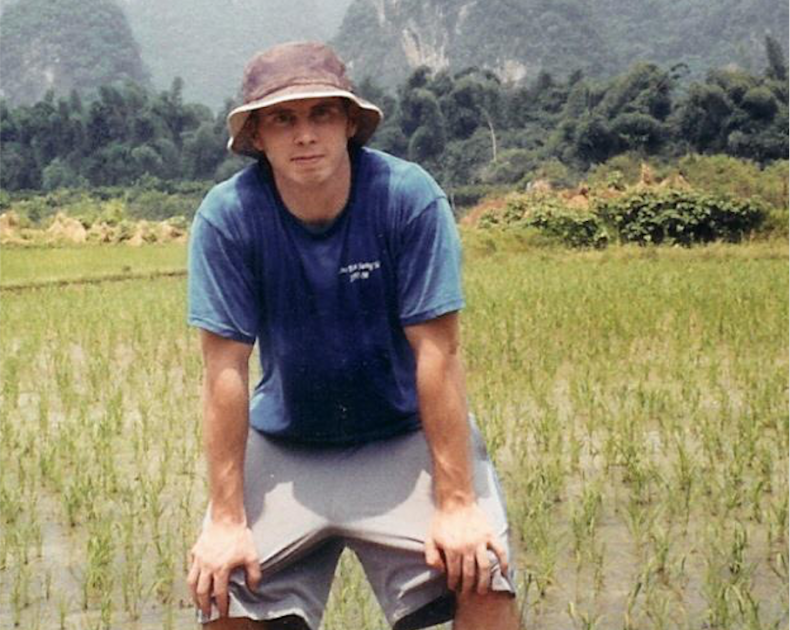 Sneddon's mother Kathleen is hesitant to take North Korea's word for it. "I don't think North Korea is going to say yes, we have David but you can't have him, he's an American citizen, we're keeping him."
But, she said, both her and Roy remained "hopeful" about the future. Roy believes Kim Jong Un and Trump's unconventional diplomacy could bring about the answers that they've been looking for and discuss his son's disappearance. "I think they're more likely to do that than anyone we've had around. It's more probable now than before," he said.
Sneddon's roommate Bailey was also appealing to the president to raise the issue in the meeting with Kim Jong Un. "I would love more than anything to hear President Trump say that discussing David Sneddon with North Korea is one of his priorities. I recognize the denuclerization of North Korea is by far the highest priority but, at the same time, getting David out of North Korea is not incompatible," he said.
Bailey has been supporting the Sneddon family's awareness-raising efforts, using social media as a tool for his advocacy. "Not enough people are listening to the Sneddons and my heart breaks for them. I would love for Trump to publicly acknowledge he's talked to the Sneddons and that they matter to him," he said.
As for the Sneddon family, they also hope that their efforts would help highlight human rights abuses in North Korea. "We want to see the people of North Korea have a better life and we'd hope somehow David's plight would help Americans to understand how captive North Koreans are," Kathleen said.