Favorable Views of GOP Declines By Double Digits Among Republicans Since Nov: Poll
Republican voters' views of their own political party have declined by double digits since November, a new poll shows.
Amid a civil war within the GOP, Republican voters appear to be increasingly frustrated with their political establishment. Former President Donald Trump remains highly popular among Republican voters, as some GOP lawmakers in Washington, D.C. aim to lessen or even eliminate his influence among the party—some even support his impeachment and unlikely conviction in the Senate.
In November, 90 percent of Republican voters viewed their party favorably but that number has now declined to just 78 percent, according to a poll published Wednesday by Gallup. That's a 12 point drop since the presidential election.
Meanwhile, Democrats' and independent voters' views of the Republican Party remain relatively unchanged. In November, 9 percent of Democrats viewed the GOP favorably, as did one-third (33 percent) of independents. Now in February, 10 percent of Democrats said they have a favorable view of the Republican Party while 32 percent of independents said the same—both statistically insignificant changes.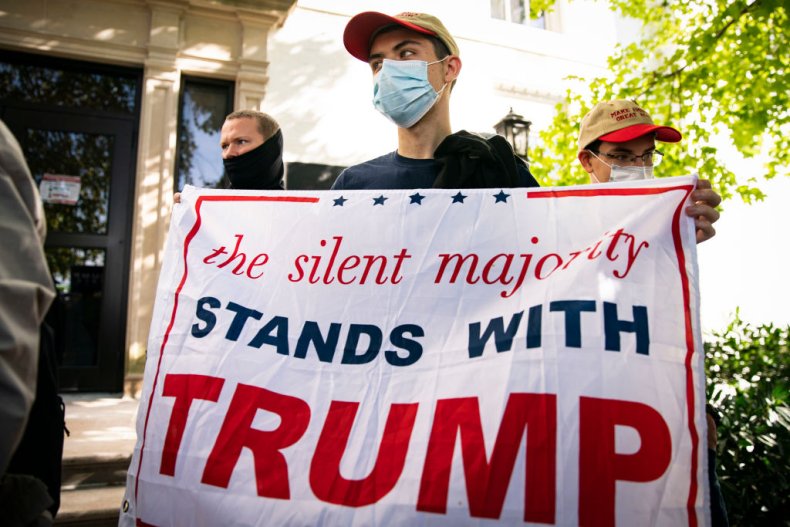 Overall, the Republican Party's favorability among U.S. adults has dropped from 43 percent in November to just 37 percent today. The dip is driven mainly by GOP voter disapproval, as the party's favorability among Democrats and independents remains relatively unchanged. Conversely, the overall favorability of the Democratic Party has increased slightly, going up from 45 percent in November to 48 percent as of this month.
Other recent polls suggest that Republican voters' dissatisfaction with the GOP could be related to their loyalty to Trump. A CBS News/YouGov poll released on Tuesday showed that 70 percent of Republicans would join or consider joining a new political party if the former president formed one.
That included a third of GOP voters who said "yes," they would join and 37 percent who said "maybe" they'd join a Trump-centered party. The survey also found that 71 percent of Republicans viewed GOP lawmakers backing Trump's impeachment or supporting his conviction in the Senate trial as "disloyal."
Despite the significant support for Trump, several Republican lawmakers are aiming to expel the former president from their party moving forward. Representative Liz Cheney, a Wyoming Republican, said this weekend in an interview with Fox News Sunday that Trump should not be seen as a party leader going forward. Cheney, the No. 3 Republican in the House of Representatives, was one of 10 House Republicans to vote for Trump's second impeachment following the violent January 6 insurrection by a mob of his supporters.
Cheney told Fox News anchor Chris Wallace that Trump "does not have a role as a leader of our party going forward." But the Wyoming lawmaker, who chairs the House Republican Conference, was censured by her state party for supporting Trump's impeachment.
Representative Adam Kinzinger, an Illinois Republican, has become an outspoken critic of Trump in the wake of the November election. Kinzinger began fact-checking and calling out lies spread by the former president, his legal team and supporters, in which they falsely claimed without evidence that there was widespread voter fraud and that the election was stolen. The GOP congressman also voted to impeach Trump and has since launched a new PAC with the aim of pushing back against the former president's faction of the party.
In an interview with CNN on Tuesday, Kinzinger criticized House Minority Leader Kevin McCarthy for aligning House Republicans with the former president. Although McCarthy initially criticized Trump in the wake of the insurrection, he traveled to Florida last week to secure Trump's support for House Republicans in the 2022 midterm elections.
"I don't think it's a long-term path to success. I think winning blue-collar voters, which we've been doing, and making gains in minority communities is great. The problem is, the message has been feeding fear. It's been feeding division," Kinzinger said.