Protesters camped again out at the U.S. Capitol on Saturday night, demanding an extension of the federal moratorium on evictions as more than 10 million Americans who are behind on their rent face potential homelessness.
The 11-month moratorium was originally introduced by the Centers for Disease Control and Prevention when the COVID-19 pandemic first swept the country—and later extended—expired on Saturday night.
President Joe Biden failed in a last ditch effort to extend the moratorium on Thursday. The House of Representatives then adjourned for its seven-week summer vacation on Friday, with Speaker Nancy Pelosi telling reporters there was "not enough time" to take action.
Saturday's protests were led by progressive Democratic lawmakers, including Cori Bush.
Congresswomen Bush, Ilhan Omar and Ayanna Pressley all slept outside the Capitol building on Friday, addressing supporters and demanding an extension of the moratorium.
Rep. Alexandria Ocasio-Cortez joined Bush's protest on Saturday. She dismissed statements made by Pelosi on Friday blaming Republicans for blocking an extension of the moratorium and suggesting there had not been enough time to take action.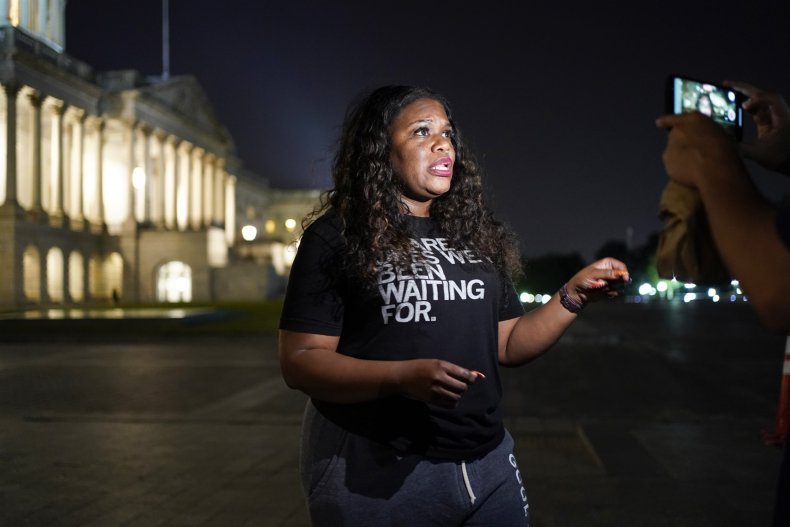 "The White House knew about this for over a month...This is not all Republicans' fault, when the House Democrats hold the majority," Ocasio-Cortez said.
"We cannot be abandoning the up to 11 million Americans that are in need, particularly when the emergency rental assistance...has not gotten out."
On Saturday, Bush tweeted addressing Biden, Senate Majority Leader Chuck Schumer, and Pelosi demanding action. "We control the House, Senate, and White House," Bush wrote. "We must keep people housed."
Federal fuds have been set aside to help renters in financial difficulty. However, as of July 1, only about $3 billion of $47 billion worth of rental assistance has been handed out.
Bush had already delivered a letter to congressional colleagues on Friday. "I have been evicted three times myself. I know what it's like to be forced to live in my car with my two children," she wrote. "Now that I am a member of Congress, I refuse to stand by while millions of people are vulnerable to experiencing that same trauma that I did."
Early Sunday morning, Bush called on the House to reconvene and prevent an eviction "crisis." The congresswoman wrote on Twitter: "It's 2 AM on Sunday. We haven't slept since Thursday night. The eviction moratorium expired, so we're now in an eviction emergency. 11 million are now at risk of losing their homes at any moment."
Omar tweeted Saturday: "We have a moral imperative to act." Pressley, meanwhile, urged her congressional colleagues and the White House to "move with urgency."
The mass evictions loom as COVID-19 cases spike again, driven by the Delta variant. Of the 6.5 million households behind on rent, 4.7 million are in areas where COVID cases are rapidly increasing, CBS News reported.
Other leading progressives issued statements condemning the failure to extend the moratorium, warning the looming crisis will exacerbate the COVID-19 situation.
Sen. Bernie Sanders tweeted: "It's a disgrace that the eviction moratorium is about to expire. Rent is due tomorrow. In case anyone forgot, we've been going through a deadly pandemic that caused an economic crisis. We can't allow families to be thrown out on the street. Congress and the White House must act."
Sen. Elizabeth Warren addressed the Senate on Saturday, and tweeted after: "We are only hours away from a fully preventable housing crisis. I just went to the Senate floor to tell Congress: we have a duty to extend the eviction moratorium right now to keep America's families safe and to give states time to distribute emergency rental assistance."