As First Case of Omicron Variant Hits U.S., Transit Mask Mandates to Be Extended
As the first U.S. case of the COVID-19 Omicron variant was detected in California, the administration of Democratic President Joe Biden has extended its mask mandate for all passengers on mass transit of any kind through March.
The mandate, which has been in place since January, requires travelers to wear face masks on airplanes, trains, ships, subways, buses, taxis and ride shares as well as in transportation hubs such as airports, train stations, ports for departing boats and bus and ferry terminals.
A formal announcement from the Biden administration about the extension of the mask mandate is expected on Thursday, Reuters reported.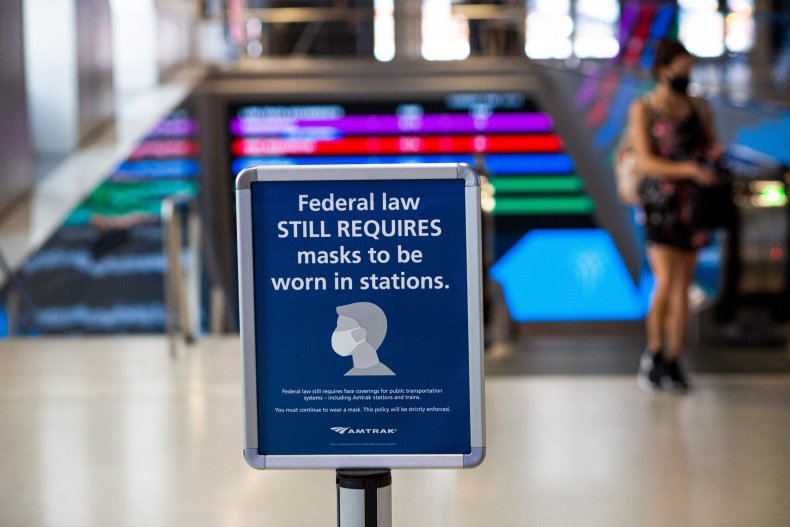 If so, the extension will occur just one day after the confirmation of the first-known U.S. case of a person with the Omicron variant. The person was a fully vaccinated individual in California who traveled to South Africa, one of the countries where the variant was first widely detected.
The infected individual returned to the U.S. from South Africa on November 22. They tested positive for COVID-19 seven days later. They are experiencing mild symptoms and improving in self-quarantine, the U.S. Centers for Disease Control (CDC) told Newsweek in a statement. Their close contacts have also tested negative, the CDC added.
As news of the infected individual made headlines, Democratic California Governor Gavin Newsom urged people not to panic. He said that other U.S. states should assume that the variant is already within their borders.
Newsom and infectious diseases expert Dr. Anthony Fauci also suggested that people stay masked, get vaccinated and get a vaccination booster to prevent the variant's spread.
Doctors and the World Health Organization have said that Omicron's symptoms seem to be "mild" in younger and vaccinated patients. However, the variant's effects remain somewhat unknown. Researchers are also still determining whether the virus is more contagious than previous variants.
Soon after the Omicron variant was detected, the White House restricted travel from South Africa and seven other countries where the variant has been most detected. Fauci said last Friday that the travel restrictions were imposed to give researchers more time to understand the variant before it spreads domestically.
The Biden administration is also expected to announce tougher testing requirements for both vaccinated and unvaccinated international travelers very soon.
In a Tuesday statement, the CDC said it was working to possibly require all U.S.-bound air travelers to provide a negative COVID-19 test within 24 hours before boarding their flights, the Associated Press reported. Currently, vaccinated travelers are asked to present a negative test conducted within 72 hours of boarding.
A senior Biden administration official said that the government may consider having travelers test for COVID-19 immediately after arrival. Travelers from foreign countries may also be asked to conduct self-quarantines to reduce the possibility of spreading the virus.