Florida Coronavirus Patient Dies After Two Hospitals Turn Her Away
Coronavirus cases in Florida have surged to nearly 223,800, with 3,889 deaths. The latest death toll includes a 70-year-old woman who died days after allegedly being turned away from two Florida hospitals, including Broward County's Memorial Hospital Pembroke of the Memorial Healthcare System.
Hortencia Laurens, a diabetic who also had high blood pressure, was admitted to Memorial Hospital Pembroke on Thursday evening before she was discharged by a doctor around 4 a.m. local time, according to Diego Fereira, Laurens' grandson, Florida's WPLG reported.
The family was not notified that Laurens had been sent away. She was reportedly forced to wait on a bench outside the hospital until about 6 a.m. local time, according to Fereira, who believes more could have been done by the hospital to save her life.
Laurens was reported to have had a fever and experienced nausea and struggled to breathe by Monday when she died. Fereira noted Laurens told his mother that she was scared.
"My grandmother could have been one of those people who walked out of the hospital, without an issue, feeling better," Fereira told WPLG. "But she was just kind of sent home, you know just pushed to the side," he said.
"I wouldn't want this to happen to anybody's grandmother or anybody's family.
"It's life. It's something that's very fragile—especially in these times," Fereira told Florida's ABC 13.
Memorial Healthcare System is reportedly not allowed to comment on specific cases.
But the health care system's chief medical officer, Dr. Stanley Marks, issued a statement noting: "As a public healthcare system, Memorial does not, or have we ever, rejected a patient due to lack of beds. And, we do not anticipate doing so, despite the surge of COVID-19 positive cases.
"In general, admission to the hospital is a physician-driven decision based on many factors, including vitals and clinical presentation at the time patients visit the emergency room," the statement said.
Across Florida, around 20 percent of novel coronavirus patients are reported to visit emergency rooms, while around 11 percent of COVID-19 patients get admitted to hospitals, according to the statement.
Memorial Healthcare System was reported to be "actively extending capacity, in a safe, effective manner to respond to this pandemic," the statement noted.
"We have instituted tents outside the emergency departments of our hospitals to triage patients who have symptoms. We are also decreasing elective procedures to increase available beds, redeploying some staff to high priority areas, contracting travel healthcare professionals, and converting spaces at our hospital facilities, to help meet the demand," the statement said.
Newsweek has contacted the Memorial Healthcare System for further comment.
Florida has reported 16,758 hospitalizations, according to the latest figures from the Florida Department of Health.
Earlier this week, 56 Florida hospitals, including at least one from the Memorial Healthcare System, were reported to have no intensive care unit (ICU) beds available. Dozens more reported over 90 percent of ICU beds were full, according to a report Tuesday from Florida's Agency for Health Care Administration.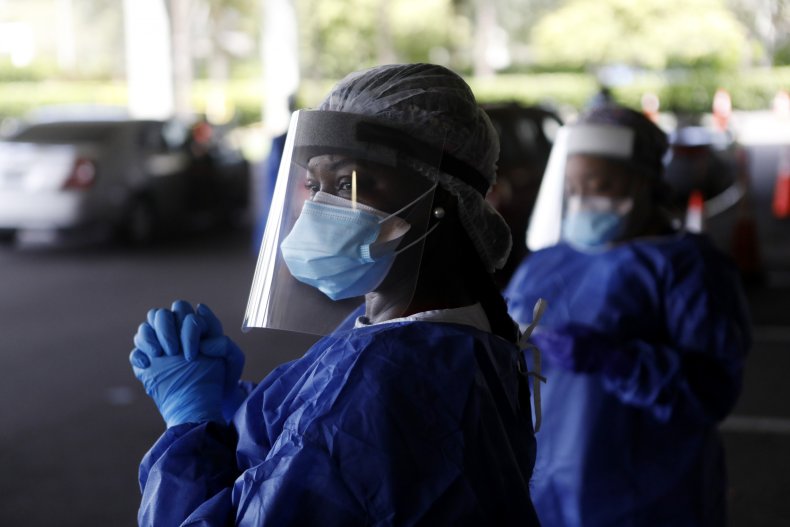 The daily case count in Florida has been mostly increasing from around May 27, three weeks since most Florida counties entered phase one of reopening on May 4. Daily new cases began to rise sharply from around June 8, just days after phase two of reopening began on June 5.
Several reopened bars in Florida were closed again around mid-June after customers tested positive for the virus.
Florida Gov. Ron DeSantis claimed that the recent spike in cases was not because the virus was spreading but rather due to increased testing. "I think we've stabilized where we're at," DeSantis said at a press conference Monday.
The state's positive test rate reached a record high of 16.27 percent on Tuesday.
The percentage of positive tests in the state has been increasing from the week starting June 7, when it was reported to be at 4.34 percent, before it more than doubled to 11.98 percent in the week starting June 28, according to the Florida Department of Health.
The novel coronavirus, first reported in Wuhan, China, has spread to more than 12 million people across the globe, including over three million in the U.S. Over 6.5 million globally have reportedly recovered from infection, while over 549,400 have died, as of Tuesday, according to the latest figures from Johns Hopkins University.
The graphic below, provided by Statista, illustrates the spread of COVID-19 in the U.S.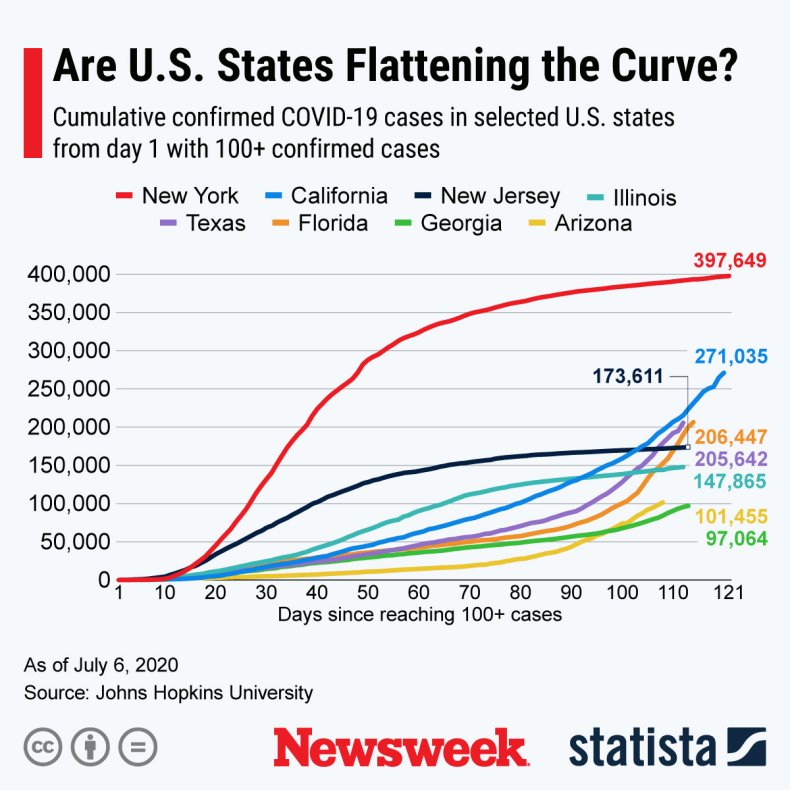 The graphic below, provided by Statista, illustrates the portion of people who wore a mask in April and May amid the ongoing pandemic.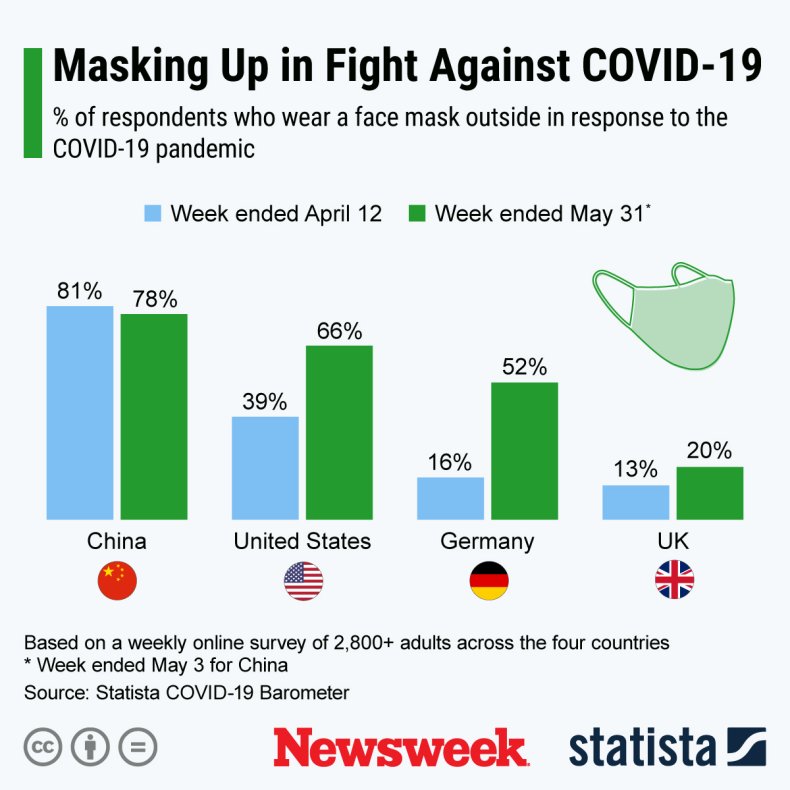 The graphic below, provided by Statista, illustrates the seven-day rolling average of new COVID-19 cases in the U.S. and European Union.