Florida Gov. Ron DeSantis' Office 'Excited' by High Court Denial of Business COVID Mandate
The office of Florida's Republican Governor Ron DeSantis has commented on the recent Supreme Court decision blocking President Joe Biden's federal vaccine-or-test requirement for large companies.
"We are excited that the Supreme Court rightly recognized the Biden admin's overreach in trying to mandate vaccines through (the Occupational Safety and Health Administration)," DeSantis' communications director Taryn Fenske told Newsweek.
Fenske's statement echoed other Republican lawmakers who praised the court's decision and criticized Biden's mandate as an instance of government overreach that would remove workers from their fields amid an employee shortage.
"We are disappointed about the (Centers for Medicare & Medicaid Services) ruling and what it could mean for the livelihoods of doctors, nurses, and health professionals in our state," Fenske's statement continued. "As Florida's prohibition on vaccine mandates remains in effect for all industries, we will be evaluating next steps for enforcement in the coming days."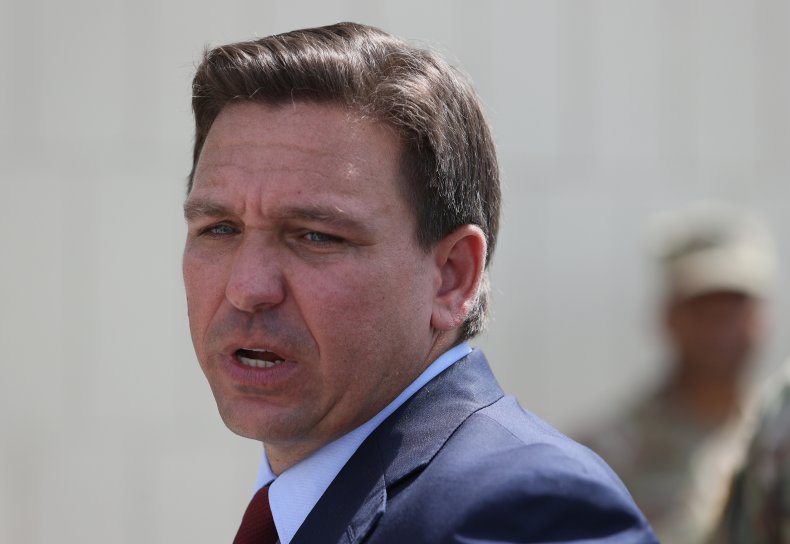 The Supreme Court ruled against the mandate for large businesses with over 100 employees. The majority of justices on the conservative-leaning court said that they don't consider the risk of contracting COVID-19 on the job a specifically "work-related danger" or "occupational hazard" because people can also contract the disease outside of work, in any place that people gather.
However, the court allowed the mandate to stand for workers in federally funded health care facilities.
Hours before the Supreme Court decision, DeSantis told a Panama City crowd, "Nobody should be denied earning a living based on these jabs. That's your choice. It's a private choice. It is not something the government should be forcing."
"Clearly, the vax has not stopped people from being infected with Omicron. That is just clear as day," he continued. "So what is the basis of forcing somebody else to that?" He referred to the fact that the Omicron coronavirus variant is capable of bypassing immunity offered through vaccinations and prior infections.
Despite this, health officials have still advised people to get vaccinated, as it reduces the severity of symptoms, the likelihood of hospitalization and also decreases the amount of virus in an infected person's body, meaning that they're less likely to pass it onto others.
DeSantis has long opposed vaccine mandates. He has spoken out numerous times against Biden's national mandate as well as against local and business mandates in his own state.
DeSantis banned school mask mandates during the current school year and threatened to withhold pay from school boards who defied his order.
He also threatened to fine any Florida cities and counties that required government employees to be vaccinated. Each violation could cost the regions $5,000 apiece.
He also signed HB 1B, a bill allowing private-sector employees to opt out of vaccination requirements if they show medical or religious reasons or immunity to COVID-19. It also provides exemptions for employees who are willing to undergo regular testing or wear personal protective equipment.
The law could fine small employers up to $10,000 per violation and larger businesses up to $50,000 per violation.
DeSantis is considered a possible contender for the 2024 presidential election. His opposition to vaccine and mask mandates follows Republican Party orthodoxy on the issue.