Ford F-150 Lightning Electric Truck Reports for Police Duty
Ford Motor Company is pushing another one of its vehicles into police service after the recent Explorer SUV and past Crown Victoria and Taurus cars. On Thursday, the company launched the 2023 Ford F-150 Lightning Pro Special Service Vehicle (SSV) with law enforcement-specific features.
Ford has been building and providing police vehicles for more than 70 years.
The F-150 Lightning will only be the latest Ford EV to join a police fleet. New York City picked up 184 Ford Mustang Mach-Es for duty in the city. The electric SUV recently was the first all-electric vehicle to pass Michigan State Police testing, the standard for the industry, for speed, braking and pursuit.
New York City also has a contract to purchase 250 Tesla Model 3s for use, though those models are not pursuit rated.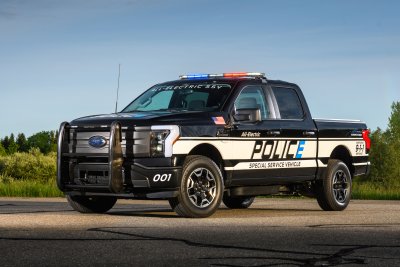 Other electric fleet options will soon be available to jurisdictions nationwide. The Chevrolet Blazer SS EV will be sold as a pursuit rated patrol model. Earlier this month the company debuted the new SUV, saying that it has been working with police ahead of time to meet their needs. GM has been selling Suburban and Tahoe vehicles to local, state and federal agencies for years.
"We're proud to offer America's first electric police pickup truck to local government customers who can use the truck's game-changing technology to help improve their productivity," said Nate Oscarson, Ford Pro national government sales manager in a press release.
"Pro Power Onboard can serve as a mobile power source to light up evening accident scenes on the highway, the electric powertrain helps to potentially reduce costs associated with fuel and scheduled maintenance needs and the Mega Power Frunk provides extra lockable storage on top of purpose-built police additions our customers have come to expect from the leader in police vehicles."
Changes to the Lightning Pro SSV include police-grade heavy-duty cloth seats with reduced bolsters to help holstered officers enter and exit the vehicle, steel intrusion plates in the front seatbacks, LED warning beacons, a upfit-friendly instrument panel and vinyl rear seats and vinyl flooring.
Both standard and extended range batteries will be offered delivering either 452 or 580 horsepower, 775 pound-feet of torque and a tow rating of 10,000 pounds with the bigger battery. The Lightning Pro comes standard with a 12.3-inch landscape-style touchscreen, the Mega Power Frunk with power ports, Sync 4 and Ford Co-Pilot 360 with automatic braking, blind-spot indicators and cross-traffic alert.
The current ranges for the Lighting are rated at 230 miles for the standard battery and 320 for the extended range battery, though Ford says mileage ranges for 2023 are forthcoming and might change.
Police departments are also interested in the company's E-Telematics, which log the power usage, vehicle health, locations and more. The Lightning Pro SSVs can also be serviced at any of the 650 Ford Commercial Vehicle Centers and the fleets come with consulting services to manage all the data.
More information on the 2023 Ford F-150 Lightning, including the SSV, will be available later this summer.