Ford Raises Price Of, Adds Range to Electric F-150 Lightning Truck
Ford has good news for prospective electric F-150 Lightning buyers. On Tuesday, the Blue Oval said that it's reopening the order banks for the electric pickup, adding range and its Pro Trailer Hitch Assist Technology. However, it's also raising the price of the truck.
The range of the standard F-150 Lightning will now have an Environmental Protection Agency (EPA) estimated of 240 miles on a charge, up from 230 miles. The range for the Extended battery does not change.
Both battery layouts, Standard and Extended, come with two electric motors in the Lighting. In the Standard version they're good for 452 horsepower and 775 pound-feet of torque. The more expensive Extended-Range battery delivers 580 horsepower and the same 775 pound-feet.
Pro Trailer Hitch Assist is new to the Lightning and automatically controls steering, throttle and brakes to make hitching trailers easier. Pro Trailer Hitch Assist is standard on the Tow Technology Package, which is available on Pro, XLT and Lariat trims. It's standard on certain Lariat trims and the Platinum trim.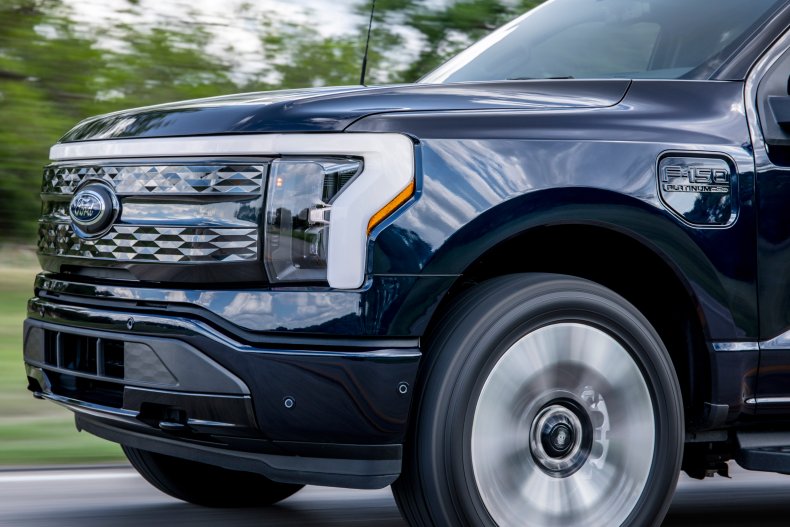 Two new colors are available for the 2023 model including Avalanche Gray and Azure Gray metallic tri-coat. They replace Atlas Blue, Ice Blue Silver and Smoked Quartz Metallic and join Rapid Red, a dark blue and several shades of gray and silver.
The 2023 Ford F-150 Lightning will see its first price increase since its release in May 2021, though it notes that all orders to date will have their manufacturer's suggested retail price honored. Ford says that the increase is due to higher material costs and other factors.
"Current order holders awaiting delivery are not impacted by these price adjustments," Marin Gjaja, chief customer officer, Model e, said in a statement. "We've announced pricing ahead of re-opening order banks so our reservation holders can make an informed decision around ordering a Lightning."
The base Pro model, which you don't have to be a professional to buy, will now cost $46,975 before destination and handling. That's an increase of about $7,000. The F-150 Lightning XLT was $52,974 and now starts at $59,474 for a $6,500 increase. The rest of the trims have close to the same price increase. The most expensive Platinum Extended Range Lightning now starts at $96,874.
Ford says in a press release that "Lightning reservation holders who previously received an invitation to order, but who elected to extend their reservation because their vehicle specification was unavailable, will receive a private offer for use in upcoming waves."
It's currently the third all-electric pickup on the market after the Rivian R1T and GMC Hummer EV.
"Ford's F-150 Lightning has really helped the blue oval carve away its own bigger slice of the EV market share, delivering an impressive and capable truck — as promised— to customers in every corner of this country," Robby DeGraff, industry analyst at AutoPacific told Newsweek.
"But even stellar new products aren't immune to these lingering supply chain and materials costs issues plaguing the industry, and as such Ford has had to raise pricing. I hope this price bump is just temporary given the circumstances and in time we'll maybe see starting MSRPs creep back down, but with more range, color choices, and helpful features added, the F-150 Lightning still remains an excellent buy."