Former GOP Congresswoman Urges Voters to Oust Boebert, Greene: 'Take Out the Trash'
Former Republican Congresswoman Barbara Comstock of Virginia urged voters to support primary challengers to GOP Congresswomen Lauren Boebert of Colorado and Marjorie Taylor Greene of Georgia, saying "take out the trash."
Comstock, who served in the House from 2015 to 2019, made the remarks after Boebert drew significant backlash after a video of her suggesting Democratic Representative Ilhan Omar of Minnesota—who is Muslim—was a suicide bomber went viral online. The Islamophobic remarks drew swift condemnation from Democrats and some Republicans, leading Boebert to issue an apology to the Muslim community.
Despite Boebert's apology, Greene doubled down on using the term "Jihad Squad" to describe Omar and several other progressive Democrats in a Saturday tweet. Both far-right GOP congresswomen have drawn substantial controversy since being elected last year.
"When you have this kind of just unconscionable attack—and it's not just that she [Boebert] needs to apologize to the congresswoman who she attacked, she needs to apologize to the American people," Comstock told CNN. "She needs to apologize to the Republican Party and a lot of other people. It goes way beyond that."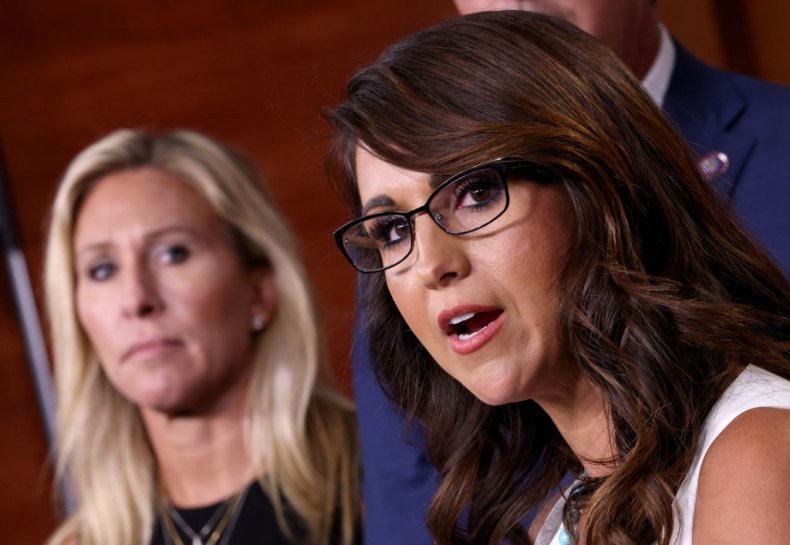 The former Virginia congresswoman then pointed out that Boebert has a Republican primary opponent who voters can support.
"I'd also like to point out that she has a Republican opponent, Marina Zimmerman, who in response to [Representative] Adam Kinzinger pointed out Lauren Boebert is 'trash,'" Comstock said. "I would agree, and Marina Zimmerman said 'help me take out the trash' and that's what I think needs to be done here."
As Comstock noted, Kinzinger, an Illinois Republican, called Boebert "trash" in a tweet last week, slamming her remarks about Omar.
"Both Lauren Boebert and Marjorie Greene have Republican women who are running against them in the primary," the Virginia Republican continued.
Comstock pointed out that in the deep red districts, a Republican winning is a near certainty.
"You can have a conservative Republican woman without having a crazy, you know, very unpleasant, you know, nasty, you know, unconscionable congressperson who, by the way, neither of these women are getting anything done in Congress for their constituents," she said. "Zippo, nothing."
Newsweek reached out to Boebert's and Greene's spokespeople for comment but did not immediately receive responses.
Following the backlash, Boebert on Friday tweeted an apology to the Muslim community.
"I apologize to anyone in the Muslim community I offended with my comment about Rep. Omar. I have reached out to her office to speak with her directly. There are plenty of policy differences to focus on without this unnecessary distraction," the Colorado Republican said.
Greene, however, posted a Saturday tweet suggesting she disagreed with the apology.
"Democrats want us censored, shut down, and imprisoned. Never apologize to Islamic terrorist sympathizers, communists, or those who fund murder with our tax dollars," the Georgia Republican wrote on Twitter.
"@IlhanMN and the Jihad Squad are all three and are undeserving of an apology," she added.
Omar urged Democratic and Republican leaders to take action against Boebert for her remarks.
"Saying I am a suicide bomber is no laughing matter. @GOPLeader [Kevin McCarthy] and @SpeakerPelosi [Nancy Pelosi] need to take appropriate action, normalizing this bigotry not only endangers my life but the lives of all Muslims. Anti-Muslim bigotry has no place in Congress," the Minnesota Democrat tweeted on Friday.