Ex-Memphis Officer Calls Cops Involved in Tyre Nichols Death a 'Lynch Mob'
A former Memphis police officer has blasted the officers who beat Tyre Nichols, a 29-year-old Black man, to death after a traffic stop, along with those at the scene who failed to intervene—likening them to a lynch mob.
Five Black police officers—Tadarrius Bean, Demetrius Haley, Desmond Mills Jr., Emmitt Martin III and Justin Smith— have been fired and charged with Nichols' murder and other offenses.
Following the release of harrowing body camera footage of Nichols' January 7 arrest, Memphis police announced that two other officers, at least one of whom is white, have also been suspended, while the Memphis Fire Department said it had fired two emergency medical workers and a lieutenant.
Brandon Williams, who is Black and says he was an officer with the Memphis Police Department for five years, shared his thoughts in a TikTok video that has gone viral, amassing more than half a million views in little over a day.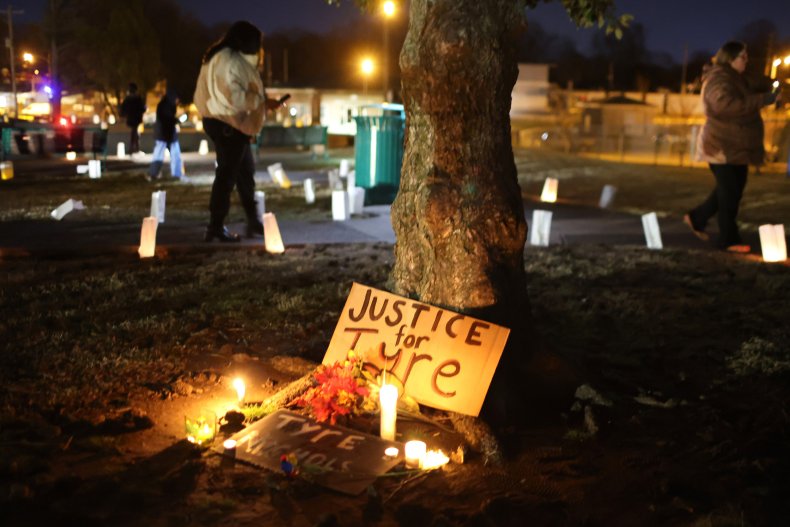 "A lot of you know me for my Spanish content, but a lot of you also know that I was a former Memphis police officer between the years of 2016 and 2021 and I just want to give some insight into the Tyre Nichols incident that's going on with my former police department," he said.
Williams said he used to patrol with two of the five officers who have been charged, but did not name them.
"Even though I know two of the five personally and have patrolled with them personally and had a relationship with them, this in no way excuses any of their actions," he said.
He went on to blast those who say Nichols would have survived the encounter had he not run from the officers, adding that it's "not a guarantee."
"The first thing that I wanna talk about which is utter BS is, you'll see a lot of conservatives say, why did he run?" Williams said.
He noted that an initial version of events said Nichols had been pulled over for reckless driving, but that the Memphis police chief has said there was no evidence of that.
"Which means you can't say that if he never ran that he would still be alive when the stop was illegal in the first place," he said.
"Now I have had to pull out people, rip people out of a car aggressively at gunpoint with foul language many times, but most of those people were murderers, robbers, sexual assaulters, the worst of the worst where you needed to meet violence with violence.
"Never once did I put my gun in the face of somebody who I supposed for reckless driving, right? So from the get-go, you have a man who was not guilty of anything fleeing from the police because he's scared because he doesn't even know why he's getting pulled over in such an aggressive manner.
"So as a Black male, I probably would have ran too and I was the police for five years."
Williams went on to say that using a police boot to strike a person in the face was inexcusable.
"There is no way, form or fashion that you take a police boot, and you strike a man's face multiple times while he's on the ground," he said.
"There is no way that that is excusable. I don't care who you're fighting. A kick to the face right here, that could be lethal. And unless you're trying to intentionally kill somebody, that is not a tactic that is taught nor should ever be used."
A police officer should never let a fellow officer "do anything that you wouldn't let be done to you," he said.
"You are just as guilty as the lynch mobs that used to lynch Black people and watched them die and get lynched, even though they never put a hand on them, you are just as guilty," he said.
Finally, Williams said that "everybody from beaters to the paramedics to the regular officers on the scene that stood there and watched is going to lose their job and should."
"Because once you look at somebody no matter what crime they did and you take the human out of them, you have now also lost your humanity and now your freedom," he said.
The Memphis Police Department and Williams have been contacted for further comment.
Nichols died in hospital on January 10, three days after he was beaten by police. His funeral will be held at Mississippi Boulevard Christian Church in Memphis on Wednesday, beginning at 10:30 a.m. CST.