TV Host Blames Tyre Nichols for Refusing to Comply With Memphis Police
A host on a conservative news outlet appeared to blame Tyre Nichols for the events that led to his death, saying that he should have complied with the officers accused of beating him.
Video footage released on Friday showed five Memphis police officers attacked Nichols, a 29-year-old Black man, with their feet, fists and a baton after he was pulled over in a traffic stop on the night of January 7.
The footage shows that Nichols seemed confused about what he did wrong. Amid the chaos, he ran and he was eventually caught at an intersection a short distance from his mother's house. Two officers were seen holding Nichols to the ground as a third appeared to kick him in the head. Then, another officer was seen striking Nichols repeatedly with a baton as another officer held him.
The officers then left him on the pavement, propped against a squad car and more than 20 minutes passed before any kind of medical attention was provided. Nichols died in hospital on January 10.
Grant Stinchfield, a host on conservative station Real America's Voice, suggested that Nichols would have survived if he had complied with the officers.
"Here are some of the facts that people aren't talking about—this all could have been avoided with one simple move," he said.
"Tyre Nichols could have complied from the moment he was pulled out of that car. If you watch this interaction, he never really complies until the very end." Stinchfield has been contacted for further comment.
The host's comments were met with outrage, after a clip went viral as it was shared on Twitter by commentator Ron Filipkowski.
"What a complete and utter disgrace. Justifying this or attempting to do so in any way is abhorrent," tweeted August Miller.
Another Twitter user wrote: "They can see a black man being VICIOUSLY BEATEN UP and still say they "should of complied." This is whole mental illness. Their broken record is blame the victim and the police were just giving orders. You have the right NOT to be assaulted by police or be killed."
Another wrote: "NOPE. This is an unacceptable take. Those police officers flat out intended to harm him. He could've done everything right or everything wrong & it wouldn't have mattered. This endless gaslighting over police murdering black ppl can't be tolerated for a moment."
Another wrote: "How could he comply? They were shouting conflicting commands at him. This is so ridiculous."
Officers had shouted at least 71 commands to Nichols in the 13-minute period before they reported that he was officially in custody, according to The New York Times. Those commands were "confusing, conflicting and sometimes even impossible to obey," the newspaper reported.
Stinchfield told Newsweek that during his monologue, he "made it clear" that there is "no excuse" for the officer's actions.
"I dubbed them 'the violent Keystone Cops' who were untrained and filled with anger," he said.
He added that "the best way to survive any encounter with even the most violent police officer is to 'obey commands and show your hands.' Tyre Nichols did not appear to do either. It is the best advice to survive any police encounter."
Stinchfield said: "As angry as I am over the violence displayed by the cops, I am just as angered by the mainstream media and their left-wing political goons who are exploiting this case to wage war on all cops. The media cares more about using this case to divide a nation than it does about the young man who died."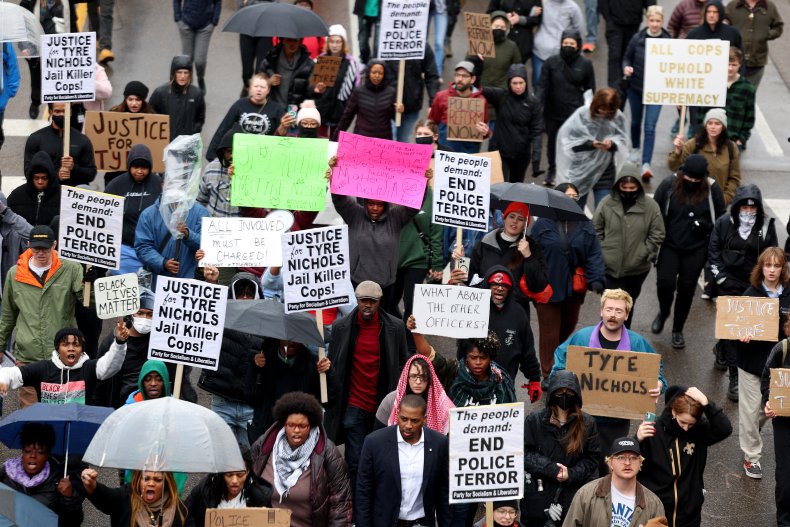 Five Black officers—Tadarrius Bean, Demetrius Haley, Desmond Mills Jr., Emmitt Martin III and Justin Smith— have been fired and charged with Nichols' murder. They also face charges of aggravated assault, aggravated kidnapping, official misconduct and official oppression.
The Memphis Police Department revealed on Monday that two other officers—one identified as Officer Preston Hemphill, who is white—have been relieved of duty in connection with Nichols' death.
Hemphill's "actions and involvement has been under investigation as he participated in the initial traffic stop and the use of a TASER."
On body camera footage from the initial stop, Hemphill is heard saying that he stunned Nichols and declaring: "I hope they stomp his a**." The other officer hasn't been identified and their role in the incident wasn't specified.
Also on Monday, the Memphis Fire Department said it had fired three emergency workers—Robert Long, JaMicheal Sandridge and Lt. Michelle Whitaker—who arrived at the scene as Nichols was handcuffed on the ground and slumped against a squad car.
Fire Chief Gina Sweat said an investigation determined that all three violated "multiple" policies and protocols and that "their actions or inactions on the scene that night do not meet the expectations of the Memphis Fire Department."
The Nichols family and their lawyers have called for more officers to be fired or charged, as have activists who have protested in Memphis and other cities since the video's release.
Update 1/31/23, 10:30 a.m. ET: This article has been updated with comment from Grant Stinchfield.