Mysterious Seventh Memphis Cop Suspended Over Tyre Nichols' Death
A seventh Memphis police officer has been disciplined in connection with the death of Tyre Nichols, officials revealed on Monday.
Video released on Friday showed a number of people had failed to help Nichols, a 29-year-old Black man, who five police officers are accused of beating to death.
Those officers, who are all Black, were fired and charged with second-degree murder and other offenses.
The Memphis Police Department (MPD) announced on Monday that Officer Preston Hemphill, who is white, had been relieved of his duties shortly after Nichols' January 7 arrest.
The department said that another officer had also been relieved—but that officer was not named and the role they played in the incident was not specified.
"The MPD's team of Internal Affairs investigators prioritized interviewing officers and witnesses related to the second scene first, where the most egregious aspects of the incident occurred," the police department said in a news release.
Hemphill "and the other officer's actions and inactions have been and continue to be the subject of this investigation since its inception on January 8, 2023."
The statement added that there "are numerous charges still developing that are impending."
The department has been contacted for comment.
Also on Monday, the Memphis Fire Department announced that two emergency medical technicians and a lieutenant have been fired following an internal investigation.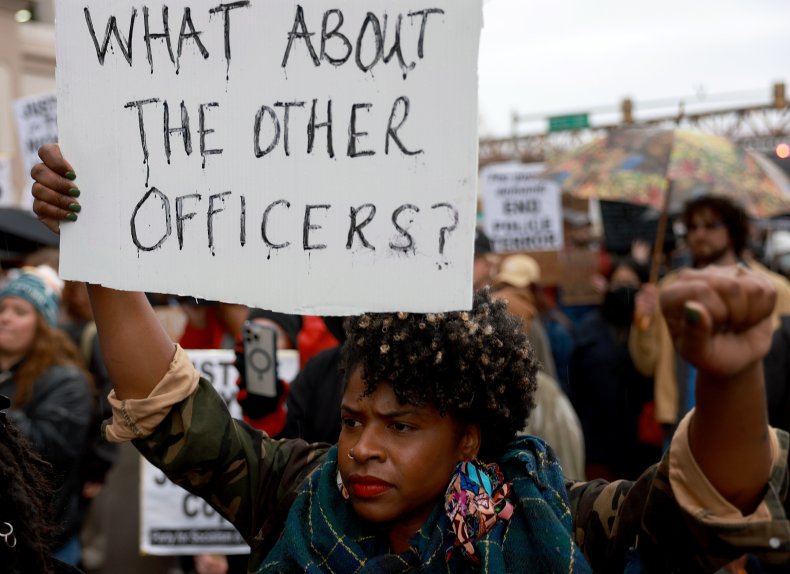 The investigation determined that Robert Long, JaMicheal Sandridge and Lt. Michelle Whitaker "violated numerous" departmental policies and protocols, Fire Chief Gina Sweat said in a statement.
"Their actions or inactions on the scene that night do not meet the expectations of the Memphis Fire Department and are not reflective of the outstanding service the men and women of the Memphis Fire Department provide daily in our community."
The department had received a call at 8.31 p.m. from police to respond to a report of a person who had been pepper-sprayed, the statement said. Long and Sandridge arrived at 8:41 p.m. as Nichols was handcuffed on the ground and slumped against a squad car.
Based on the nature of the call and information they were told by police at the scene, they "failed to conduct an adequate patient assessment of Mr. Nichols," the statement said. Whitaker and the driver remained in the fire engine.
After an initial interaction with Nichols, Long and Sandridge called an ambulance, and it arrived at 8:55 p.m., the statement said. An emergency unit cared for Nichols and transported him to a hospital at 9:08 p.m.
Video footage released on Friday showed Memphis officers savagely beating Nichols. Officers used a stun gun, a baton and their fists as they pummeled Nichols during the nighttime arrest on January 7. He died in hospital three days later.
Five officers—Tadarrius Bean, Demetrius Haley, Desmond Mills Jr., Emmitt Martin III and Justin Smith— have been fired and charged with Nichols' murder. They also face charges of aggravated assault, aggravated kidnapping, official misconduct and official oppression.
Those officers chatted and milled about for several minutes as Nichols remained on the ground, but the presence of other officers at the scene has led to calls for more officers to be fired and charged. Protests have taken place in Memphis and elsewhere since the video's release.
Two Shelby County sheriff's deputies have been relieved of duty without pay while their conduct is investigated.
Lawyers for the Nichols family have questioned why the department did not disclose Hemphill's discipline earlier and why he has not been fired or charged.
On body camera footage from the initial stop, he is heard saying that he stunned Nichols and declaring: "I hope they stomp his a**."
"Why his his identity and the role he played in Tyre's death just now coming to light? We have asked from the beginning that the Memphis Police Department be transparent with the family and the community—this news seems to indicate that they haven't risen to the occasion," attorneys Ben Crump and Anthony Romanucci said in a statement.
"It certainly begs the question why the white officer involved in this brutal attack was shielded and protected from the public eye, and to date, from sufficient discipline and accountability. The Memphis Police Department owes us all answers," the statement said.
Lawyers for the Nichols family have been contacted for further comment.
Hemphill and the five fired officers were all part of the so-called Scorpion unit, which targeted violent criminals in areas with high crime. Cerelyn "C.J." Davis, the Memphis police chief, said the unit has been disbanded.