Former Russian Commander Shares Dismal Assessment for Putin's Forces
Igor Girkin, a former Russian army commander, recently shared his disappointing assessment of Russian President Vladimir Putin's forces, saying that they have "no chance" of taking certain regions after an unsuccessful winter in Ukraine.
In a video posted to Twitter on Sunday by Anton Gerashchenko, adviser to the Minister of Internal Affairs of Ukraine, Girkin said, "Unfortunately the unsuccessful winter campaign and the fact the Ukrainian army didn't suffer a strategic defeat practically dooms Trans-Dniester to defeat and occupation."
Ukraine has received numerous aid packages from the United States and other Western countries since the start of the war last February. The Kremlin has credited the West with Ukraine's ability to hold the line amid Russia's attempts at advancement. Last month, Russian state TV host Vladimir Solovyov said Russia's "enemies will deliver everything, they'll give [Ukraine] everything, until we deal with them harshly and clearly."
In the video shared by Gerashchenko, Girkin added: "Russian forces have no chance of fighting their way to Trans-Dniester by land after leaving its right bank staging ground and retreating from Kherson. Unfortunately, we cannot repeat the crossing of Dnieper River on the fly without being met with resistance. At the moment, neither our fleet, nor the army have enough strength to destroy the enemy's [Ukraine] anti-ship and anti-aircraft defense systems."
Major Ukrainian cities including Kherson, Kyiv, Odessa, and Bakhmut have been at the center of Russian shelling and fierce fighting since Putin's invasion of the Eastern European country. Most recently, Bakhmut, which is in the country's Donetsk region, has been the site of months-long battles between Russian and paramilitary forces against Ukrainian troops.
Ukrainian President Volodymyr Zelensky previously vowed to defend the "fortress" city, but Russian soldiers have slowly gained territory there in recent weeks. Analysts have said that the battle is likely to end "imminently" in Bakhmut.
The latest battlefield losses for Russia show Putin's troops have lost 159,090 personnel, making a single day loss of 1,090 troops, according to Ukraine's Ministry of Defense on Sunday. Additionally, Russia has lost 3,466 tanks, 304 military jets, and 259 air defense systems since February 24, 2022. Newsweek could not independently verify these numbers.
The repeated losses incurred by Putin's troops have even started depleting a decades old stockpile, according to Oleksiy Danilov, the secretary of the National Security and Defense Council of Ukraine.
"Russia is running out of prepared stockpiles of weapons. Missiles and military equipment have been accumulating for decades. The calculations called for blitzkrieg, not blitzutilization," Danilov tweeted on Saturday. "A corrupt economy is unable to provide a front, foreign aid for terrorist Russia is a matter of primary importance."
Meanwhile, Gerashchenko posted another tweet of Girkin on Sunday showing the former military officer condemning current Russian leadership.
"Once again, I do not believe under the leadership of the current Ministry of Defense of Russia and it's wonderful, amazing, talented team we can win this war," Girkin said.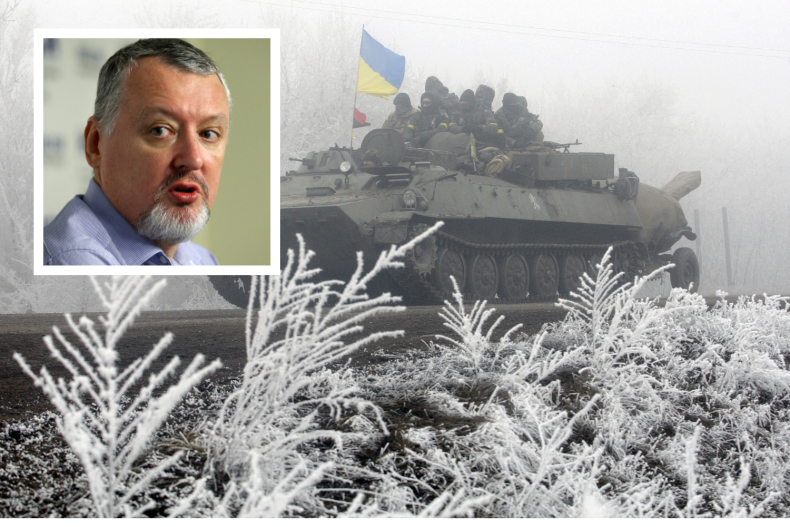 Director of the Grand Strategy Program at Defense Priorities, Rajan Menon, told Newsweek on Sunday, "At this point I see no indication that either side believes it's losing the war—or will lose it. Nor do I expect the war to end anytime soon. Putin's bet may be that time still favors him because he has larger numbers in troops and arms and that Western unity will eventually fray. The recent big losses in soldiers and arms seem not to matter to him."
He added: "Ukraine believes that when newly promised Western armaments (tanks and armored personnel carriers in particular) arrive in adequate numbers and the ground hardens after the rainy season, it can launch a counteroffensive. That move will likely be in the south—toward Melitopol as part of a larger plan to cut Russia's land corridor to Crimea by reaching the Azov Sea littoral."