'Fortnite' Crossplay: How to Enable Switch, PS4, XBox, PC and Mobile Cross Platform Play [UPDATED]
Want to play Fortnite with friends on Switch, Xbox, PS4, PC and Mobile? Find out how to enable crossplay across platforms, here.
Fortnite has introduced some massive changes in the last two weeks, among which were the opening of the Fortnite Mobile beta and the ability to for players to crossplay with friends on Switch, PS4, XBox, PC and Mobile devices.
If you've been hoping to form Fortnite squads and parties with friends on different platforms, the crossplay feature did go live this last Thursday. Below is a quick guide on how to enable crossplay on any Fortnite compatible device.
How To Enable Fortnite Crossplay: Guide To Playing With Friends On Switch, PS4, XBox, Mobile And PC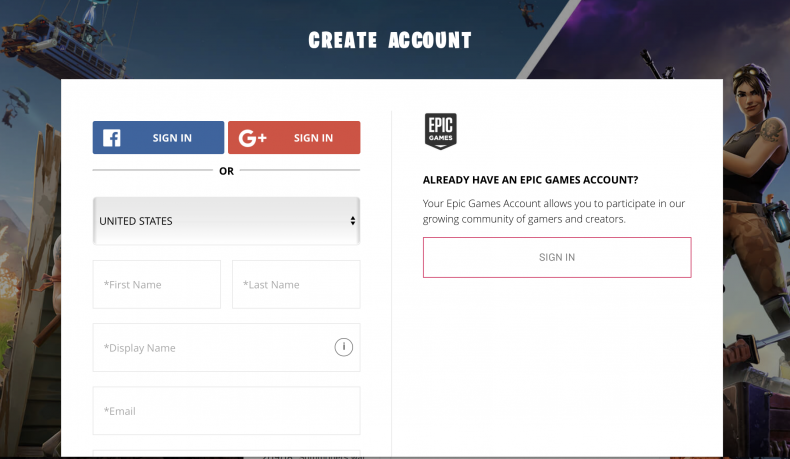 Step 1: Set Up An Epic Account
No matter what platform you are playing from, crossplay is enabled by setting up an Epic Account. PC, iOS and Switch players have to set up an Epic Account when they downloaded the game so they won't need to do it again. If you are playing on Xbox One or PlayStation, follow the steps below. The best part of setting up an Epic Games account is that all your progress will be saved and can be accessed no matter what platform you play on.
Playstation 4
Go to the Official Fortnite Website.
If you are already logged in, hover over your display name and select "Sign Out".
Hover over the silhouette next to "Download" and select "PlayStation".
Sign in with your PlayStation Network Account credentials.
Register full account details to complete the process.
Xbox One
Access the Official Fortnite Website.
If you are already logged in, hover over your display name and select "Sign Out".
Hover over the silhouette next to "Download" and select "Xbox".
Sign in with your Xbox Live credentials.
Register full account details to complete the process.
Step 2: Add Friends
The next step to enabling Fortnite crossplay is to add friends. These friends will need to have set up an Epic Account as well. If you are playing on Xbox One or PS4, you'll need to download the Epic Launcher to add friends to the game. If you are playing on Switch, Mobile or PC, instructions for adding friends can be found, here.
Step 3: Create A Crossplay Squad or Party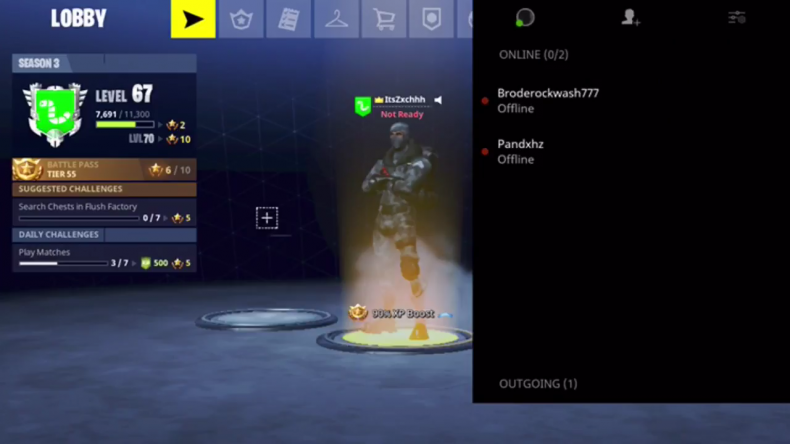 Now that you've added friends through the Epic Launcher, you are ready to start crossplay. Here's how it's done.
Go into the game lobby
Your Friends can be seen in the right-hand corner.
Tap or select the Friend list.
Select "Join Party" and you'll become visible as ready to play by other friends online at the same time.
Can PS4 and Switch or Xbox Crossplay in Fortnite?
Nearly every platform can play together with the Fortnite crossplay feature. In fact, only two platform combinations cannot play together: PS4 and Xbox One and PS4 and Switch. This was a decision made by Sony, not Epic Games, Microsoft or Nintendo, so if you think it's unfair, be sure to send your complaints to the right place.
UPDATE 03/24/18: Epic CEO Tim Sweeney Calls PS4/Xbox One Crossplay 'Inevitable.'
Though Xbox One and PS4 are currently unable to Crossplay together in Fortnite, Epic Games' CEO Tim Sweeney feels confident that a future cross playability between the platforms will be "inevitable."
In Epic's State of Unreal session at GDC this week, Sweeney stated that the removal of all barriers between gaming platforms would be "one of the best things to ever happen to the console industry." Citing Metcalfe's Law, which states that the value of any connected experience for a given user is directly proportional to the number of people they can connect to in the real world, Sweeney made his case for cross-play between Xbox and PS4 users, calling it "the next logical step", yielding benefits for everybody.
"I think it's inevitable now," said Sweeney. "Games have become social experiences in the same way that Facebook or Twitter have, and these experiences only really make sense if gamers can communicate with all of their friends."
"For Sony and Microsoft to support their customers well they have to be open to all their customer's friends - their real-world friends - otherwise they're breaking up real-world social groups. Like kids in school have their friends, and do you expect this platform schism to divide them into two separate groups that can't play together? No. It's got to come together now ... that one remaining barrier will inevitably come down."
Fortnite Crossplay Matchmaking: Mobile Players May Be at a Disadvantage
While crossplay is available for all Fortnite gamers, no matter what platform they are on, generally speaking, mobile players will probably want to stick with forming parties of other Fortnite Mobile friends. The reason has to do with Matchmaking. Fortnite generally matches players from the same platforms together, so in determining a crossplay match, they will put you in a pool based on hierarchy. The hierarchy starts with PC, then consoles (XBox and PS4) and finally mobile. For mobile players, this can be bad -- particularly if your squad is made up of mostly PC or console players. Fortnite will put you into the matchmaking pool of your highest member. So if one of your friends is a PC player, that's the pool your party or squad will play in. Fortnite Mobile comes with some limitations -- namely the controls -- and so you may find yourself quickly outclassed. While you're still welcome to join a PC Battle Royale pool, just be aware that it coule be an unfair fight.
What About Voice Chat? How Do We Talk to Friends During Crossplay?
Voice chat across platforms can be somewhat challenging as Switch does not have voice-chat capabilities for Fortnite. The best option we've found is to set up a chat through a third-party app or client. You can check out our tutorial for setting up crossplay voice chat, here.