'Fortnite' X 'League of Legends': How Much Is the Jinx Bundle and What Does It Include
Popular League of Legends champion Jinx has been added to the Fortnite item shop, as part of a new bundle.
This latest crossover is for the imminent release of Netflix's Arcane, which is an animated prequel to League of Legends itself. Overseen by the developer of the hugely successful esport, Riot Games, the show chronicles the developing tensions between the prosperous citizens of Piltover and their oppressed neighbors in the underground city of Zaun.
Alongside her sibling rival Vi, Jinx has a pivotal role in Arcane, where she is voiced by Ella Purnell (who you might recognize as Dave Bautista's daughter in Army of the Dead). In terms of her personality, Jinx is an impetuous criminal who lives to cause mayhem and destruction wherever she goes. In other words, she is a perfect fit for the chaotic world of Fortnite.
The League of Legends themed bundle has already dropped in the Fortnite item shop. Here is everything that it includes and how much you will need to spend to unlock it.
What Is Included in the Jinx Bundle?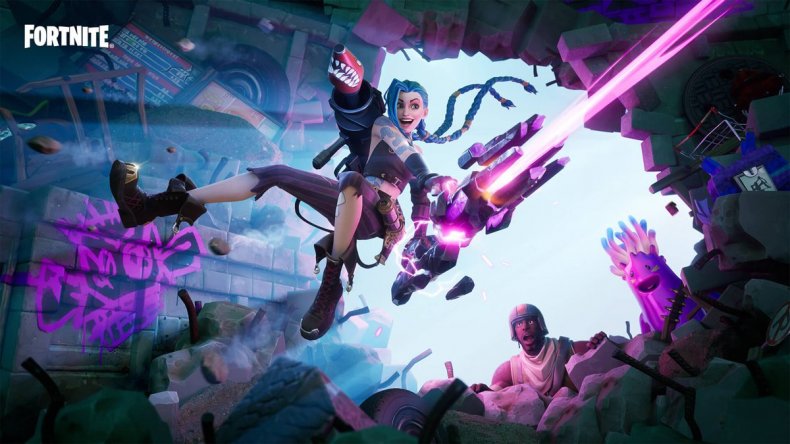 The Jinx skin is available to purchase on its own or as part of the Arcane: League of Legends set.
If you choose to get the latter, then you will also get a few extra items thrown in. Namely, you get Jinx's "Dream Monkey" Back Bling (which looks like one of those creepy Jolly Chimp toys) and the "Pow Pow Crusher" harvesting tool.
In addition to the cosmetics, you will also get a new instrumental lobby track (entitled "Playground"), two separate loading screen options and a "Jinxed" spray that will allow you to cover the Fortnite island in neon purple graffiti.
To summarize, these are all of the items featured in the Arcane: League of Legends set:
Jinx (Outfit)
Dream Monkey (Back Bling)
Pow Pow Crusher (Pickaxe)
Playground (Lobby Track)
Katchoo! (Loading Screen)
Wreaking Havoc (Loading Screen)
Jinxed (Spray)
How Much Do the Jinx Cosmetics Cost in 'Fortnite'?
The Arcane: League of Legends set is currently discounted in the item store from 2,500 v-bucks to 1,800. It is difficult to do an exact conversion here (because you can only purchase v-bucks in certain increments), but this roughly equates to $12.
If you do not want to spend that much money on the cosmetics, then some of the items from the bundle are available separately.
For example, on its own the Jinx outfit costs 1,500 v-bucks, while the Pow Pow Crusher is priced at 800 v-bucks and the Playground lobby track is going for 200 v-bucks.
In related news, the League of Legends World Championship finals will soon be taking place. To find out how much the winners of this competitive esport tournament will be paid, click here.