Fortnite's v19.10 patch notes have now been released, featuring details about the return of some old favorites—like Tilted Towers and grenade launchers—as well as the introduction of some brand-new mechanics.
There have been a few minor updates to Fortnite over the past couple of weeks, with the implementation of dynamic weather and flare guns making a long-awaited comeback. However, there haven't been any particularly meaty additions in a while (unless you're the type of player who considers a microscopic boost to shotgun reload speeds to be a game-changer).
If you were hoping for something more substantial, then you had to sit tight and wait for the v19.10 patch to roll out on Tuesday morning. Speaking of which, the server downtime associated with this ended much earlier than expected, and you can download the update for yourself.
As per the official patch notes, here is everything that is new with Fortnite v19.10.
Dinosaurs Rule the Earth Again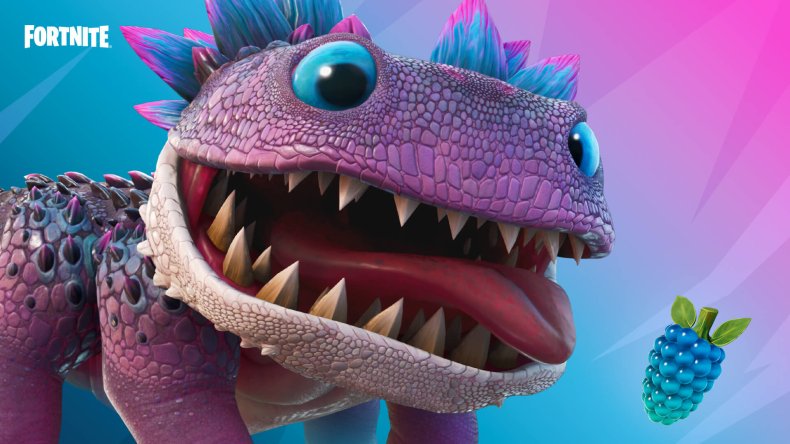 Dinosaur enthusiasts will be pleased to learn that the Fortnite map is now roamed by prehistoric creatures known as Klombos.
These peaceful herbivores—which look an awful lot like Toothless from How to Train Your Dragon—will leave you alone unless provoked. Should you appease them with Klomberries (a new harvestable resource that grows on the island), then you might even be able to get close enough to scale their backs.
From there, you can navigate to the creature's unique blowhole, which will periodically launch you soaring into the air. This provides an alternative escape strategy for when you are in a sticky situation and can also be used to survey the nearby area from high up.
Klombos are not featured in competitive playlists at the time of writing, but the Klomberries (which can be consumed for a boost in effective health) are.
Tilted Towers is Back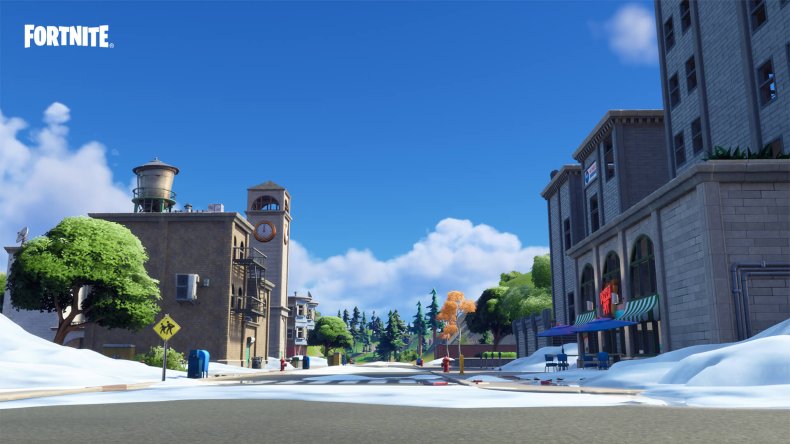 The headline attraction here is the new version of Tilted Towers.
This beloved Point of Interest (POI) has been absent for a number of years now (after it was removed late in Chapter 1, Season 9) and the community has been eagerly anticipating its return. In previous iterations, the metropolitan area was incredibly popular amongst fans, who appreciated its enhanced verticality and the fact that it was always cluttered with valuable loot.
Now that the blanket of Winterfest snow has thawed, a new and improved Tilted Towers has been uncovered on the Fortnite island. If you want to explore the POI for yourself, its location has been marked on the map below. It is relatively central in the island, to the east of Camp Cuddle.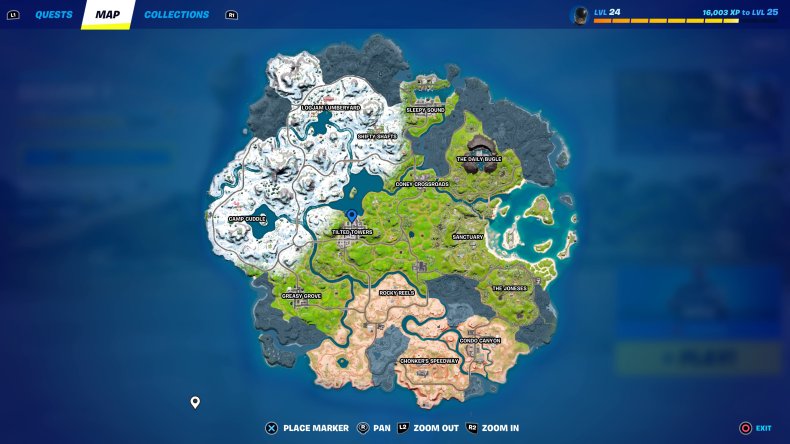 Grenade Launchers Have Been Unvaulted
Another blast from the past comes in the form of grenade launchers, which have been unvaulted for v19.10.
This means that the long-dormant weapon type has been reintroduced to the game's item pool and can be found in random places on the map. They can be looted from chests, retrieved via supply drops, or even taken from sharks if you are brave enough to take on one of those predators.
The grenade launchers have received a slight upgrade too, increasing their general responsiveness and accuracy. More specifically, the v19.10 patch notes confirm that the explosive projectiles will now detonate after their first bounce, making them far more efficient than they were before.
Crowning Achievement Emote Upgraded
The crowning achievement emote (which displays how many crowns you have earned in total this season) has been given a little tweak as well.
It can now display a triple-digit tally, meaning that it's no longer capped at just 99 crowns. If you have already surpassed the original limit, then rest assured that your performance has been tracked this whole time and your emote will be updated to reflect this when you next log in.
Miscellaneous Updates and Bug Fixes
In addition to the above, the v19.10 patch notes from Epic Games also confirm the following changes.
Shield Kegs have been added to competitive playlists, along with Armored Walls
An issue has been fixed that interrupted Spider-Man's Web-Shooters after players swung onto bouncers
The option to join a match as a spectator has been re-enabled, after a bug caused this to become impossible
You can now heal by resting in a tent once again, as the bug preventing this has been patched. The same is also true of healing by campfires
An issue that caused Epic to disable DLSS for DirectX 11 has been fixed
An issue involving Daily Quests not being visible in the Quests tab has been fixed.