New research shows that a fourth stimulus check of $1,400 would lift an additional 7.2 million Americans out of poverty, while a fifth stimulus check would do the same for a further 5 million people—or 12.2 million Americans in total.
President Joe Biden and Democrats pushed through the massive $1.9 trillion American Rescue Plan earlier this month, despite all Republican lawmakers opposing the COVID-19 relief package. That legislation provided most Americans with $1,400 stimulus checks, the third such payment since the start of the COVID-19 pandemic. That package also shored up weekly federal unemployment benefits, significantly expanded the child tax credit, and provided state and local government's with needed financial support. Although GOP lawmakers in Congress unanimously opposed the bill, polls of voters have shown significant bipartisan support for the package.
An analysis published Tuesday by the Tax Policy Center at the Urban Institute & Brookings Institution found that a follow-up direct payment of $1,400 would bring 7.2 million more Americans out of poverty. Furthermore, if two more stimulus checks were approved, more than 12 million more Americans would be lifted from poverty.
"Depending on whether additional $1,400 payments are extended to all people in the US or only to citizens, we project that another payment could further reduce 2021 poverty to between 6.4 and 6.6 percent. Two such payments could reduce poverty to between 4.9 and 5.2 percent," the study found.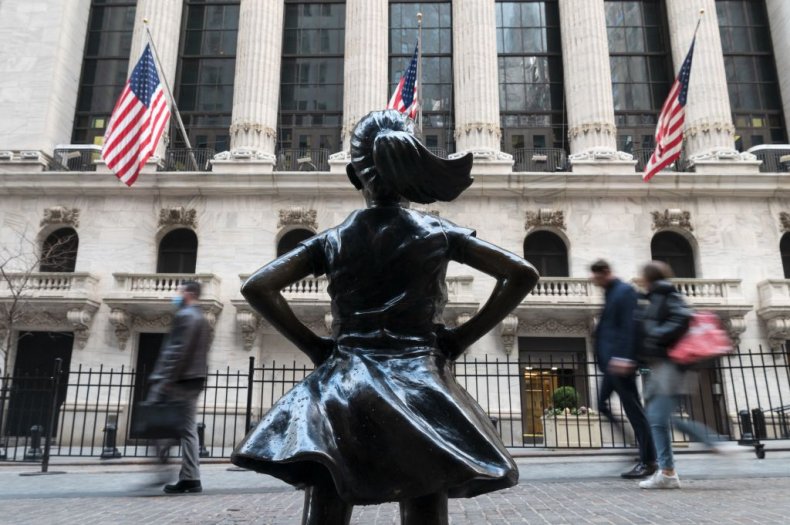 Notably, minority communities would see an even greater decline in poverty rates.
"Among Black people, an additional payment could reduce poverty from 10.5 percent to between 7.7 and 7.8 percent, and a second payment could further reduce poverty to between 5.8 and 6.0 percent. Hispanic people could see poverty drop from 13.3 percent to between 9.0 and 9.9 percent with one additional payment and to between 6.3 and 7.6 percent with two additional payments," the authors of the research wrote.
Elaine Maag, a principal research associate at the Urban-Brookings Tax Policy Center who led the analysis, told Newsweek that "in many ways, the research is not surprising."
"But the magnitudes are pretty interesting, particularly in light of some senators calling for additional payments. Roughly 28 million people remain in poverty after the American Rescue Plan. An additional payment could get that number down to about 21 million and two additional payments could reduce the number to between 16 and 17 million people," Maag said.
Adam Ruben, director of Economic Security Project Action, told Newsweek in an emailed statement that the analysis shows that "now is not the time for Congress to take their foot off the gas."
"This report shows that direct cash works. The $1,400 checks in the American Rescue Plan will have a real impact on people's lives, and are one of the most powerful tools we have to help them get back on their feet," Ruben said. "Now we need to make sure the progress we've made sticks, and families don't just fall back into poverty when the checks run out."
The analysis comes as there appears to be growing support among Democratic lawmakers for further stimulus checks, or even recurring monthly payments. Progressive lawmakers, such as Senator Bernie Sanders of Vermont, have pushed for recurring stimulus checks of $2,000 per month since the early days of the pandemic in 2020.
On Tuesday, a group of 21 Democratic senators led by Senator Ron Wyden, an Oregon Democrat, sent a letter to Biden, urging him to support recurring monthly payments. The group of Democratic lawmakers suggested that Biden include recurring payments in his Build Back Better infrastructure proposal, which the White House unveiled this week.
"We urge you to include recurring direct payments and automatic unemployment insurance extensions tied to economic conditions in your Build Back Better long-term economic plan. While we are pleased that the American Rescue Plan included a one-time direct payment and an extension of federal unemployment insurance programs, a single direct payment will not last long for most families, and we are worried about the cliff facing unemployed workers when the unemployment insurance extensions expire on September 6," the letter said.
Polling carried out by Data for Progress and published earlier this year showed substantial bipartisan approval of monthly direct payments. Overall, 65 percent of Americans said they would back stimulus checks being given out monthly for the duration of the pandemic. That included 54 percent of Republicans, 78 percent of Democrats, and 60 percent of independent voters.
Updated 3:33 PM ET, with additional comments from Elaine Maag of the Urban-Brookings Tax Policy Center.