A poll showing 61 percent of Americans don't want Donald Trump to be president again has been displayed on Fox Business.
The survey, conducted by Marist National Poll for National Public Radio and PBS NewsHour, found only 38 percent of U.S. voters want the New York business tycoon to have another term in the White House.
Trump announced his latest presidential bid last November at his Mar-a-Lago resort in Florida, with polling suggesting he has a strong lead over possible rivals for the Republican nomination. This could set up a 2024 rematch against Joe Biden, though a majority of Americans don't think either man should run again.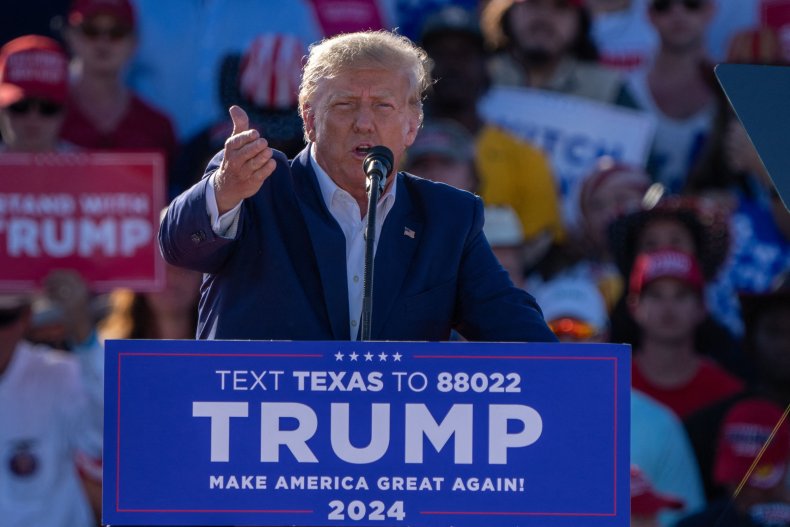 The Marist poll found 76 percent of Republicans do want Trump to run for a second term, with just 21 percent disagreeing, indicating he has a good chance of clinching the GOP's 2024 presidential nomination. By contrast, 89 percent of Democrats and 64 percent of independents don't want Trump to run again, nor do 41 percent of those identified as "white Evangelical Christians," a group that has become increasingly lukewarm towards the Republican frontrunner.
Marist surveyed 1,327 U.S. adults for the poll between March 20 and March 23, with the company reporting its data has a margin of error of plus or minus 3.5 percent.
On Tuesday Fox Business broadcast a graphic based on this poll, showing 61 percent of Americans don't think Trump should be re-elected. This took place on the network's Varney & Co show, hosted by business journalist Stuart Varney.
Newsweek has contacted Trump for comment about the poll via his official website.
Appearing on right-wing network Newsmax earlier this week, Trump's attorney Lindsey Halligan claimed the probe into the former president, over allegations he broke campaign finance rules by paying hush money to pornographic actress Stormy Daniels, is "dead."
Trump had said he would be arrested over the case on March 21, and called on his supporters to protest, though this didn't take place. According to NBC the New York grand jury, which is hearing evidence on the case, will not meet on Wednesday as was originally planned, and is unlikely to issue any indictment this week.
Halligan commented: "I think they just are trying to keep the case alive—but it looks like the case is dead. If not, it should be. Bragg needs to wrap this case up, stop focusing on someone who doesn't even live in New York City, and focus on protecting those living in New York City from the violent crime going on there."
Trump is also being investigated over his role in alleged efforts to overturn the 2022 presidential election result in Georgia, the events surrounding the January 6, 2021, attack on Congress, and his handling of classified documents.