Fox News Commentator Says Susan Collins Is 'Most Endangered' Republican After Vote for Impeachment Witnesses
Conservative radio show host and author Howie Carr told Fox News that he believes Senator Susan Collins of Maine is the "most endangered" Republican senator up for re-election this year, following her decision to vote in favor of calling additional witnesses in President Donald Trump's impeachment trial.
Collins, as well as fellow Republican Senator Mitt Romney of Utah, voted with their Democratic colleagues to call for additional witnesses in a vote that failed 49 to 51 on Friday. Democrats would have needed to convince at least four GOP lawmakers to vote with them in order for the motion to have passed by a simple majority. Following the vote, Collins and Romney have faced significant criticism from fellow Republicans.
"I think Susan Collins probably got in more of a jam than anybody else by saying she wanted witnesses," Carr told Fox & Friends on Sunday morning. "You know, she's kind of squishy up in Maine and I don't know, I think she's the most endangered of the whole bunch of them," he warned.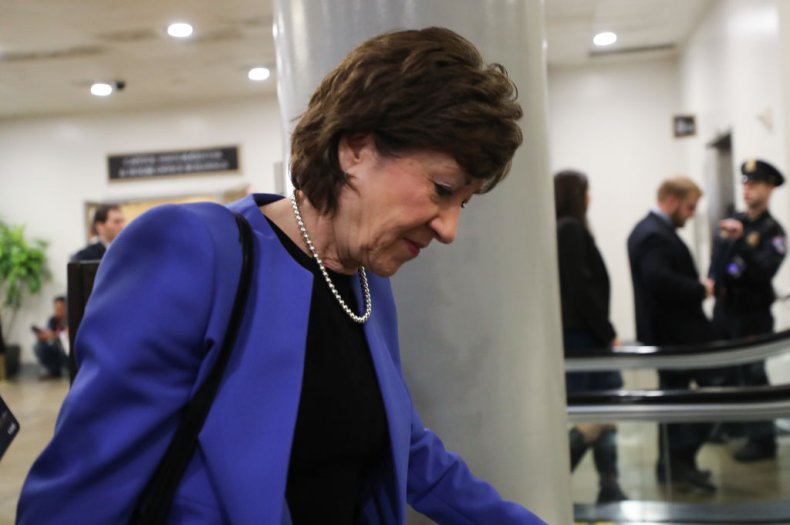 Carr also said he believed that GOP Senator Cory Gardner of Colorado, who Democrats had hoped would vote with them, would be safe in his reelection bid. Romney, who took office in 2019, does not have to worry about re-election until the 2024 election season.
"I worked with colleagues to ensure the schedule for the trial included a guaranteed up-or-down vote on whether or not to call witnesses," Collins said in a Thursday evening statement. "I believe hearing from certain witnesses would give each side the opportunity to more fully and fairly make their case, resolve any ambiguities, and provide additional clarity. Therefore, I will vote in support of the motion to allow witnesses and documents to be subpoenaed."
Romney had repeatedly expressed his interest in hearing from additional witnesses, particularly from Trump's former national security adviser John Bolton. Over the past week, a series of new revelations were reported from an unpublished manuscript of Bolton's new book about his time in the Trump White House. The former diplomat explained that the president had explicitly told him that he wanted aid withheld from Ukraine until it cooperated with investigations into the Democrats and the Biden family, which later led to the president's impeachment in the House of Representatives back in December.
Democrats have accused Republicans of participating in a "cover up" by refusing to hear additional information. But some GOP lawmakers have argued that the president's actions were inappropriate but did not warrant his removal from office. The president's defense team argued that even if Trump did all the things he was accused of doing, it would not be impeachable because the actions did not constitute a specific crime. Most constitutional scholars have disagreed with that argument, however.
While Romney is not facing re-election, he has already garnered backlash from conservatives. The senator was recently told by the Conservative Political Action Conference (CPAC), which previously backed his failed presidential run against former President Barack Obama in 2012, that he is not welcome at their event this year.
"The 'extreme conservative' and Junior Senator from the great state of Utah, @SenatorRomney is formally NOT invited to #CPAC2020," Matt Schlapp, the leader of CPAC, tweeted on Friday.
"Mitt Romney deserved this [because] his Senate tenure is a waste and his vote was the latest outrage," Schlapp later told Fox News.