Fox News Commentators Blame Barack Obama For Tensions With Iran, Which Escalated Under Trump
Fox News commentators and GOP lawmakers appearing on the network have blamed President Barack Obama for the current confrontation with Iran, despite the dramatic escalation in tensions since President Donald Trump took office.
A panel on right-wing opinion host Sean Hannity's Tuesday evening show blasted Obama's "appeasement" of Iran, arguing that it was "obvious" that strategy did not work. Commentators on the network, including Republican Representative Adam Kinzinger of Illinois and Senator Ted Cruz of Texas, also argued that the former president's policies were the reason why tensions were now significantly heightened.
"Yeah, I think it's pretty obvious the Obama appeasement didn't work," Dan Bongino, a conservative commentator and radio host, told Hannity during the show.
"We didn't want this. We didn't ask for this," he said, discussing Iran's missile strikes on U.S. military bases in Iraq Tuesday night. He went on to praise Trump for his actions toward Iran, arguing that the president had moved cautiously.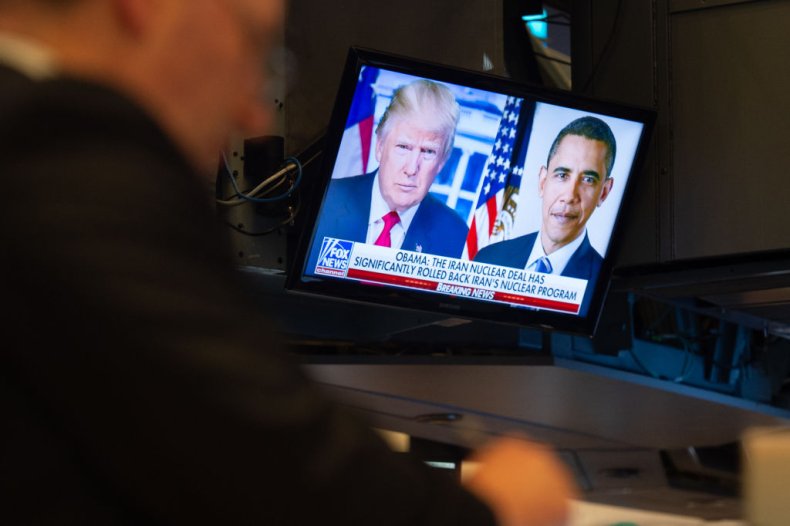 "We have to listen to the world we are in. Not the world we want to live in," Bongino added.
Pete Hegseth, a fellow panelist and Fox News contributor, agreed, suggesting an even stronger retaliation should come from Washington. Fox News host Brian Kilmeade said, "The president has played this spot-on thus far, totally reversing the appeasement policies of the Obama administration."
"Where we are right now is on Barack Obama," he claimed.
Hegseth repeated his criticism of Obama on Wednesday morning during a segment of the Fox News morning show Fox & Friends.
"Listen, this instant, this moment right now, is on Barack Obama, not Donald Trump," he said.
Appearing on Fox News on Tuesday evening, Cruz lobbed similar accusations against Obama. "In a very real sense, the missiles that we saw fired on U.S. servicemen and women tonight were paid for by the billions the Obama administration flooded the Ayatollah with," he argued, referred to Ali Khamenei, Iran's supreme leader
When Fox & Friends played the clip of Cruz's remarks during a segment with Kinzinger on Wednesday morning, the congressman said Cruz was "100 percent right." He then went on to attack the 2015 Joint Comprehensive Plan of Action (JCPOA), commonly known as the Iran nuclear deal, which was signed by the Obama administration.
Newsweek has reached out to Obama's press office for comment but did not hear back before publication.
In reality, tensions between Tehran and Washington had de-escalated significantly in the final years of Obama's presidency. The JCPOA, which was also signed by the European Union, France, Germany, the United Kingdom, Russia and China, offered Iran sanctions relief and international investment in exchange for curbing its nuclear program.
Consistent reports from the U.N. nuclear watchdog confirmed that Iran was in compliance with the agreement, but Trump had long criticized Obama and the international accord. In May 2018, the president decided to withdraw from the deal and reimplement sanctions against the Islamic Republic, a move that was condemned by the deal's other signatories.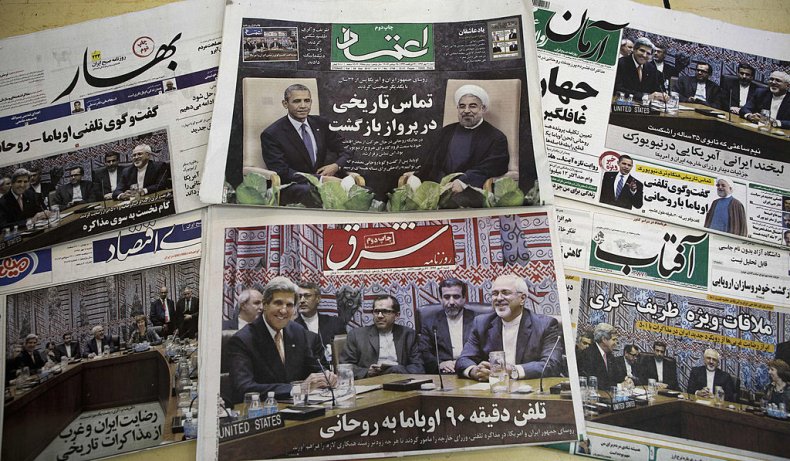 Despite Trump's decision, Iran worked with European leaders as well as Russia and China to preserve the deal until May 2019, one year after Trump had announced the U.S. withdrawal. Tehran then announced it would begin taking steps back from its commitment under the agreement, in hopes of exerting pressure on the U.S. to return to it.
But with Trump's decision to kill Qassem Soleimani, a top Iranian general who commanded the country's elite Quds Force, as he arrived in Iraq last week, Iran announced that it would no longer abide by any of its commitments under the JCPOA. Vowing "revenge" for the killing of the military leader, Iran carried out the missile strikes on U.S. bases in Iraq on Tuesday night. There have been no initial reports of U.S. casualties from the attack.
Iranian Foreign Minister Javad Zarif has suggested that his nation does not plan to carry out any more attacks against U.S. interests, saying that the response to Soleimani's killing had been proportional. But Khamenei said that the military strikes were "not enough."
Republican Senator Rand Paul of Kentucky has offered a starkly different narrative to that of Kinzinger and Cruz. In an interview with Fox News on Tuesday morning, he argued that the situation with Iran had been improving under the nuclear deal.
"I hate this. I hate that this is where we are going.... There was much less killing, much less violence after the Iran agreement," he said.
Under the nuclear deal, "we were heading to a much more stable situation with Iran," the senator said. "And now it's gone, and I think it might be gone for a lifetime."