Fox News anchor Chris Wallace confronted Senator Bill Cassidy, a Louisiana Republican, over his opposition to President Joe Biden's $1.9 trillion American Rescue Plan—pointing out that the widely popular legislation sent cash relief to more than 90 percent of his constituents.
No Republicans in Congress voted in favor of the massive COVID-19 stimulus legislation, which was formally passed on party-line votes through both the Senate and House before being signed by President Joe Biden on Thursday. The bill provides $1,400 direct stimulus checks to the vast majority of Americans, shores up federal unemployment benefits, and significantly expands the child tax credit, among a number of other priorities—including funding for COVID-19 vaccines and testing as well as for schools and state and local governments.
"As you well know, this pandemic is not just a public health crisis—it's also an economic crisis. According to the White House, stimulus payments will go to 91 percent of the adults in your state of Louisiana, and 93 percent of the children," Wallace pointed out during an interview with Cassidy on Fox News Sunday.
"And the child tax credit will go to the families of 1 million kids in Louisiana," the anchor continued. "Senator, are you saying the people of your state don't need that money?"
Cassidy pushed back, arguing that he and other Republicans were opposed to other provisions in the American Rescue Plan—not the aid to individuals and families.
"Republicans offered an alternative that included that sort of money for the people who needed it," he argued.
The senator said that Biden could have gotten "bipartisan support" for a plan that included these provisions but cut others, such as stimulus checks going to inmates.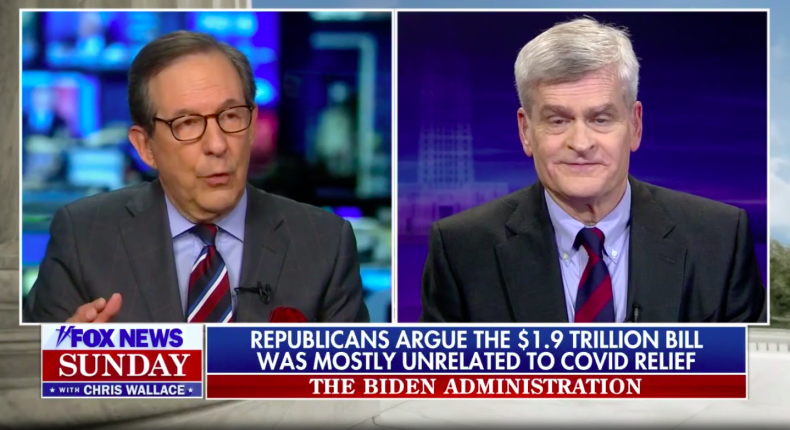 "But you would agree that hundreds of billions of dollars [should] go in economic stimulus to people and to businesses that have been hit hard by the pandemic?"
"Yes, I agree with that," Cassidy responded. The GOP senator then went on to criticize specific parts of the stimulus bill—such as excess funding to schools and state governments—while raising concerns about the additional stimulus causing inflation. Although some economists, including some on the left, have warned of the risk of inflation. But most economists agree that these risks are minimal and could readily be addressed by the Federal Reserve.
Although Cassidy suggested that there would have been bipartisan support for direct payments and expanded child tax credits, the smaller $600 billion bill proposal put forward by him and nine other Republicans included significantly smaller payments. While the Biden plan provides most Americans with direct stimulus checks of $1,400, the Republican plan called for more targeted checks of just $1,000, as well as $500 for dependents. It also did not include an expansion of the child tax credit, although GOP Senator Mitt Romney of Utah separately proposed his own version of reforming that provision.
Recent polls have shown significant support for the American rescue plan, from Democrats and Republicans alike. A survey conducted by Morning Consult and Politico from March 6 to 8 showed that 75 percent of Americans approved of the $1.9 trillion package. That included 90 percent of Democrats, 71 percent of independents, and 59 percent of Republicans.
Newsweek reached out to Cassidy's office for further comment, but did not immediately receive a response.
Later in the Fox News Sunday interview, Cassidy took aim at the Biden administration's response to the surge of undocumented migrants at the U.S. border with Mexico. The administration's "policy is leading to this surge. That is unmistakable," the senator said, pointing out that influx came when Biden took office.
Biden and fellow Democrats have pushed back against such criticism. In a Sunday interview with ABC News' This Week, Speaker of the House Nancy Pelosi argued that Biden had inherited a "broken system" from the administration of former President Donald Trump.
"This is a humanitarian challenge to all of us," the top House Democrat said. "What the administration has inherited is a broken system at the border and they are working to correct that in the children's interest."