Fox News Host Labels Mitt Romney 'Moderate Democrat' Over Gas Prices
Fox News host Brian Kilmeade listed GOP Senator Mitt Romney as one of the "moderate Democrats" who he said should be spoken to about taking action to lower U.S. gas prices. Kilmeade made the remark Tuesday during the Fox News program Fox & Friends.
"If Dick Durbin, if Senator Warner, if Senator [Joe] Manchin—Senator Manchin does say it," Kilmeade said. "If they wanted gas prices to go down, they would sit there with Mitch McConnell and other—or moderate Democrats like Mitt Romney—and they would say: 'Hey, we need to drill more. We need to go back on all these environmental restrictions. We need to go back to natural gas.'
"They can even use Ukraine as an excuse," Kilmeade went on. "But not one Democrat not named Joe Manchin has come out and [said], 'I know how to get the gas prices down. We got to drill.'"
It was not immediately clear if Kilmeade's remark about Romney was intentional or a gaffe. Newsweek reached out to Fox News for clarification on whether the Fox host meant to list Romney as one of the "moderate Democrats," or whether he was referring to Democratic Senator Mark Warner when he said "Senator Warner." Romney's office declined to comment.
President Joe Biden has been facing heavy pressure to take action to offset inflation and elevated gas costs in the U.S., including demands from members of his own party. The national average for the cost of a gallon of regular gas was $4.655 on Tuesday, according to AAA. That is a slight decrease from when per-gallon gas prices peaked on June 14 at $5.016, but it's still sharply up from the national average of $3.147 per gallon a year ago.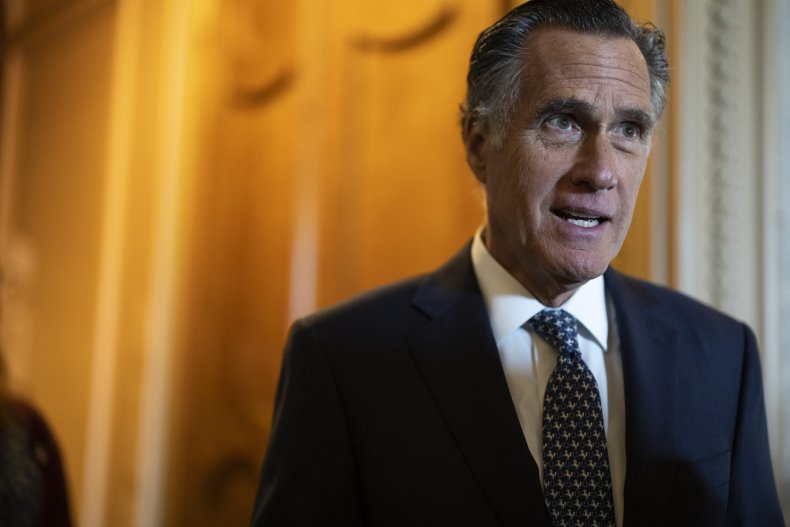 In an effort to combat rising gas prices, the Biden administration announced at the end of March that it would release an average of 1 million barrels of oil per day from the Strategic Petroleum Reserve over six months. Last month, he called on Congress to temporarily pause the federal gas tax, which is about 18 cents, but that move has yet to happen.
Both Manchin, a moderate Democrat from West Virginia, and Romney, a Utah Republican who secured the GOP presidential nomination in 2012, have voiced support for more oil drilling to ease gas prices.
Manchin said in a joint statement with Democratic Senator Mark Kelly of Arizona that increasing domestic oil production to match demand "is a critical step to lowering gas prices and reducing our reliance on foreign sources."
"Biden gas tax gimmick fail: the problem's not the 18 cents, it's the $2.00 hike since last year," Romney tweeted on June 22. "While oil price is global, US can impact expectations with much more drilling and pipelines."