Fox News Host Presses GOP Senator on CNN Reporter's Question on Trump Impeachment Witnesses: 'You Can Call me a Conservative Hack'
Republican Senator Martha McSally, who dubbed a CNN reporter a "liberal hack" over a question about potential witnesses and evidence in President Donald Trump's impeachment trial, danced around the question when pressed Thursday evening by Fox News' Laura Ingraham.
Democrats and reporters were quick to criticize McSally, a former Air Force combat fighter pilot who was appointed in December 2018 by Arizona's governor to fill the late John McCain's seat, for labeling CNN's Manu Raju a "liberal hack" on Thursday. He had asked her if newly revealed—and damning—evidence against Trump should be considered during the trial that will begin in earnest on Tuesday.
"Manu, you're a liberal hack. I'm not talking to you," she said. "You're a liberal hack."
Pressed by Ingraham later that night, McSally offered a vague answer. "I want a fair trial," she said.
"You're not gonna play the game with me," the Fox talk show host responded. "You can call me a conservative hack, but do you want witnesses, yes or no? Why aren't you telling us?"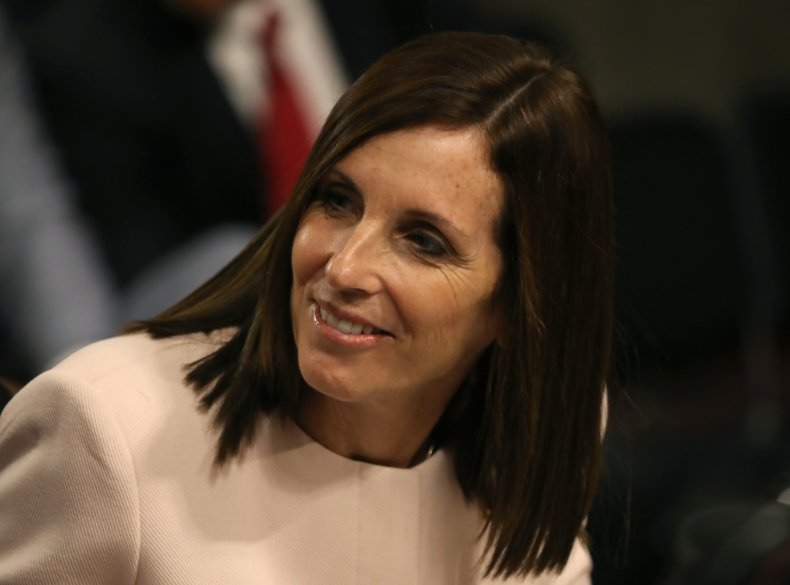 McSally said it was because the Senate plans to vote Tuesday on a resolution presented by Senate Majority Mitch McConnell that will lay out the rules to govern the trial, which will allow for later consideration of witnesses. But Senate Minority Leader Chuck Schumer has promised to force a vote on summoning several witnesses believed to have firsthand knowledge of Trump's Ukraine dealings, including former national security adviser John Bolton and acting White House chief of staff Mick Mulvaney, at the trial's outset on Tuesday.
"We're going to vote on Tuesday to start the trial and let them present the prosecution... We're gonna get to [witnesses]," McSally said, dodging Ingraham's question on how she'll vote. "I'm not going to tell everybody what my vote is going to be."
"Pretty easy question, wouldn't you say, senator?" Ingraham said.
McSally responded: "I think we'll proceed to a final vote, I hope with strong unity, after Phase One is complete."
Like McSally, other Senate Republicans are dismissive of the new evidence involving Trump's dealings with Ukraine, which is at the heart of his impeachment. Specifically, a government watchdog agency has concluded that Trump violated the law by withholding military aid from Ukraine. Also, new evidence from an indicted associate of Rudy Giuliani, Trump's personal lawyer, further exposed Trump's efforts to remove a former ambassador and pressure Ukraine to investigate former Vice President Joe Biden and his son Hunter.
In her Fox interview, McSally doubled down on her criticism of CNN, accusing the network of "cheerleading the Democrats" and saying they "hate the president." She also claimed the network is prejudiced against Republicans.
"As you know, these CNN reporters, many of them around the Capitol, they are so biased, they are so in cahoots with the Democrats. They so can't stand the president, and they run around trying to chase Republicans and ask trapping questions," McSally claimed.
"I'm a fighter pilot. I called it like it is," she continued. "And that's what we see out of the mainstream media—and especially CNN—every single day. Obviously, I'm going to tell the truth. I did it today, and it's laughable how they've responded."
In a statement about McSally's characterization of Raju, CNN said: "It is extremely unbecoming for a U.S. senator to sink to this level and treat a member of the press this way for simply doing his job."
The campaigns of Trump and McSally quickly seized on the opportunity to raise money off the attention she received from criticizing a CNN reporter.
In an email to supporters, McSally's campaign urged people to "FIGHT BACK AGAINST LIBERAL HACKS" by contributing.
"I've said it before, and I'll say it again. I'm not in the Senate to play politics, especially not with liberal hacks who profit off of spin," the email read. "Since the day I joined the Senate, I've been attacked by their false stories, smears, and distortions and finally, I've had enough."
Trump's re-election campaign told supporters in a tweet that "THIS is how you handle FAKE NEWS @CNN."
"THREE CHEERS for Senator @MarthaMcSally!!!" it added, urging people to donate to her campaign.