Fox News Legal Expert Says Constitution's Impeachment Process 'Intended' To Stop Trump's 'Reckless' Behavior
Fox News senior judicial analyst Andrew Napolitano slammed Donald Trump's "allusions to violence" and reference to a "civil war," arguing that the president's actions toward Ukraine constituted "impeachable behavior."
"The president's allusions to violence are palpably dangerous. They will give cover to crazies who crave violence, as other intemperate words of his have done," Napolitano warned in an op-ed published by Fox News on Thursday. He pointed out that "bounties" have already been offered for information that could lead to identifying the anonymous whistleblower at the center of the Ukraine scandal.
"Trump also suggested that his impeachment would produce a second American Civil War. This language is a dog whistle to the deranged," the legal expert, who previously served as a New Jersey Superior Court Judge, added.
On Sunday, Trump tweeted a quote from conservative religious leader Pastor Robert Jeffress, in which he argued that Democrats' efforts to impeach him would lead to Civil War. "If the Democrats are successful in removing the President from office (which they will never be), it will cause a Civil War like fracture in this Nation from which our Country will never heal," Trump quoted Jeffress as saying.
The remark received significant backlash from Democrats and some Republicans. "I have visited nations ravaged by civil war. @realDonaldTrump I have never imagined such a quote to be repeated by a President," GOP Representative Adam Kinzinger of Illinois tweeted in response. "This is beyond repugnant."
Harvard Law professor John Coates argued that Trump's tweet was grounds for impeachment on its own. "This tweet is itself an independent basis for impeachment - a sitting president threatening civil war if Congress exercises its constitutionally authorized power," he posted to Twitter.
In his Thursday op-ed, Napolitano also emphasized that Trump's actions in the Ukraine scandal are impeachable offenses.
"Can the president put his own needs and wants above the nation's? In a word: No," the Fox News analyst wrote. "The president has taken an oath to enforce federal law, not break it. He cannot lawfully impose conditions—conditions that benefit him alone—as a prerequisite to compliance with the law."
Concluding his article, Napolitano asserted: "It was to remedy just such reckless, constitutionally destructive behavior that impeachment was intended."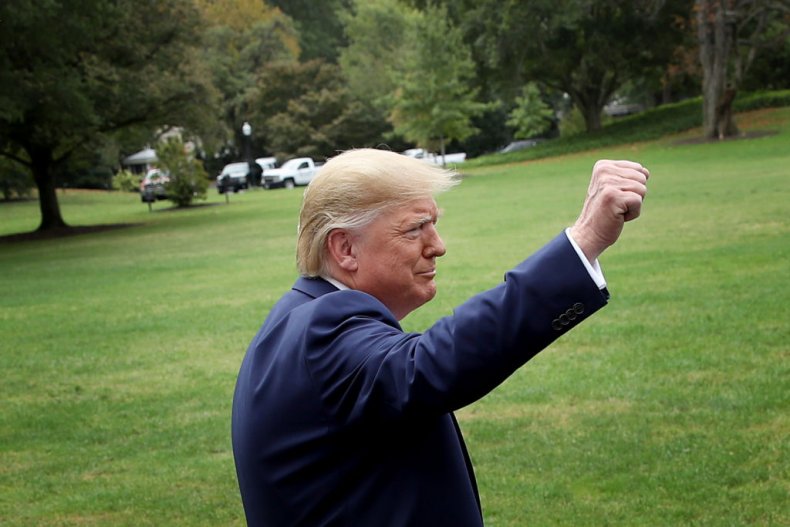 Speaker of the House Nancy Pelosi, the top Democrat in Congress, announced the formal launch of an impeachment inquiry last week against Trump following revelations from a government whistleblower about the president's actions towards Ukraine. Trump and his personal lawyer Rudy Giuliani have repeatedly pressured Ukrainian officials to investigate debunked allegations against Democratic presidential candidate and former Vice President Joe Biden.
During a July 25 phone call, Trump asked Ukraine's President Volodymyr Zelensky for "a favor," a probe his political rival, Biden. Prior to the call, the president had ordered the suspension of $391 million in military aid to the Eastern European nation. Administration critics argue that the president intended to use the aid as leverage so that the Ukrainians would open the probe into Biden. Ukrainian lawmakers have said they were given the impression that Trump's support for their government could hinge on whether or not they pursued the investigation.
Although Trump and his supporters have dismissed the impeachment inquiry as "partisan," several leading Republicans have raised serious concerns about the president's actions. Opinion polls have also shown that a growing number of Americans now support the impeachment inquiry.