Fox News, OAN, Newsmax Defamation Lawsuit Explained
Right-wing TV networks Fox News, One America News Network (OAN), and Newsmax were hit with billion-dollar lawsuits over their coverage of the November 2020 U.S. presidential election.
Voting machine company Dominion Voting Systems brought defamation cases against the three media organizations, accusing them of spreading conspiracy theories that it rigged the presidential election against Donald Trump and skewed results in favor of now-President Joe Biden.
Meanwhile, a $1.6 billion lawsuit brought by Dominion against Fox Corporation, the parent company of Fox News, was given the green light to proceed last month.
The suit accuses the company of allowing Fox News to spread and amplify baseless accusations of election fraud in the 2020 presidential election, including unfounded allegations that the election was stolen with the help of Dominion, which provided voting machines to 28 states.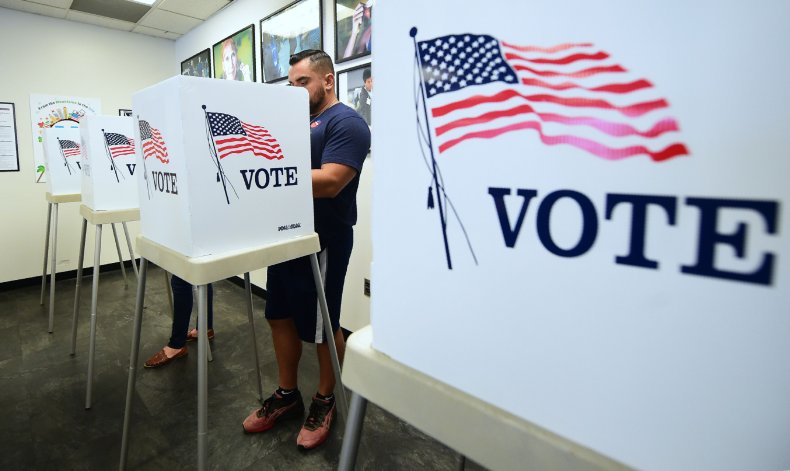 It argues that the company, which is owned by the Murdoch family, is liable for statements on the Fox News network.
"These allegations support a reasonable inference that Rupert and Lachlan Murdoch either knew Dominion had not manipulated the election or at least recklessly disregarded the truth when they allegedly caused Fox News to propagate its claims about Dominion," said Delaware Superior Court Judge Eric Davis, who ruled last December that Dominion could sue Fox News Network.
"Dominion has adequately pleaded actual malice with respect to Rupert and Lachlan Murdoch," the judge wrote.
Veteran trial attorney Dan Webb, co-chairman of Chicago law firm Winston & Strawn, is heading Fox News' legal team in Dominion's defamation lawsuit.
Conservative networks and Fox News competitors OAN and Newsmax are also being sued by Dominion.
Last month, Davis threw out Newsmax's motion to dismiss the $1.6 billion Dominion lawsuit, ruling that at this stage, Dominion has a case for defamation.
"The Complaint supports the reasonable inference that Newsmax either knew its statements about Dominion's role in the election fraud were false or had a high degree of awareness that they were false," Davis wrote, adding that Newsmax "knew the allegations were probably false" but continued to promote them anyway.
"Newsmax possessed countervailing evidence of election fraud from the Department of Justice, election experts, and Dominion at the time it had been making its statements," the judge said.
Responding to the judge's decision, Newsmax issued a statement arguing that it "reported on both sides in the election dispute without making any claim about the results other than saying they were 'legal and final.'"
Dominion's lawsuit against OAN, filed in August 2021, accuses the network of spreading a "barrage of lies" that "caused—and continue to cause—severe damage to our company, customers, and employees."
Weighing in on how the defamation lawsuits are likely to play out, Ciara Torres-Spelliscy, a professor who teaches constitutional law at Stetson University, told The Guardian that she believes Dominion has "a very strong case" against Fox News and against OAN.
"The reason Dominion is suing is because Fox and other right-wing news outlets repeated vicious lies that Dominion's voting machines stole the 2020 election from Trump for Biden. But all of these conspiracy theories about Dominion's machines were just pure bunk, and Fox as a news organization should have known that and not given this aspect of the Big Lie a megaphone," she said.
"What's particularly bad for Fox is Dominion asked them to stop and correct the record in real-time, and Fox persisted in spreading misrepresentations about the voting machine company," she added.
Smartmatic, a rival voting machine and election software company, has also brought billion-dollar lawsuits against Fox, OAN, and Newsmax.
A spokesperson for Fox News Media told Newsweek that "limiting the ability of the press to report freely on the American election process stands in stark contrast to the liberties on which this nation was founded."
"We are confident we will prevail in this case as the First Amendment is the foundation of our democracy and freedom of the press must be protected."
Newsweek also reached out to OAN and Newsmax for comment.
Update 06/07/22, 10:50 a.m. ET: This article was updated with comment from a Fox News Media spokesperson.