Fox News Requires Employees to Upload Vaccination Status As Hosts Push Vaccine Doubts
Fox News has required its employees to upload their vaccination statuses into a company database. While the network's hosts and guests have promoted vaccines in the past, they have also pushed doubts about the vaccines' safety.
The media outlet required all in-person and work-from-home employees to upload their vaccination status to a system called "Workday" by August 17, according to an internal memo recently published by AdWeek.
Fox News doesn't require its employees to be vaccinated. However, it still required them to provide vaccination information for contact tracing and space planning purposes to follow guidelines from the U.S. Centers for Disease Control and Prevention as well as state and city health authorities, the memo said.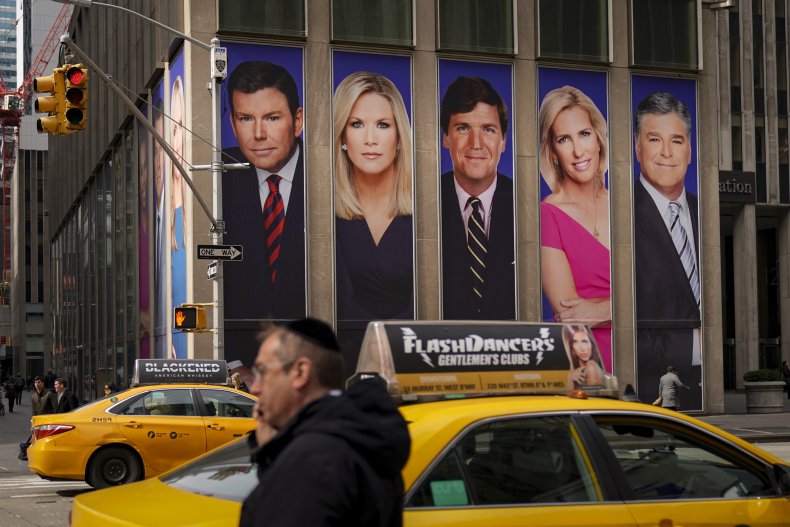 From as early as June, Fox News informed employees that vaccinated individuals who upload their status to the system could get a "FOX Clearpass." The pass allows employees to work without a mask or social distancing. All unvaccinated individuals must do both. Unvaccinated workers must also conduct a "WorkCare Daily Screen" to reduce the possibility of a COVID-19 outbreak.
Though the outlet has promoted vaccines, its employee vaccination disclosure policy and Clearpass both contrast with its broadcasts that have sowed doubts about vaccines' safety and railed against "vaccine passports."
Over the past few months, Fox News hosts have repeatedly opposed "vaccine passports"—special privileges given to vaccinated individuals—as an anti-American threat to personal freedoms. Its hosts have also opposed mask mandates as unnecessary and even a form of "child abuse."
The network's most popular host, Tucker Carlson, has claimed that the vaccines are deadlier than the government will admit. Carlson has also said that asking people whether they're vaccinated is a "super vulgar personal question." He compared it to asking people about their HIV status or their favorite sexual positions.
A July 16 study from the media watchdog group Media Matters found that 60 percent of Fox News' vaccination segments from June 28 through July 11 pushed "anti-vaccine propaganda."
The study tallied each time any speaker either said that vaccines were unnecessary or dangerous. It also tallied whenever a speaker said that immunization efforts represented a coercive form of government overreach or a violation of personal freedoms.
After the study was released, both Carlson and fellow Fox News host Sean Hannity promoted the vaccines on their respective shows. On July 19, Carlson said the vaccines' "profound benefits" may include reduced severity of symptoms. That same day, Hannity pleaded with his viewers to take COVID seriously, stating, "I believe in science and I believe in the science of vaccination."
Afterward, CNN's Jim Acosta mocked the network. He said Fox News viewers must have gotten "whiplash" over the network's mixed messaging on COVID-19 vaccines.
"Some anchors like Tucker Carlson are spreading anti-vax hysteria, while others like Sean Hannity are finally dealing with the reality that vaccines are saving lives," Acosta said. "That's great, except Hannity walked back those comments a few days later, saying he never told anyone to get a vaccine," he added.
On February 1 and July 21, Fox News launched PSAs encouraging viewers to get vaccinated. On July 14, Fox News host Dana Perino moderated a panel of "local thought leaders" discussing how to talk about vaccinations with others.
From January to July, various Fox News hosts have mentioned being vaccinated at least 11 times. Republican politicians—such as former Republican former President Donald Trump, Republican former New Jersey Governor Chris Christie, Missouri Senator Josh Hawley, and Louisiana Senator John Kennedy—and other guests have also encouraged others to get vaccinated in at least 14 Fox News appearances during that same time period.
Corrected 08/19/2021, 11:36 a.m. ET: An earlier version of this story mistakenly said Fox News implemented the "FOX Clearpass" as early as July. They began implementing it in June.