Fox News Host Says Trump Is Rattled Because He Feels Impeachment Inquiry Is 'So Unjust'
Fox News host Brian Kilmeade argued on Thursday that President Donald Trump is "at his best" when he faces controversy, saying that his harsh pushback to the impeachment inquiry is because he feels the allegations are "so unjust."
"When the Access Hollywood tape came out, [Trump was] calm, cool and calculated," Kilmeade said during the Fox News morning show Fox & Friends, which he co-hosts. "You could argue that's more devastating than any of this [Ukraine scandal]. He's at his best when – usually when the pressure's on," he continued. "[There's] something about this case, because I guess he feels it's so unjust."
Prior to Kilmeade's remarks, Fox & Friends co-host Steve Doocy defended the president as well.
"I think the president himself, yesterday he was just frustrated," Doocy said. "He saw all these stories about him. He felt that they were not true, and he was pushing back, something that he's done throughout – as long as we've known who he is as a politician."
While some prominent Fox News talent have been critical of Trump and his administration as the scandal surrounding his actions towards Ukraine has grown, Fox & Friends' hosts have continued to defend the president. The morning show's hosts have promoted unsubstantiated claims against Democratic presidential candidate and former Vice President Joe Biden, which involve his actions towards Ukraine, to deflect from the controversy surrounding the president. They have often repeated talking points used by Trump administration officials to push back against the scandal while bringing guests on to defend the president and disparage Democrats.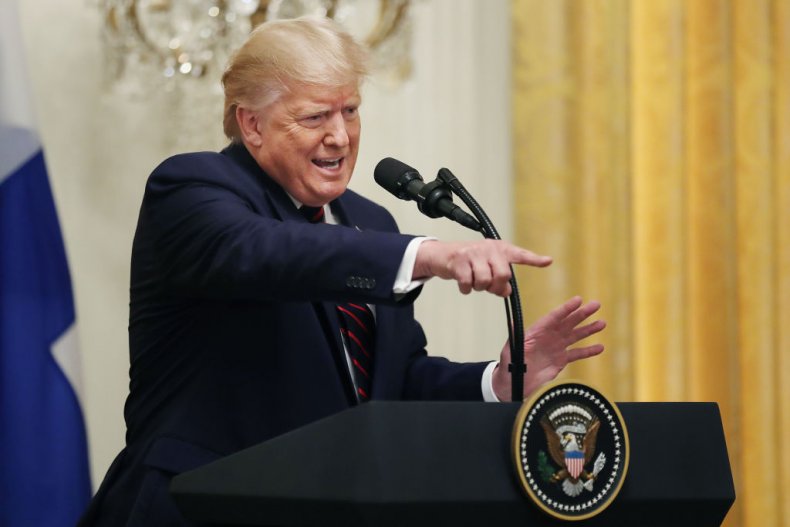 Trump on Wednesday voiced frustration with the impeachment inquiry, claiming Democrats had been trying to move the process forward since he was elected.
"They've been trying to impeach me from the day I got elected," the president said in comments to reporters. "I've been going through this for three years. They've been trying to impeach me from the day I got elected. You know what? They failed."
Some Democratic leaders were long wary of pursuing the highly polarizing impeachment process. Speaker of the House Nancy Pelosi, the top Democrat in Congress, argued in March that Trump was "just not worth it," arguing for defeating him at the ballot box instead. However, the recent revelations surrounding his actions towards Ukraine have crossed a line in the minds of many lawmakers. Recent polls have also shown that a majority of Americans now support the Democratic-led impeachment inquiry.
During the press conference, Trump called his controversial July 25 phone call with Ukraine President Volodymy Zelensky "perfect" and "beautiful," while referring to the scandal surrounding the conversation "a hoax." During that call, the president pressured the Ukrainian head of state to open an investigation into claims that Biden acted corruptly towards Ukraine to provide cover for his son's business dealings. Asking Zelensky for "a favor," the president additionally asked for a probe into the conspiracy theory that 2016 election interference was actually a plot by the Democrats and carried out in Ukraine.
Prior to that phone call, Trump ordered that $391 million in military aid to Ukraine be temporarily suspended. Critics argue that this was done as leverage against the country's government, as a way to strongarm them into opening the investigations. Ukrainian officials have said they were given the impression that Trump's support could be contingent on whether or not they investigated the debunked allegations.
Although Trump and his supporters have dismissed the impeachment inquiry as "partisan," several prominent Republicans have voiced their concern over the president's actions.
On Monday in an op-ed for The Washington Post, former GOP Senator Jeff Flake of Arizona urged Republican lawmakers to take the allegations seriously.
"With what we now know, the president's actions warrant impeachment," he wrote.