Freddie Gibbs has blasted Joe Rogan for his past use of the n-word, telling the podcaster he had protected him from getting beaten up for the language he uses about Black people.
The "1985" rapper appeared alongside Rogan on the Kill Tony comedy podcast on March 15, where he discussed the controversy about the host's use of racial slurs on The Joe Rogan Experience.
"The world is changing, s***. Joe Rogan said [the n-word] and s***," Gibbs joked on the show, prompting Rogan to respond: "It's been years, let it go."
The host of The Joe Rogan Experience has come under fire over claims that he broadcasts COVID-19 misinformation, as well as for his repeated use of the n-word in multiple episodes.
This was highlighted when singer-songwriter India.Arie posted a video to social media in February that included a lengthy compilation of the host saying the n-word.
Rogan issued an apology and expressed regret, while more than 70 episodes of his show have been pulled from Spotify.
"That wasn't years [ago], that was days," Gibbs told Rogan, adding that he had prevented Rogan from getting beaten up for his widely condemned Planet of the Apes anecdote, about visiting a movie theater in a Black neighborhood in Philadelphia.
In this story—which was also shared by India.Arie on social media and was described by talk-show host Trevor Noah as "OG racism"—Rogan said: "We walked into Planet of the Apes, we walked into Africa."
During the Kill Tony podcast, Gibbs said Rogan had suggested every Black man "in Philly look like a monkey."
The rapper added: "You lucky I got family in Philadelphia because they was coming there to f*** you up. I held [them] back on behalf of Joe. Y'all give me a round of applause."
Gibbs went on that Rogan had "better appreciate" the fact that he had protected him. Rogan thanked him and the conversation moved on.
The rapper had also criticized the host when he appeared on The Joe Rogan Experience in February, telling him: "You can't say that s***, Joe."
Gibbs had added, however, that he did not think he was racist. "I just thought you was saying some s*** you shouldn't have said," he said.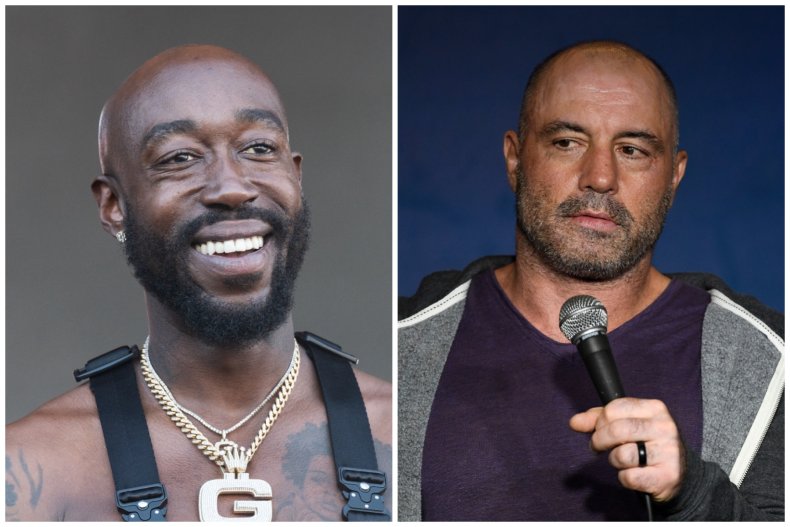 Rogan has deleted the podcast episode that contained the Philadelphia anecdote and conceded that it was "an idiotic thing to say," adding: "I was just trying to be entertaining. I certainly wasn't trying to be racist, and I certainly would never want to offend someone for entertainment with something as stupid as racism."
In his apology, posted on Instagram, Rogan said his use of the n-word was "the most regretful and shameful thing that I've ever had to talk about publicly."
Newsweek has contacted Rogan for comment.