Friday's Positive Jobs Report Could Be Bad News for the Next Stimulus Package
Friday's surprising May jobs report could put the next stimulus package in jeopardy.
Republicans, already hesitant to dole out more federal relief as the country reopens, appeared to be encouraged by the figures that showed 2.5 million jobs were added to the economy—a roughly 6 percent drop in unemployment to 13.3 percent. Some signaled the numbers may be a justification to delay—or forgo altogether—additional spending to help rescue the U.S. economy from the coronavirus pandemic's stranglehold.
"The jobs report underscores why Congress should take a thoughtful approach and not rush to pass expensive legislation paid for with more debt before gaining a better understanding of the economic condition of the country," said Michael Zona, a spokesman for Senate Finance Committee Chairman Chuck Grassley (R-Iowa).
Grassley will consider "potential further coronavirus response legislation if it becomes necessary," Zona said in a statement.
He added that it is too early to determine what the details of the legislation would be. "It would need to address any ongoing problems in an effective manner and encourage further job growth."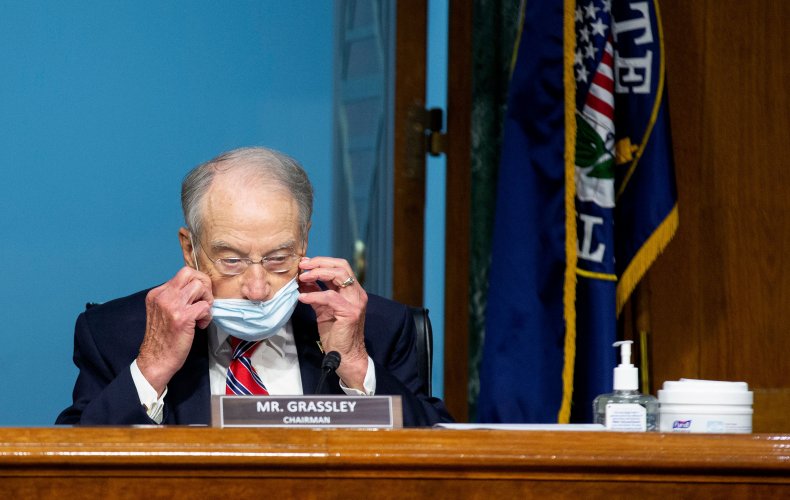 Lawmakers are expected to negotiate and pass a final piece of legislation this summer—likely July—to further aid the financial recovery. House Democrats already approved a $3 trillion plan and have demanded immediate action while Senate Republicans are allowing their "go-slow" approach to play out as they examine what, if anything, Americans may need from the federal government to get back on their feet.
Republicans this week showed an increasing willingness to extend the $600 per week federal unemployment boost past its July 31 deadline but at a reduced rate. Now, the May jobs report—which marked the first significant indicator that the economy is starting to right itself—could place an entire stimulus package in jeopardy, including the readiness to extend jobless benefits.
In a statement, Senate Majority Leader Mitch McConnell did not mention another stimulus. But the Kentucky Republican said "future efforts must be laser-focused" on helping businesses reopen, as well as schools in the fall, while deriding the House-passed aid package.
"We must keep the wind in our sails, not slam the brakes with left-wing policies that would make rehiring even harder and recovery even more challenging," McConnell said.
Experts have warned that the lack of additional measures to combat the pandemic's impact will delay the economy's recovery. Some even believe there should be a second round of individual checks amid projections that it could take years, possibly even a decade, to fully heal.
The jobs figures had the adverse effect on Democrats as they did Republicans. Democratic lawmakers said the positive news is all the more reason to approve speedy financial relief for a swifter revival.
House Speaker Nancy Pelosi (D-Calif.) contended "this fragile progress will collapse" without the Heroes Act the House passed and that "now is the worst possible moment to take our foot off the gas."
Senate Minority Leader Chuck Schumer (D-N.Y.) said "now is not the time to be complacent or take a victory lap."
"Thirteen percent unemployment number is not 'joyous' or 'stupendous' as President Trump has wrongly stated," Schumer said in a statement. "In order to avoid the risk of another Great Depression, Senate Republicans ought to stop sitting on their hands and work with Democrats to immediately pass legislation to make sure that everyone in America has the income and job security they need to feed their families and put a roof over their heads."
Despite the hesitance from Grassley, there are still signs Congress could approve another sizeable stimulus in the coming months, which McConnell has previously stated would likely be around $1 trillion.
President Donald Trump on Friday touted the latest jobs figures while speaking to reporters in the White House Rose Garden. The Washington Post reported that top White House officials have signaled the president will not push another stimulus this summer. Still, Trump signaled Friday he remains open to the idea.
"We're set up to do more, and I think we should because we are dominant," Trump said.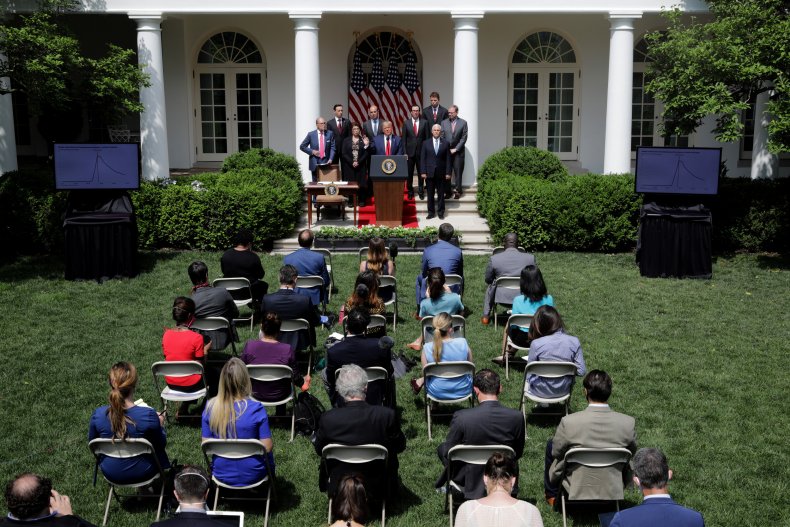 The president went on to lay out some of the details he envisions including in another package: payroll tax cuts and aid for restaurants and the entertainment industry.
The ranking member of the House Ways and Means Committee, Representative Kevin Brady (R-Texas), said he is still pushing for a "return-to-work" bonus to subsidize workers' pay as their leave unemployment benefits—which for some was more than their previous wages—to once again receive steady paychecks.
"If we don't reconnect workers to available jobs, more businesses will fail, the economic recovery will be slower and the painful recession will last longer," Brady said in a statement.
This story was updated to include a statement from McConnell.