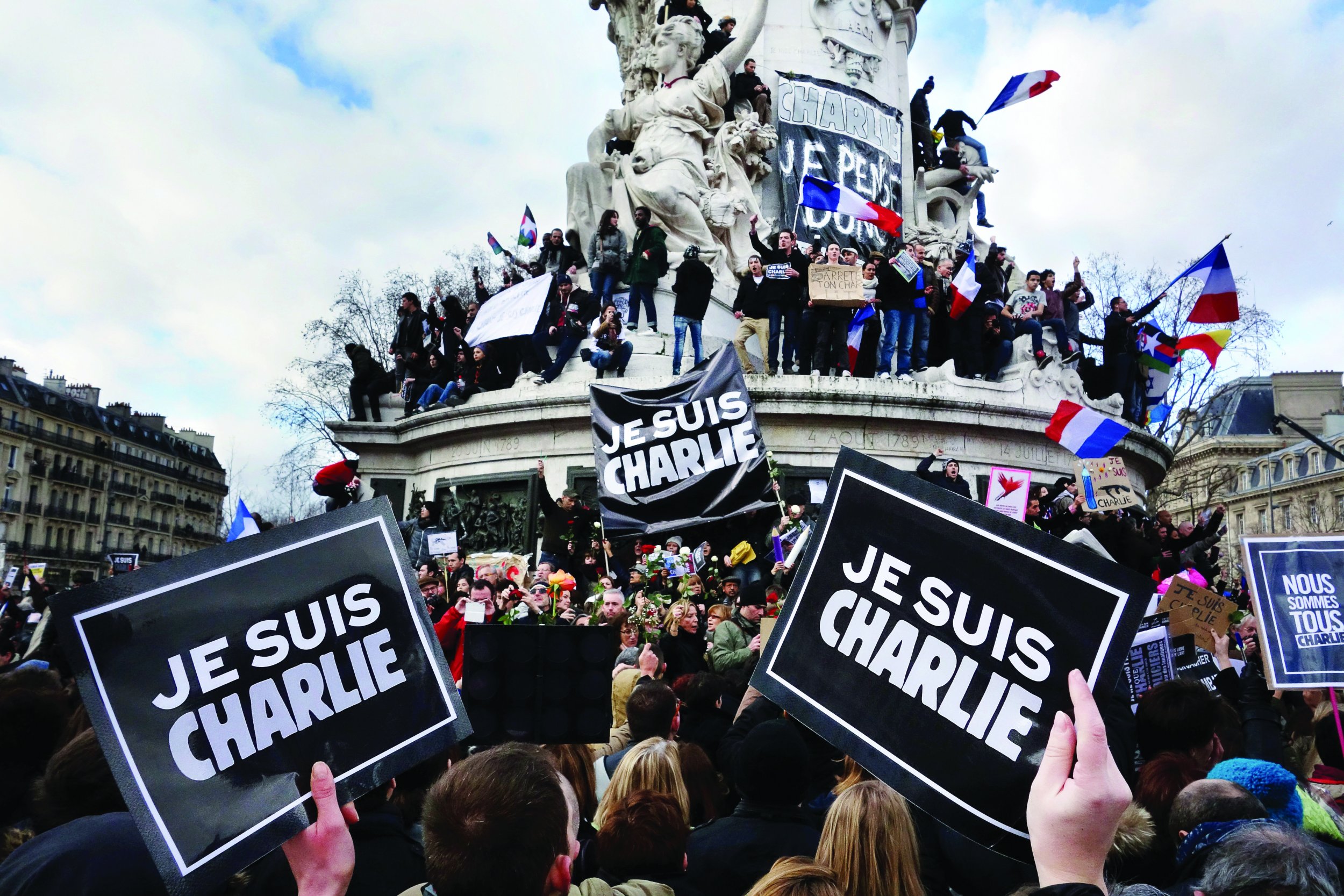 Here is a sampling of the defining movements, decisions, policies and tragedies that made headlines—and history—this year. This article, along with others dedicated to the unforgettable moments of 2015, is included in Newsweek's Special Edition, The Year in Review.
Attack on Charlie Hebdo: Attackers killed 12 people on January 7 when they stormed the offices of the satirical magazine Charlie Hebdo in Paris. The gunmen, who claimed links to Al-Qaeda's Yemen faction, killed 10 staff and two police officers. They reportedly said the attack was to avenge the Prophet Muhammad, as the magazine had printed cartoon depictions of him, an act considered blasphemous in Islam.
Two of the suspected attackers, brothers Cherif and Said Kouachi, led police on a chase for two days, while a third suspect, Mourad Hamyd, turned himself in. Amid a huge outpouring of support under the slogan and hastag #jesuischarlie, Charlie Hebdo continued printing, with one million copies set for the following week.
Related: Ralph Steadman on Charlie Hebdo, the Right to Offend and Changing the World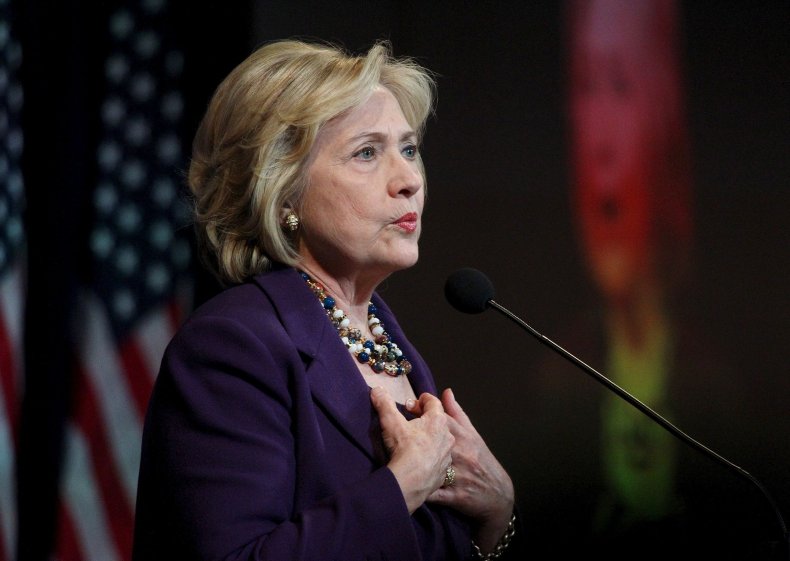 Hillary Clinton's Email: On March 4, Hillary Clinton had the State Department release her personal emails, in response to last year's investigation of the Benghazi attacks revealing she used her personal email as secretary of state. Clinton released 30,490 messages she deemed work related-after deleting 31,830 messages and wiping her server's memory.
Related: How The New York Times Bungled the Hillary Clinton Emails Story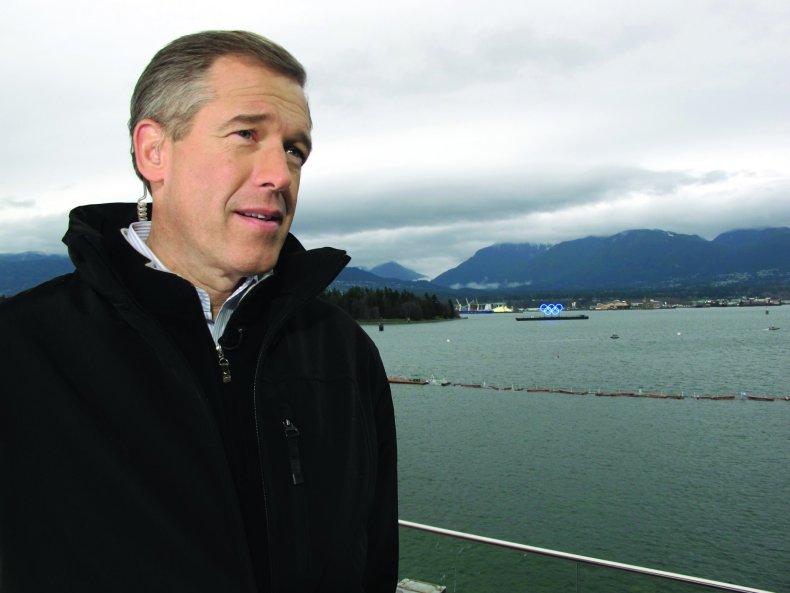 Brian Williams Loses His Desk: On January 30, Brian Williams told a story about riding a Chinook helicopter with troops that had been shot at near Kuwait in 2003. Veterans quickly revealed he was mistaken and that another aircraft had been shot down instead. The resulting scandal led to Williams's firing from NBC Nightly News in February.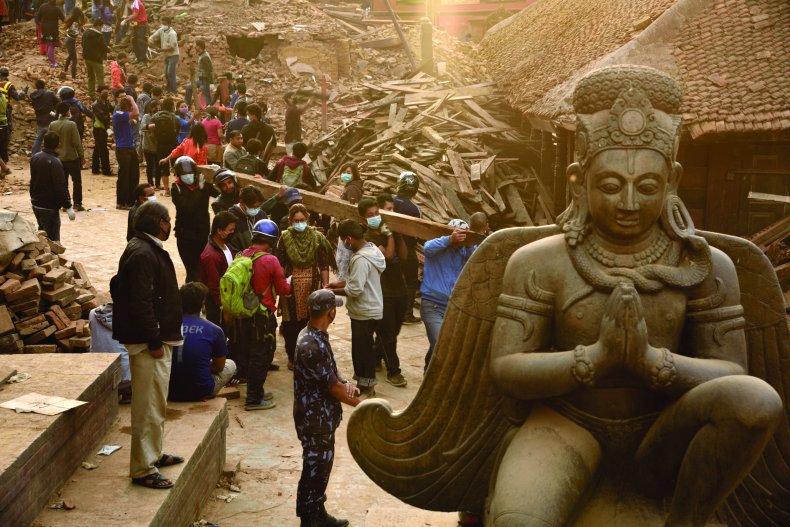 Nepal Earthquake: On April 25, a magnitude-7.8 earthquake hit Kathmandu, killing more than 8,000 people, as well as triggering an avalanche on nearby Mount Everest, with 18 people dying on the mountain as a result.
Related: Bringing Up the Bodies in Kathmandu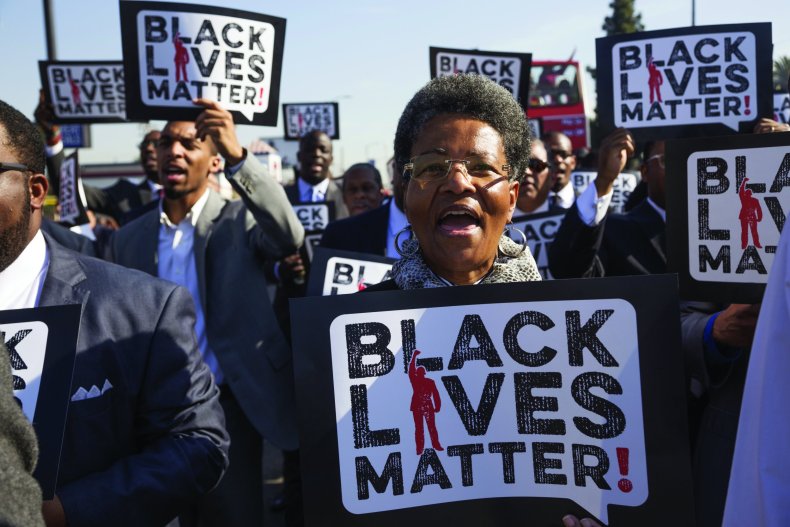 Black Lives Matter: The phrase became a common trending hashtag on Twitter throughout the year, following events such as the death of 25-year-old black man Freddie Gray while in police custody. The death shone yet another light on the continued challenges facing the black community in the U.S.
Related: New Documentary Slams 'Stand Your Ground' Law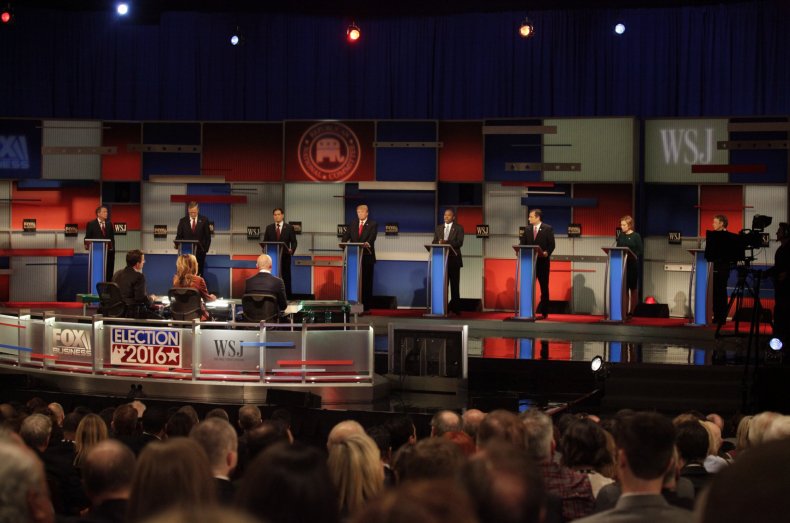 Gearing Up for the 2016 Elections: In a three-minute video, Democrat Hillary Clinton announced her highly anticipated second run for president. With a Democratic frontrunner in place, the race for the Republican nomination became a political free-for-all. Former Governor of Florida Jeb Bush, President George W. Bush's brother, declared his candidacy along with 15 others.
Business magnate Donald Trump revealed he intended to run on the Republican ticket in June. From then on, the contender has been stirring up the Republican race with fiery personality. But the 2020 presidential election might be more unpredictable-outspoken rapper Kanye West proclaimed he would be running.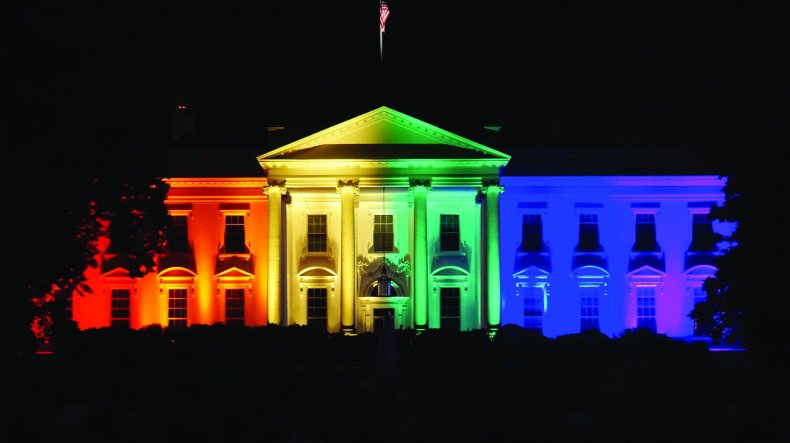 Marriage Equality: On June 26, the White House showed its support for the Supreme Court decision with a colorful light display. "In my second inaugural address, I said that if we are truly created equal, then surely the love we commit to one another must be equal as well," President Barack Obama said in a press release. "It is gratifying to see that principle enshrined into law by this decision."
Related: How Corporate America Propelled Same-Sex Marriage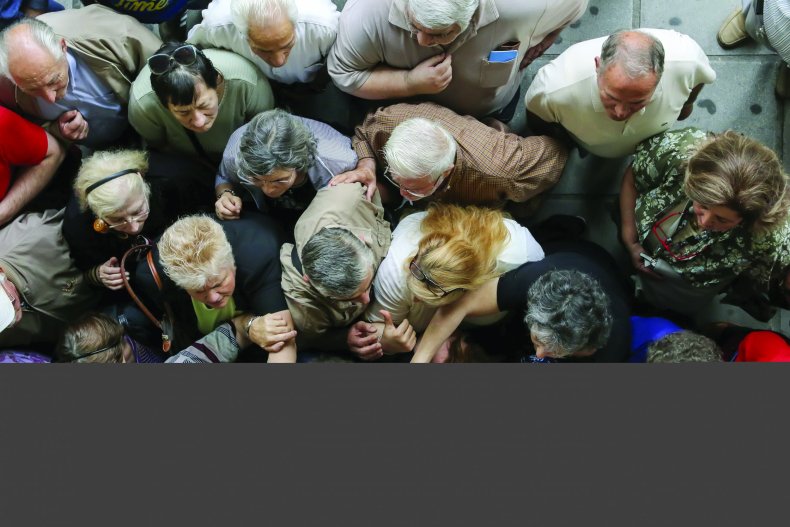 The Greek Debt Crisis: The financial turmoil that began in 2009 centered this year around new Prime Minister Alexis Tsipras. Tsipras accepted the austerity demands from the European Central Bank and the IMF in August in exchange for 86 billion euros to reopen Greece's banks and avoid a default.
Related: The Eurozone's Death by a Thousand Bailouts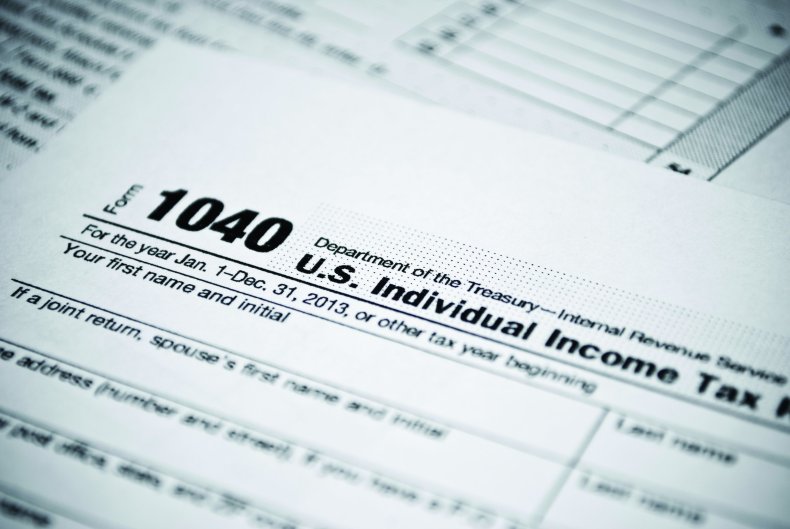 IRS Hacked by the Hundred Thousands: In a series of scattered cyber attacks from February to May, hackers believed to be tied to a Russian crime syndicate gained access to 334,000 private records, bypassing several layers of security. The hack generated roughly $50 million in stolen funds.
Related: More Than 300,000 Taxpayers Affected by Hack, IRS Says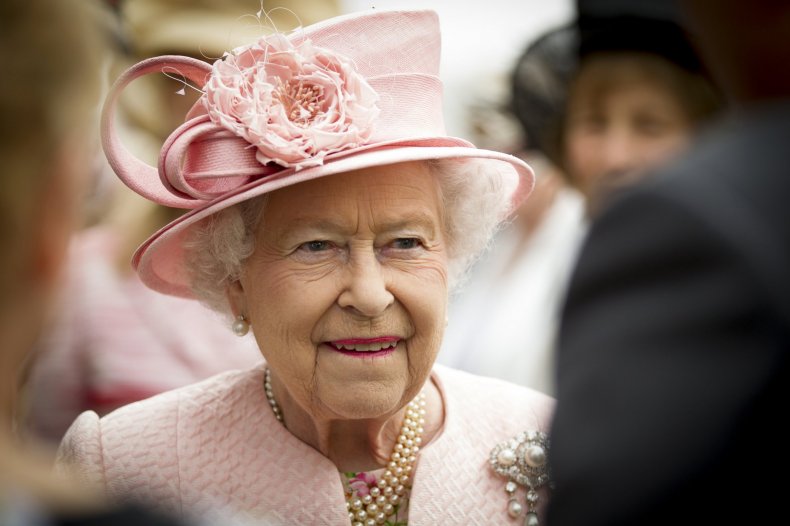 Queen Elizabeth II Celebrates a Legacy: On September 9 at approximately 5:30 p.m., Queen Elizabeth II became the longest reigning British monarch with a rule spanning 63 years, seven months and two days, surpassing the reign of previous record holder Queen Victoria. Queen Elizabeth married Lt. Philip Mountbatten on November 20 in 1947, and then ascended to the throne at the age of 25 on June 2, 1953 in Westminster Abbey. The first monarch to have her coronation televised, Queen Elizabeth has witnessed the beginning and ending of the Cold War, the moon landing and the invention and proliferation of the Internet, all from the comfort of her own throne.
Related: Elizabeth, Queen for 18,250 Days
This article is excerpted from Newsweek's Special Edition, The Year in Review—The Unforgettable Moments That Shaped Our World, by Issue Editor Holland Baker.