G20 in Disarray After Russia and China Reject Consensus on Ukraine
Would-be peacemaker India struggled to bridge considerable differences on the Ukraine war between Western, Russian and Chinese representatives, after another round of G20 talks ended Thursday without consensus.
The two-day meeting of foreign ministers from the Group of 20 economies sought to tackle global issues, such as post-pandemic recovery and energy security, which were disproportionately impacting developing nations.
However, Russia's invasion of Ukraine, now into its second year, remained high on the agenda.
"We must continue to call on Russia to end its war of aggression and withdraw from Ukraine for the sake of international peace and economic stability," U.S. Secretary of State Antony Blinken told his counterparts in New Delhi, according to his prepared remarks.
"Unfortunately, this meeting has again been marred by Russia's unprovoked and unjustified war against Ukraine," he added.
Sergey Lavrov, his Russian opposite number, said Western delegates had "turned the work on the G20 agenda into a farce." He also accused the West of obstructing the export of Russian agricultural products.
A State Department official said Blinken and Lavrov spoke for 10 minutes on the margins of the meeting, their first in-person talks since the conflict began. The pair were both present at last summer's G20 meeting in Bali, but Lavrov walked out, according to accounts by Western officials.
America's top diplomat urged Moscow to reverse its decision on the New START nuclear arms control treaty, release wrongfully detained U.S. citizen Paul Whelan, and said the U.S. would back Ukraine "for as long as it takes," the official said.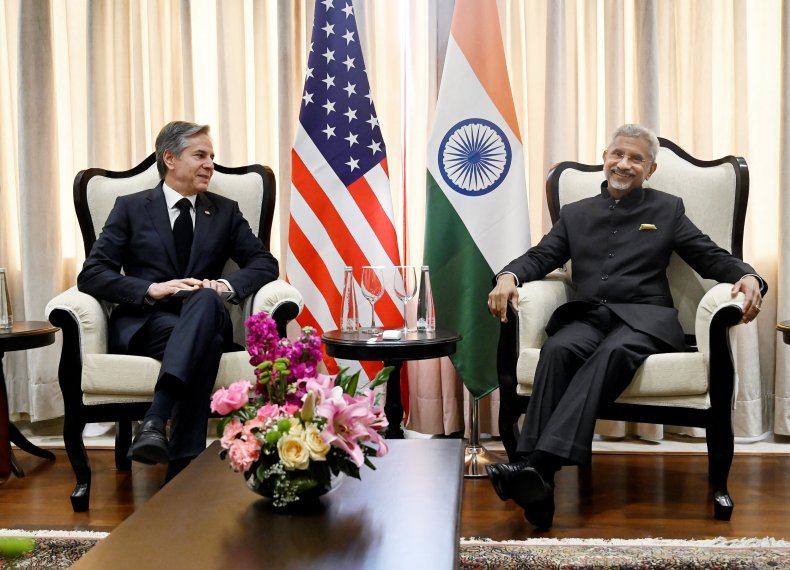 Deep disagreements meant the talks concluded without a communiqué, despite India's attempts to carry over language that had been approved last November at the G20 leaders summit in Indonesia.
"The war in Ukraine has further adversely impacted the global economy," read a chair summary and outcome document issued in its place. "Most members strongly condemned the war in Ukraine and stressed it is causing immense human suffering and exacerbating existing fragilities in the global economy."
"The use or threat of use of nuclear weapons is inadmissible. The peaceful resolution of conflicts, efforts to address crises, as well as diplomacy and dialogue, are vital. Today's era must not be of war," the document said, noting in a footnote that the two paragraphs "were agreed to by all member countries except Russia and China."
A meeting of G20 finance ministers last weekend in Bengaluru, in southern India, ended without a communique for similar reasons.
At a press conference, Lavrov blamed the West for the group's failure to reach a consensus. After he met with Chinese counterpart Qin Gang, the Russian Foreign Ministry published a joint statement in which they opposed "blackmail and threats."
Subrahmanyam Jaishankar, India's external affairs minister, said the G20 was nonetheless able to converge on a number of important issues despite the "divergences."
"Do appreciate that on the bulk of the issues which concern especially the global south, the developing countries, there was a considerable meeting of minds," Jaishankar said. "There was a chair summary because there were differences on the Ukraine issue which we could not reconcile between various parties who held differing positions."
In pre-recorded remarks to the gathering of foreign ministers, Prime Minister Narendra Modi of India said postwar global governance had failed to prevent wars. "We should not allow issues that we cannot resolve together to come in the way of those we can," he said.
Do you have a tip on a world news story that Newsweek should be covering? Do you have a question about China? Let us know via worldnews@newsweek.com.