Gabby Petito's Parents' Lawsuit Against Laundries Closer to Trial
A Florida judge has ruled that a lawsuit filed by Joseph Petito and Nichole Schmidt, the parents of Gabby Petito, against Christopher and Roberta Laundrie, the parents of Brian Laundrie can proceed.
The Laundries filed a motion to dismiss the lawsuit, but on Thursday, Twelfth Judicial Circuit Court Judge Hunter W. Carroll ruled the Petito family's lawsuit was valid and allowed it to advance.
Petito's parents alleged the Laundries knew the truth about their daughter's death and the whereabouts of her remains but did nothing to end their suffering or help the police.
Travel blogger Petito, 22, disappeared during a cross-country trip in a van with her 23-year-old fiancé Laundrie last August—but her mother and father have alleged that Laundrie's parents knew their son had killed her and where her body was hidden all along.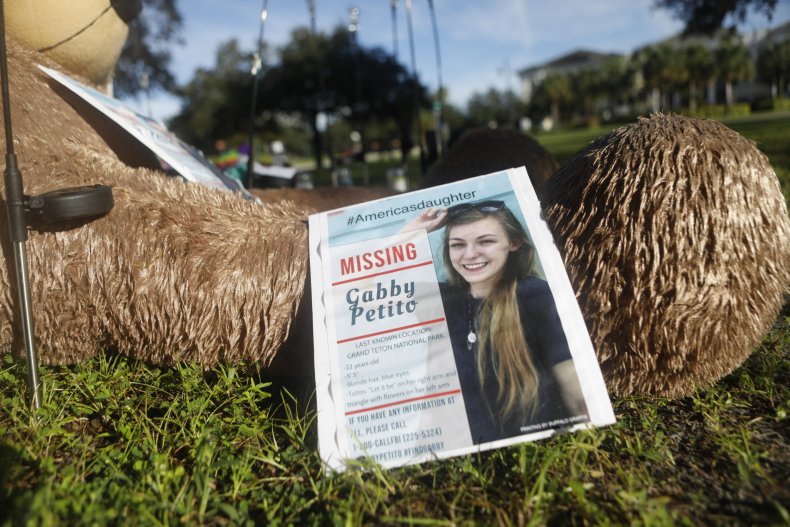 Laundrie had returned to his parents' Florida home alone around the beginning of September and refused to discuss where Petito was with her parents or authorities, sparking a nationwide hunt for the young woman.
Laundrie fled on September 13 after police declared him a person of interest as the investigation intensified. His parents released a statement through their lawyer on September 14 saying they hoped the "search for Miss Petito is successful and that Miss Petito is reunited with her family" although added they would not comment further.
Petito's remains were discovered just days later on September 19 at Grand Teton National Park in Wyoming, with officials revealing she had been strangled.
After a massive manhunt for Laundrie, he was also found dead a month later in October. He had died from a self-inflicted gunshot to the head in Florida's Myakkahatchee Creek Environmental Park. FBI investigators revealed that a notebook found near his remains contained a confession where he admitted to killing Petito.
Petito's parents claimed Laundrie's parents knew their son had killed Petito because he allegedly told them on August 28, before Petito's mother even realized her daughter was missing. Petito and Schmidt claimed the Laundries' statement of September 14 gave them false hope that their daughter was still alive.
The Laundries said the suit should be dismissed because they had "fundamental constitutional rights to silence."
But the court said that the Laundries' public statements nullified that claim.
"Had the Laundries truly stayed silent, the Court would have granted the motion to dismiss in the Laundries' favor," the court order said. "As alleged by the Plaintiffs, the Laundries made their statement knowing that Gabby was dead, knowing the location of her body, and knowing that her parents were frantically looking for her. If this is true, then the Laundries' statement was particularly callous and cruel, and it is sufficiently outrageous to state claims for intentional infliction of emotional distress."
Attorney Pat Reilly, who represents Petito's parents, said the ruling does not guarantee a trial next year but makes it much more likely that the lawsuit will reach the trial phase of proceedings.
Reilly told Newsweek his clients "are appreciative of the thorough and well-reasoned decision" of the judge.
"This gives them an opportunity to proceed with their claim for the emotional distress caused by the conduct of the Laundries," Rielly said. "Joe and Nichole look forward to discovering the information the Laundries knew about Gabby's death and her whereabouts, and in particular getting a copy of any correspondence, emails and texts exchanged during the difficult period when Gabby's whereabouts were unknown. They look forward to going to trial and are confident that ultimately the Laundries will be held accountable."
The Laundries' attorney, Steven Bertolino, told Newsweek: "Chris and Roberta Laundrie, and myself, are disappointed with Judge Carroll's decision to deny the motion and allow this lawsuit to proceed."
He added: "The Laundries will continue to use all available legal means to preserve their rights."
The Laundrie family has denied any wrongdoing.
Update 7/5/22m 12:36 p.m. ET: This article was updated with a statement from Steven Bertolino.