'Game of Thrones': Arya and Sansa Stark Actors Sophie Turner and Maisie Williams Felt 'Awkward' in Their Reunion Scene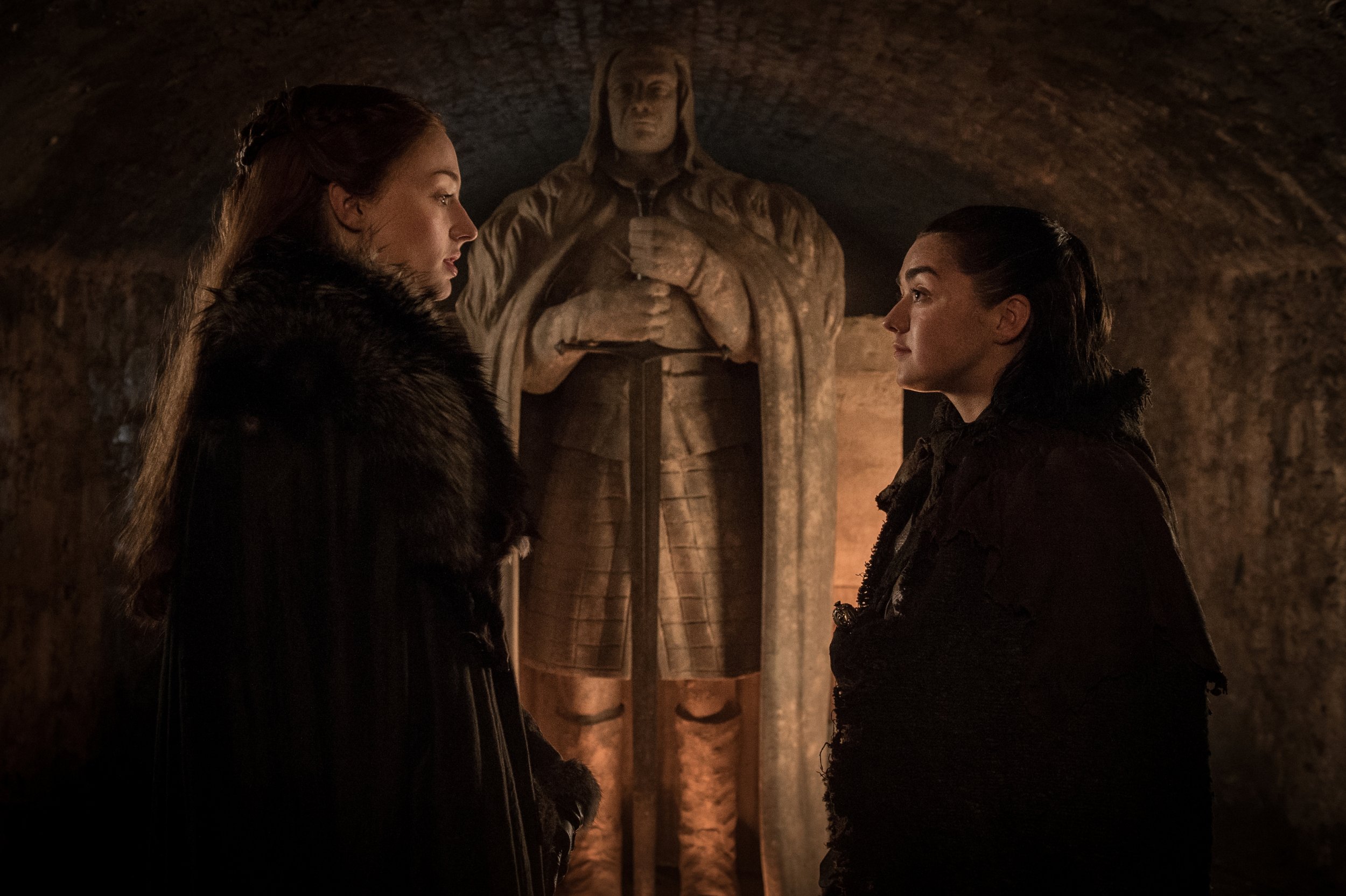 Last Sunday's Game of Thrones had one of the series' most powerful reunions to date when on-screen sisters Sansa and Arya Stark met for the first time since Season 1.
Actors Sophie Turner and Maisie Williams have grown up on the GoT set and are best friends in real life. But they haven't acted together since the very first season, so when they finally shared a scene in "The Spoils of War," it was a nerve-racking experience, says episode director Matt Shakman.
"They were nervous around each other. They're the best of friends. But having to act with each other now, they were awkward. They were worried the other wouldn't think highly of what they were doing," Shakman tells Newsweek.
Related: Game of Thrones actually set more than 60 people on fire for that huge battle in "The Spoils of War"
"They're both so talented, so great...it took them a little bit of time to get into a groove.
"Their work together is terrific. Their friendship offscreen probably helps make the ultimate moment of that reunion—when they really hug each other and Arya lets her guard down a little bit—even more touching."
Of course, Sansa and Arya have both been through so much since their characters last saw each other. Both of them have lost their childhood innocence. They mutually mourned the deaths of their parents and have also been on individual journeys. For Sansa, that included a forced marriage to psychotic Ramsay Bolton. For Arya, it was a quest for survival on her own, during which time she became a pretty deft swordswoman.
Shakman says that in the episode, which featured Arya in a friendly sparring contest with warrior Brienne of Tarth, there were hints of Sansa and Arya realizing what the other has endured since we last saw them.
"The scene between Brienne and Arya as they spar, I think mostly is about Sansa seeing her sister in a new light and understanding what she's capable of," he says.
"The episode is definitely about reunions in many ways, but it's also about how you can never really go home again. People are so very different, even though they're the same person in the same place, who they've become is so different.
"Sansa is now the Lady of Winterfell; the girl who always loved finery and dreamed of being queen, and now becomes this formidable political operative. And Arya, who was a scrappy fighter, has now become this unbeatable assassin. They're starting to figure each other out and where they've been in these intervening years."
Game of Thrones airs Sundays at 9 p.m. on HBO.
For more Game of Thrones coverage on Newsweek, click here.