'Game of Thrones:' Did Ed Sheeran Delete His Twitter Account Because of Lousy Reviews for His 'Dragonstone' Cameo?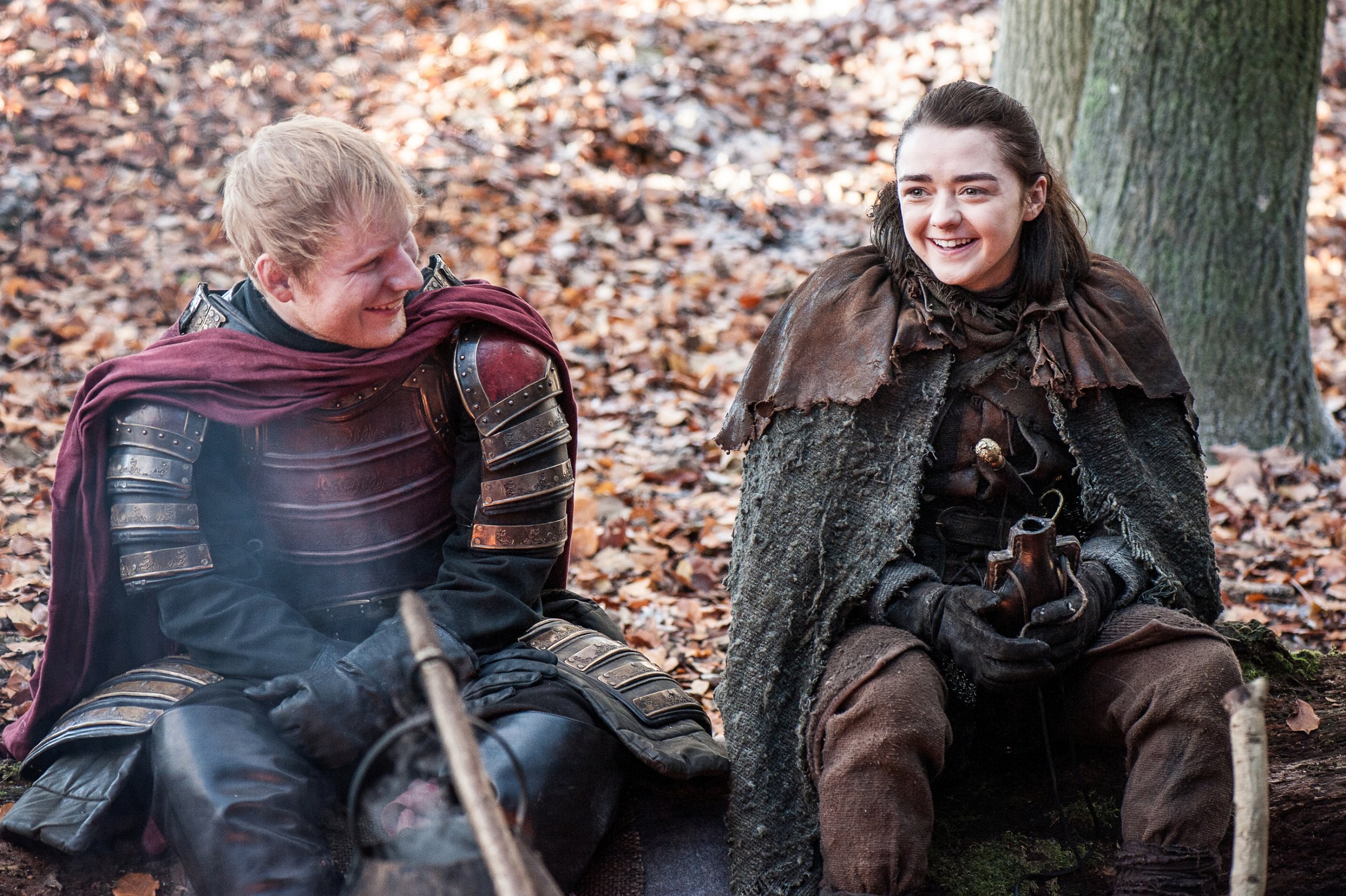 Look, I'm just going to come out with it: Ed Sheeran's cameo appearance in Sunday's seventh season premiere of Game of Thrones was not good. It felt like a shamelessly shoehorned scene with more than a touch of camp frivolity to it. But, come on, Ed, there's no need to delete your Twitter over it.
The British musician's Twitter account conspicuously disappeared Monday, after his appearance on GoT was ridiculed by social media users. It is possible that the two events are unrelated. A spokesperson for Sheeran did not immediately respond to Newsweek's request for comment. (Sheeran's Instagram remains active.)
Sheeran's cameo in Season 7's "Dragonstone" Sunday was first revealed by producers David Benioff and D.B. Weiss in March. They said they had been trying to book the singer for some time to surprise Arya Stark actor Maisie Williams, who is a big fan of Sheeran.
Arya and Sheeran's Lannister soldier shared a scene in the episode as the young Stark assassin rode through the Riverlands and stumbled across a band of young army men gathered around a campfire. Sheeran's character serenaded his fellow troops with a song.
Related: 'Game of Thrones:' A Guide to Season 7 Celebrity Cameos, Including Ed Sheeran
"It's a pretty song, I've never heard it before," says Arya. Sheeran's character—almost looking into the camera with a wink-and-a-nudge—responds: "It's a new one."
It was, frankly, unsubtle and unnecessary.
Sheeran's appearance was met with derision and mockery on Twitter. Case in point:
Critical reviews of Sheeran's appearance were equally scathing. The Guardian's Stuart Heritage said it was a "dud," and GQ published a story by Scott Weslow with the headline, "Ed Sheeran's Weird Game of Thrones Cameo Was the Worst Kind of Cameo."
Game of Thrones has previously featured cameo appearances from musicians including Coldplay drummer Will Champion and the members of Sigur Ros.
The HBO fantasy drama's first episode in more than a year drew 10.1 million viewers in its initial 9 p.m. airing Sunday night, making it the most-watched episode of GoT ever. In total, "Dragonstone" clocked 16.1 million viewers across its 9 p.m. broadcast, replays and on-demand viewing.
Read Newsweek's deep-dive into "Dragonstone" here and watch a preview of Episode 2, "Stormborn," here.
Game of Thrones airs Sundays at 9 p.m. on HBO.