'Game of Thrones' Season 7, Episode 4: Watch the Teaser Trailer—Will Jon Snow Ally with Daenerys?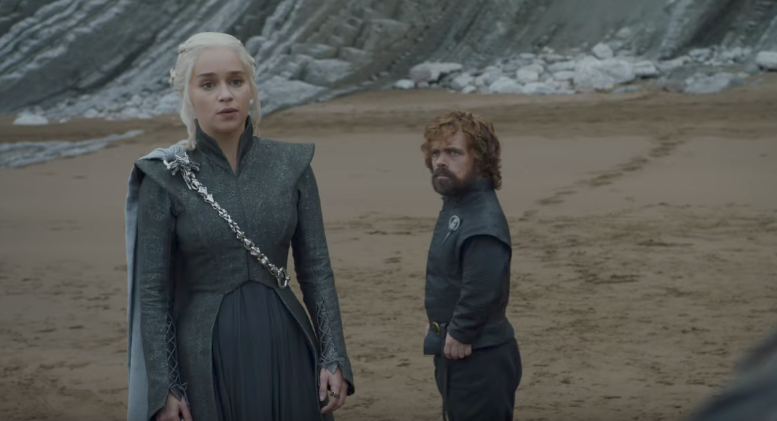 We are now at the halfway point of Game of Thrones Season 7 and the war is tipping in favor of Queen Cersei (Lena Headey).
In the teaser trailer for Episode 4, which may or may not be titled "The Spoils of War," Daenerys Targaryen (Emilia Clarke) begs Jon Snow (Kit Harington) to join her in her fight against Cersei. "All my allies are gone. I'm losing," she says, presumably reacting to Euron Greyjoy (Pilou Asbaek) thwarting the Greyjoys and the Martels and Jaime (Nikolaj Coster-Waldau) and Cersei storming Highgarden, the Tyrell stronghold, resulting in Lady Olenna's (Diana Rigg) death in Episode 3. Will Jon join Dany against Cersei?
Cersei is also contending with the Iron Bank of Braavos which has called in the Lannisters' debts. They will only continue to support the crown if Cersei is able to repay the considerable amount the family owes. Cersei, of course, had Jaime ransack Highgarden in Episode 3 to take all of the Tyrells' wealth to pay off the debts. "You can count on the Iron Bank as soon as the gold arrives," says Tycho Nestoris, the bank's envoy, played by Sherlock's Mark Gatiss.
Also seen in the teaser trailer, Brienne of Tarth (Gwendoline Christie) unsheathes her sword for battle and we see a shot of her poor squire, Podrick (Daniel Portman), falling to the ground. Given that she is stationed at Winterfell, where peace has seemingly been restored, what threat could possibly loom there that would force Brienne into battle? Have the White Walkers descended upon Winterfell while Jon Snow is away? Or, perhaps more likely, she will finally fight off Tormund Giantsbane's (Kristofer Hivju) unwanted advances by challenging him to fight. In an interview with Newsweek last month, Christie did say she doesn't think Brienne likes Tormund—sorry, shippers.
Game of Thrones airs Sundays at 9 p.m. on HBO.
For more Game of Thrones coverage on Newsweek, click here.