Gavin Newsom Fighting for His Seat with One Month Remaining Until California Recall
California Governor Gavin Newsom is fighting to keep his seat with one month remaining until voters decide whether to keep the Democrat in office for the remainder of his term or elect a new state leader.
California voters have already begun receiving sample ballots for the recall election, which is scheduled to take place on September 14. All California voters will receive mail-in ballots that pose two questions, the first asking if they want Newsom to be removed from office.
If more than 50 percent of voters cast their ballots in favor of recalling Newsom, the second question listing 46 candidates who qualified for the recall ballot will determine who becomes the next California governor, with the candidate who receives the greatest number of votes ascending to the office.
While Newsom's campaign has encouraged Democrats to ignore the second question on the recall ballot, state election officials have issued reminders to voters in recent days to let them know they can respond to both questions regardless of whether they want to retain Newsom.
Part of the confusion among voters heading into this special election is due to the fact that it's only the second gubernatorial recall election to take place in the state's history. The first resulted in Democrat Gray Davis' ouster in 2003. He was replaced by Republican Arnold Schwarzenegger, who appeared on the recall ballot alongside more than 100 other candidates and ultimately received more than 48 percent of the votes cast.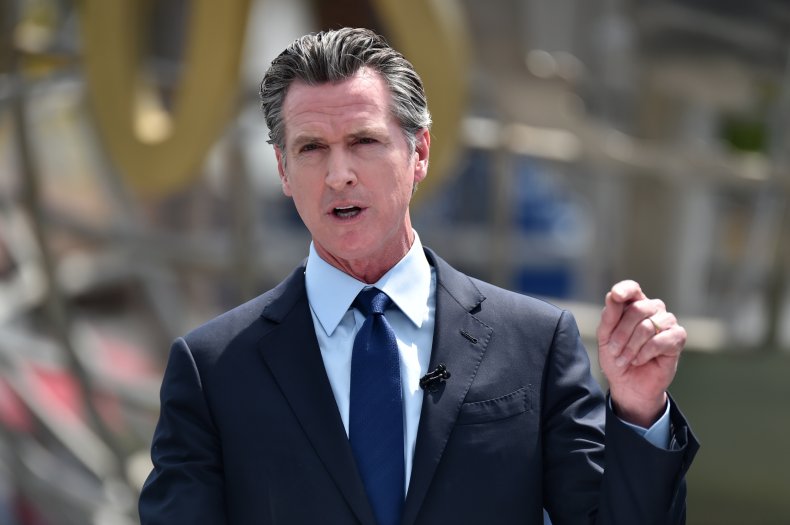 Earlier this year, Democratic strategists told Newsweek they thought it unlikely that Newsom would lose a recall challenge. While Newsom has like all other state leaders been tasked with navigating his administration through a global pandemic, a former adviser to Davis said the factors contributing to the 2003 recall were unique to Davis' experience in office.
But recall supporters have said that, while restrictions put in place to combat the spread of COVID-19 fueled their efforts to get the recall petition on the ballot, their objections to Newsom extend beyond the pandemic. Several of the Republican candidates running to replace Newsom have identified the state's homeless population, wildfire threats and ongoing drought conditions as among the other key issues in the fight to lead California.
Despite Democrats' early positivity regarding Newsom's chances of defeating a recall effort, the Recall Gavin Newsom petition spearheaded by lead proponent Orrin Heatlie succeeded in collecting the minimum number of signatures needed by its mid-March deadline to proceed. Five previous recall efforts targeting Newsom did not qualify for a ballot.
Polling numbers gauging voter support for a Newsom recall have also shifted in recent months. While polls conducted in January through early May found fewer than 40 percent of registered voters wanted Newsom removed from office, recent polls have indicated voter opinions on the recall are now more evenly divided.
A survey conducted last month by pollsters at the University of California Berkeley Institute of Governmental Studies found that 47 percent of voters likely to participate in the upcoming recall election said they wanted Newsom removed from office. The poll found half of likely voters said they would support Newsom in the recall, while 3 percent of respondents were undecided.
Recent polling by Emerson College has also found voters split on the question of whether to remove Newsom from office, with a mid-July poll finding 43 percent of respondents wanted him recalled and 48 percent wanted to keep him in office. A subsequent poll conducted by Emerson College in late July and early August found support for the recall effort among registered voters increased to 46 percent.
Of the 46 candidates vying to replace Newsom, those who have performed best in the polls conducted thus far are all Republicans. Conservative radio host Larry Elder has led recall contenders since he joined the race last month, with the most recent Emerson College poll finding him with 23 percent of voter support. John Cox, who lost the 2018 gubernatorial race to Newsom and is challenging the Democrat again in this recall election, has polled under 15 percent in recent surveys, as has former San Diego Mayor Kevin Faulconer.
State lawmaker Kevin Kiley, reality television personality Caitlyn Jenner and former congressman Doug Ose are also among the Republicans campaigning to replace Newsom and have primarily polled in single digits among surveyed voters.
Four of the recall candidates—Cox, Faulconer, Kiley and Ose—participated in a debate at the Richard Nixon Library and Museum in Yorba Linda earlier this month. Elder and Jenner were also invited to participate, but their campaigns said at the time they were unavailable to do so.
The governor's campaign declined an invitation for Newsom to participate in the first debate and has said he does not intend to attend others.
A second recall debate is scheduled to take place next week in San Francisco.
As the date of the recall election approaches, Democrats at the state and federal levels have encouraged voter participation to block what Newsom's campaign has described as a "Republican recall," a characterization that recall organizers have disputed. Massachusetts Senator Elizabeth Warren recorded a campaign ad for Newsom's team last month that said "Trump Republicans" were trying to "grab power in California" through the recall.
President Joe Biden also issued a statement earlier this week about the recall election in support of Newsom. In a Thursday evening tweet, Biden said Newsom was working to lead his state through "unprecedented crises."
"To keep him on the job, registered voters should vote no on the recall election by 9/14 and keep California moving forward," Biden said.
While Biden and the California Democratic Party are united behind Newsom, the state GOP decided last week it would not endorse any of the recall candidates running in the September 14 election. In an August 7 statement, California GOP Chairwoman Jessica Millan Patterson said the party's decision against announcing an endorsement "speaks to the strength of our field of candidates" as well as to "the outstanding position our party is in going into the recall election."
"We are squarely focused on putting California back on track by recalling the worst governor in California history," Patterson's statement said.