George Conway thanked Colorado voters on Sunday for electing Representative Lauren Boebert as she continues facing criticism over her behavior during a recent production of Beetlejuice.
Boebert, a staunch conservative, was escorted out of the Beetlejuice performance at the Buell Theatre in Denver last Sunday over her behavior during the show. CCTV video released appeared to show her vaping, taking photographs with flash photography and groping the man with whom she attended. Boebert has since apologized, with many of her critics continuing to accuse her of hypocrisy, as she has painted herself as a supporter of conservative "family values."
Conway, a former Republican who is a founding member of The Lincoln Project and who has been critical of so-called "MAGA Republicans" who have grown in power within the GOP in recent years, cheekily thanked the voters of Colorado's 3rd Congressional District, a vast district spanning the western part of the state, for reelecting her in last year's midterms in a post to social media platform X, formerly known as Twitter.
"This morning I'd like to thank the voters of Colorado's third congressional district for the fine entertainment they've provided us during the last few days," he wrote on Sunday.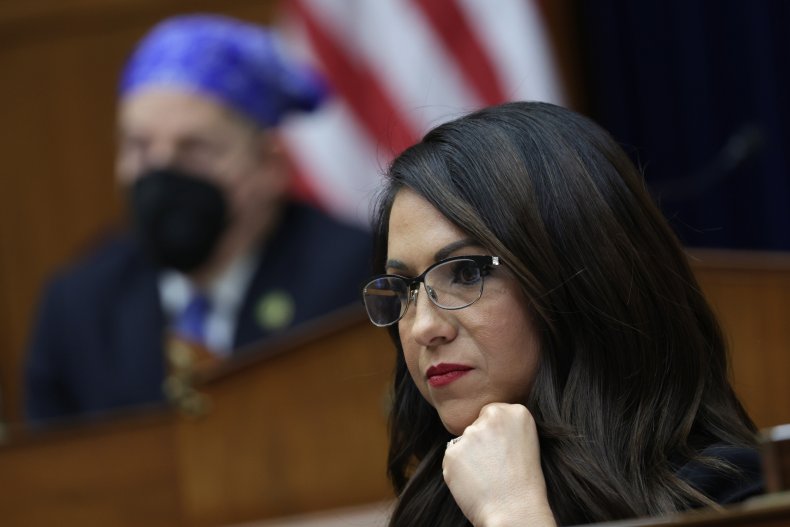 Boebert narrowly won reelection last November in one of the tightest congressional races across the country. She eked out a victory against Democrat Adam Frisch by only 546 votes, roughly 0.16 percentage points, despite the belief her race would not be particularly competitive.
Meanwhile, Conway continued to rip into the congresswoman in several other posts to X on Sunday.
"'Bimbo' is a word that ordinarily reeks of sexism and misogyny. But sometimes, it just fits," he wrote, an apparent reference to conservative pundit Ann Coulter calling Boebert an "embarrassing bimbo" on Saturday.
"Can't wait for Sen. Kennedy to hold a hearing to tell us how this happened," Conway wrote in a separate post. John Kennedy, a Louisiana Republican, went viral last week for reading an explicit passage from a book during a Senate hearing on Illinois' anti-book ban law.
Newsweek reached out to Boebert's office for comment via email.
Boebert has apologized for her behavior during the show after initially denying reports that she was vaping inside the venue, a violation of the theatre's rules, explaining that she forgot she was.
"The past few days have been difficult and humbling, and I'm truly sorry for the unwanted attention my Sunday evening in Denver has brought to the community. While none of my actions or words as a private citizen that night were intended to be malicious or meant to cause harm, the reality is they did and I regret that," she wrote.
Boebert Date's Bar Hosted Drag Show
Quinn Gallagher, the man Boebert attended Beetlejuice with, is the co-owner of Hooch Craft Cocktail Bar in Aspen, according to a report from The Advocate. That venue has hosted events in support of the LGBTQ+ community, including a women's party for Aspen Gay Ski Week and a "Winter Wonderland Burlesque & Drag Show."
Boebert has been a staunch opponent of LGBTQ+ rights in Congress. She has supported boycotts against companies that embraced LGBTQ+ Pride campaigns and promoted the narrative that members of the LGBTQ+ community are "groomers," a term critics say baselessly associates the community with pedophilia.
"How many times do we have to explain to the woke marketing departments at these disgusting companies that America is not a nation of degenerates? Let's make it as shameful to wear North Face as it is to drink Bud Light!" she wrote on social media following North Face's Pride campaign in May.