George Conway, Kellyanne's Husband, Blasts Trump Idea FBI Planted Evidence
Lawyer George Conway has hit out at former President Donald Trump and other GOP figures who are pushing unsubstantiated claims that the FBI may have planted evidence against the former president during a search of his Mar-a-Lago estate.
George Conway, husband of former White House counselor Kellyanne Conway and frequent Trump critic, took particular issue with South Carolina Senator Lindsey Graham, who recently nodded in agreement as Fox News host Jesse Watters suggested "we know they plant evidence, we know they hide evidence, we know they lie."
Speaking to CNN's Anderson Cooper on Wednesday, Conway suggested Graham, a member of the Senate Judiciary Committee, "knows better" than to spread conspiracy theories about federal law enforcement.
"He is a shameful, disgraceful, appalling coward," Conway said. "And he knows as well as anyone that it's ridiculous to assert that the FBI planted evidence here.
"It was just a remarkable display—even for him—of cowardice to just sit there and nod and say, 'oh, yeah, yeah, yeah, yeah,'" Conway added in reference to Graham's interview with Watters.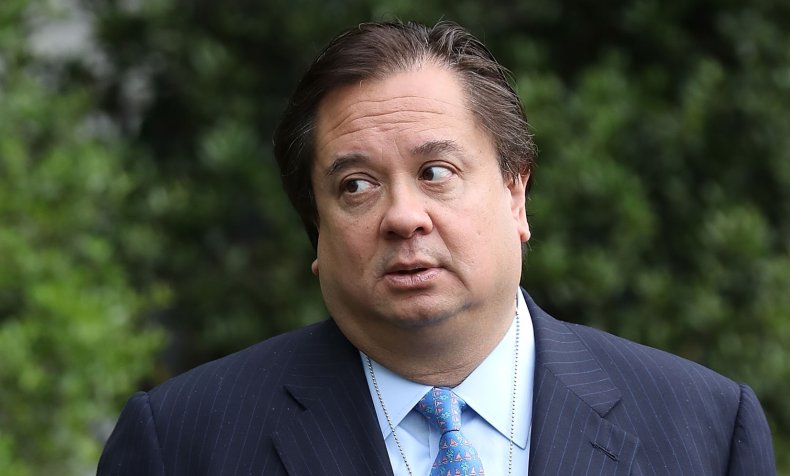 "He knows better, and they all know better. It's become fashionable in the Republican Party—it's disgraceful and appalling—to basically attack law enforcement when it is going after people they like, and to praise it when they go after people they don't like.
"That's not how the rule of law works. And Lindsey Graham knows that as well as anybody, but he's too cowardly to admit it in this case."
Graham has been contacted for comment.
The baseless accusation that the FBI may have planted evidence while searching Trump's Florida home for classified documents he allegedly removed from the White House was first pushed by the former president's lawyers.
On Tuesday, Trump attorney Alina Habba told Fox News that she was also "concerned" that FBI agents "may have planted something."
Fellow Trump attorney Christina Bobb, who was present at Mar-a-Lago during the search, told Real America's Voice that same evening: "At this point I don't necessarily think that they would even go to the extent of trying to plant information, I think they just make stuff up and come up with whatever they want."
The unsubstantiated speculation was spread further by Trump himself in a Truth Social post on Wednesday decrying how the FBI did not let his lawyers watch the raid as it was underway.
"Everyone was asked to leave the premises, they wanted to be left alone, without any witnesses to see what they were doing, taking or, hopefully not, 'planting,'" Trump wrote. "Why did they STRONGLY insist on having nobody watching them, everybody out?"
Georgia congresswoman Marjorie Taylor Greene and Kentucky Senator Rand Paul have also made similar statements on social media and in interviews echoing the baseless suggestion the FBI could have planted evidence against the former president.
Newsweek has contacted the FBI.