From George Floyd to Breonna Taylor, Remembering the Black People Killed By Police in 2020
The year 2020 will be a memorable one for numerous reasons—among them the national reckoning on race triggered by the death of George Floyd.
Video footage of Floyd's death on Memorial Day after being pinned with a knee to the neck by a white Minneapolis officer shocked the nation, galvanizing Black Lives Matter protests in places across the U.S. and abroad.
They served as a wake-up call for many about the reality of police brutality and racial injustice in America, prompting the shifting of funds from police departments in some cities to social services programs. Yet the demonstrations did little to stop Black people disproportionately dying at the hands of police officers.
According to Mapping Police Violence, officers have killed 1,066 people in 2020—more than 28 percent of them Black, despite Black people making up only 12 percent of the U.S. population.
Here, Newsweek looks back at some of the Black people whose names became rallying cries for protesters demanding justice for police killings:
Breonna Taylor
Taylor, a 26-year-old emergency medical technician, was fatally shot when Louisville police executed a no-knock warrant at her apartment in March. Police said they did knock and announced themselves before knocking down the door with a battering ram.
Taylor's boyfriend, Kenneth Walker, believing intruders were breaking in, fired his gun once, striking an officer in the leg. Officers returned fire, killing Taylor.
A grand jury later decided not to charge any of the officers involved in the raid for Taylor's killing. Instead, one officer was charged for shooting into a neighboring home.
Daniel Prude
Daniel Prude died in March, days after police officers in Rochester, New York placed a hood over his head and pressed his face into the ground for two minutes.
But the details of Prude's encounter were not known until police body camera footage was released almost six months later, triggering protests and calls for police reform.
Prude's family has filed a civil lawsuit against the city of Rochester and members of the police department involved with Prude's death, alleging a cover-up by city officials and members of the police force.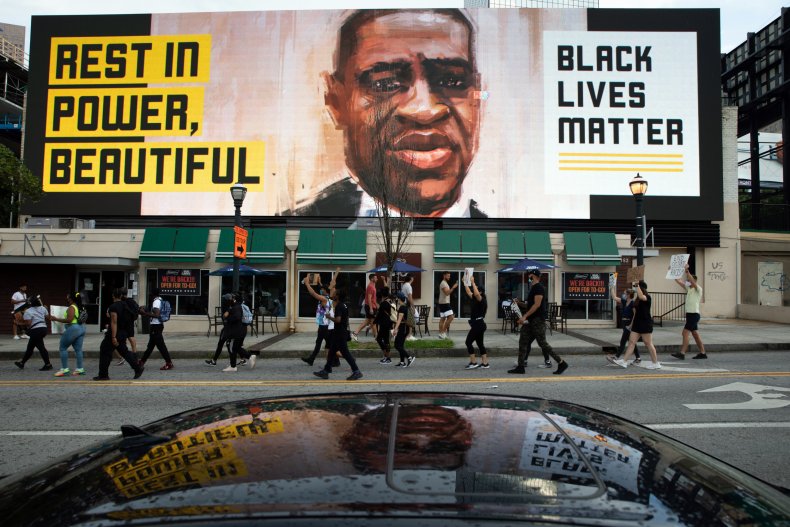 George Floyd
Floyd died on May 25 after a white Minneapolis officer kneeled on his neck for almost nine minutes while he gasped for air.
The officer, Derek Chauvin, has been charged with murder and manslaughter and also faces a lawsuit from Floyd's family. Three other officers involved in Floyd's killing have also been charged.
His death set off nationwide protests and discussions about policing in the U.S.
Rayshard Brooks
Brooks, 27, was fatally shot by a police officer in the parking lot of a Wendy's restaurant in Atlanta, Georgia as the nation was still reeling from the unrest triggered by Floyd's killing.
Body camera footage showed Brooks and officers having a calm conversation for more than 40 minutes in the early hours of June 12, but the situation turned violent when officers tried to handcuff Brooks and he resisted.
After a struggle, Brooks grabbed one of their stun guns and fired it in their direction as he ran through the parking lot. An autopsy revealed he had been shot twice in the back.
Garrett Rolfe was charged with felony murder and other offenses, while the other officer, Devin Brosnan, was charged with aggravated assault and violation of his oath.
Dijon Kizzee
Kizzee was killed August 31 in Los Angeles after sheriff's deputies tried to stop him for riding a bicycle in the wrong direction.
Two deputies told investigators they fatally shot Kizzee after he picked up a handgun he'd dropped during a struggle with one of them.
At a news conference, civil rights attorney Benjamin Crump said Kizzee wasn't holding a gun and didn't pose a threat when the deputies opened fire.
Walter Wallace Jr.
Wallace Jr., a 27-year-old, was fatally shot by two Philadelphia police officers on the afternoon of October 26.
The shooting took place after two officers responded to a residence to reports of a man with a knife. A spokesman for the Philadelphia Police Department said officers opened fire after ordering Wallace to drop the knife and that he had "advanced toward the officers."
The fatal shooting sparked protests and looting in the city days before the 2020 presidential election.
Jonathan Price
Price was fatally shot by a police officer after trying to break up a fight at a gas station in Wolfe City, Texas, on October 3, according to his family and friends.
Shaun Lucas, the white officer who shot 31-year-old Price, has been charged with murder after investigators determined his actions that night were not "objectionably reasonable."
Casey Goodson Jr.
Goodson was shot and killed by an Ohio sheriff's deputy on December 4.
Authorities claimed he was waving a gun from his car in Northeast Columbus, but his family has insisted he was shot while returning home from a dentist appointment carrying a sandwich.
Andre Hill
Hill, an unarmed Black man, was shot dead by a police officer in Columbus, Ohio, on December 22. The officer, Adam Coy, was fired on Monday and remains under investigation.
Body camera footage showed Coy fatally shooting 47-year-old Hill and failing to administer first aid for several minutes.
Columbus Mayor Andrew Ginther condemned both killings on Twitter, writing on December 22: "This morning we learned of the killing of another Black man at the hands of law enforcement. Our community is still raw and exhausted from the killings of George Floyd, f and, most recently, Casey Goodson, Jr., right here in Columbus."