Georgia Man Arrested in Pro-Trump Capitol Riot Dies by Suicide
Christopher Stanton Georgia, a man from the state of Georgia who was recently arrested for participating in last Wednesday's insurrection at the U.S. Capitol, died on Saturday by suicide after a self-inflicted gunshot wound to the chest.
Georgia had been charged with "entering certain property, that is, the United States Capitol Grounds, against the will of the United States Capitol Police" past the set Washington D.C. curfew of 6 p.m. local time. He was arrested with three other men in his group.
Georgia was just one of 70 of the arrestees who have been charged for their role in last Wednesday's riot when supporters of Donald Trump raided the Capitol to overturn the results of the November 2020 presidential election. Acting U.S. Attorney Michael Sherwin has promised "hundreds" more arrests are forthcoming.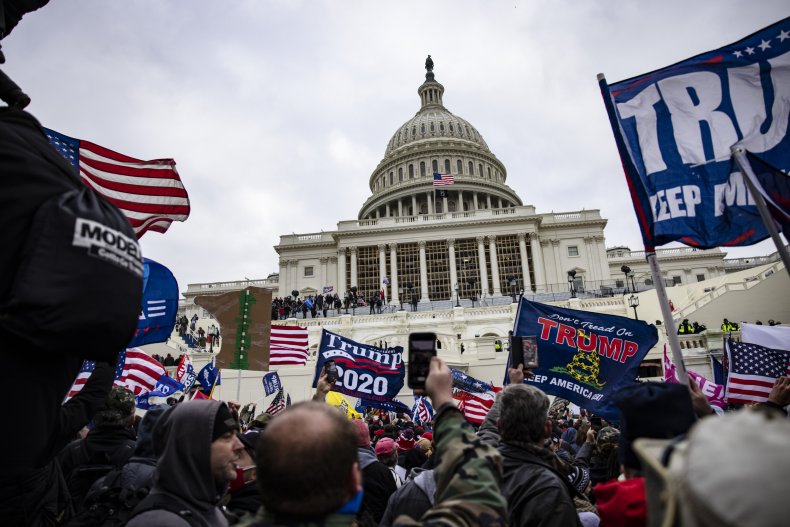 An internal document issued by an FBI office in Virginia the day before the insurrection warned that rioters in Washington D.C. were prepared to commit violent acts on the day Congress certified President-elect Joe Biden's victory.
One such call, posted on social media and shared in the FBI report, told Trump-supporters, "Be ready to fight. Congress needs to hear glass breaking, doors being kicked in, and blood from their BLM and Pantifa slave soldiers being spilled. Get violent. Stop calling this a march, or rally, or a protest. Go there ready for war. We get our President or we die. NOTHING else will achieve this goal.'"
However, while speaking to reporters on Friday, Steven D'Antuono, head of the FBI's Washington field office, said that "there was no indication" of violence set to occur on January 6.
Other recent arrests include Louis Capriotti, a 45-year-old man from Chicago arrested on Tuesday for threatening to "kill" any Democrat that stepped on the lawn of the White House; William Arthur Leary, a conspiracy theorist and New York construction company owner arrested for violence at the Capitol; Adam Johnson, a 36-year-old Florida man who stole the House Speaker's lectern, is facing charges of theft of government property and violent entry and disorderly conduct on Capitol grounds; and Aaron Mostofsky, a pelt-wearing son of a Brooklyn Supreme Court judge, was arrested by the FBI's New York office Monday.
Two officers with the Capitol Police force have also been terminated and as many as 15 are under investigation for their roles in potentially facilitating the insurrection at the Capitol, according to USA Today.
If you have thoughts of suicide, confidential help is available for free at the National Suicide Prevention Lifeline. Call 1-800-273-8255. The line is available 24 hours every day.