Girl, 10, Hit With Murder Charge in Fatal Shooting of Neighbor
A 10-year-old girl in Florida is facing murder charges after shooting a woman that was fighting with her mother.
Orlando Police arrested the girl, whose name has not been disclosed to the public, was arrested on Tuesday for an incident that took place on May 30. She is currently charged with second-degree murder, according to WESH News. This comes as the nation is calling for tighter gun control.
The incident began at the Jernigan Gardens Apartments at about 11:49 p.m. local time near the 1400 block of Mercy Drive. The 10-year-old's mother, Lakrisha S. Isaac, 31, was getting into an altercation with another woman, Lashun Denise Rodgers, 41, in the complex's courtyard, the department told Newsweek.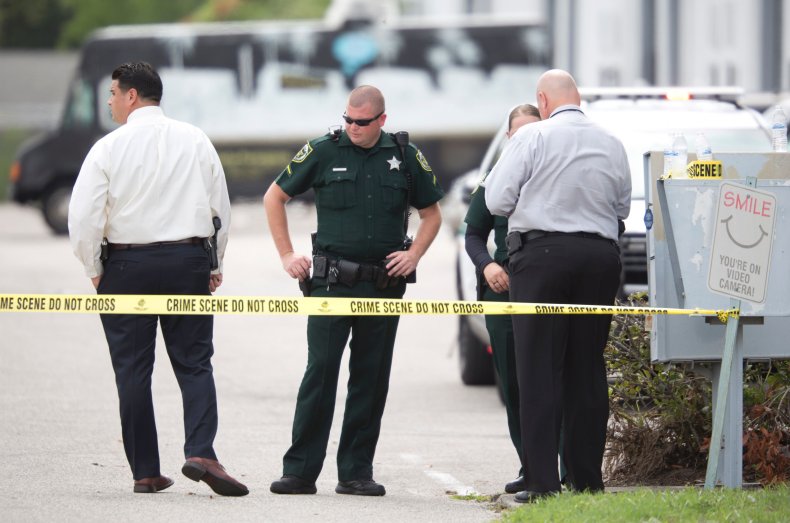 Memorial Day Barbeque Gone Wrong
Witnesses told police that Isaac had punched Rodgers at a Memorial Day barbeque being held at the complex, prompting Rodgers to hit back. As the fight progressed, Isaac reportedly handed her bag to her daughter, who witnesses say then began "rummaging through the backpack," according to WESH. The girl produced a firearm from the bag and witnesses reported hearing a gunshot.
Lushun fell to the ground and appeared to have been shot in the head by the young girl, who was heard shouting, "You shouldn't have messed with my mother!"
Both mother and daughter were taken into police custody, though only Isaacs was initially charged. She faces counts of child neglect, aggravated assault with a firearm, not properly storing a firearm, and manslaughter by culpable negligence, the Orlando Police previously told Newsweek. The girl was put into DCF custody.
"The juvenile suspect (10 yr old) was arrested without incident on Tuesday, June 7, 2022 and charged with Second Degree Murder," the department told Newsweek. "The juvenile is now in custody at the Juvenile Justice Center."
The Orlando Police previously told Newsweek that potential charges for the daughter had been referred to the State Attorney's Office for review. Newsweek reached out to the State Attorney for comment about how the decision was reached.
"So sad she lost her life in such a senseless situation," Stacey Johnson, a friend of Rodgers, told WFTV News about the situation. "I know I'll never be right."
Another friend of Rodgers', Amber Dozier, also spoke with WFTV and described her friend as a positive force in the community.
"The situation itself is not—it's not right," Dozier said. "She lifted the whole community. This community would not be the same without her."
Numerous stories of accidental shootings or shootings involving children with poorly secured guns have emerged across the U.S. in recent weeks.
On Sunday night, a 15-year-old girl in Chesterfield County, South Carolina, accidentally shot and killed her boyfriend while the two were playing around with a handgun.
The girl now faces a charge of involuntary manslaughter and more charges could be leveled against others, pending an investigation of who owned the gun and how it was stored.
And a man is dead in central Florida after his 2-year-old child shot him with a gun that police said was "easily accessible" and not adequately secured, according to authorities.