Giuliani Says Trump Would Have Needed to Threaten to Kidnap Kids or Break Legs to Obstruct Justice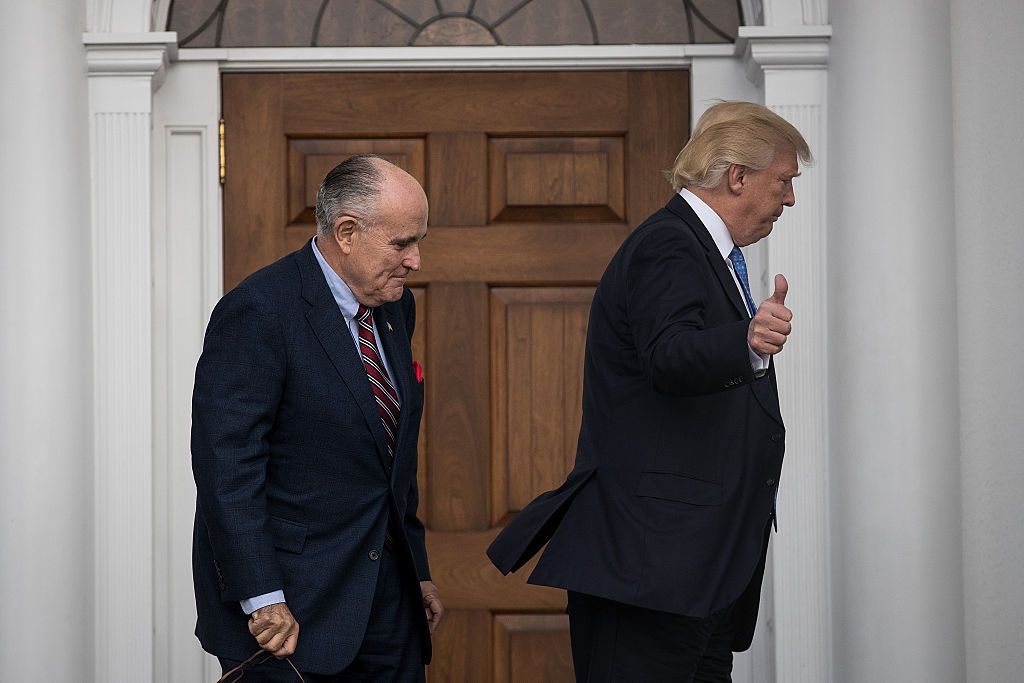 President Donald Trump's lawyer Rudy Giuliani has insisted once again that his client has not obstructed justice, arguing that he would need to do something like threatening to break someone's legs or kidnap their children in order to be found guilty of such a charge.
Appearing Sunday on NBC News' Meet the Press with Chuck Todd, the former New York mayor took issue with the wording that Trump's attorney general nominee William Barr used when he describe what would constitute obstruction of justice. Barr said during his testimony before the Senate Judiciary Committee this past week that the president telling someone to permit perjury would be obstruction of justice.
"I don't phrase it quite that way, that he can obstruct justice," Giuliani said. "A president firing somebody who works for him, if he does no other corrupt act other than just fire him, it can't obstruct justice because that's what article 2 of the Constitution gives to him solely." Trump's lawyer appeared to be referring to the controversial firing of former FBI director James Comey.
Trying to explain his point, Giuliani then said: "if, for example, a president said, leave office or I'm going to, you know, have your kids kidnapped or I'm going to break your legs [it would be obstruction]." He then added: "I prosecute a lot of obstruction cases."
Giving another example, Giuliani then pointed to the case involving Trump's former national security adviser Mike Flynn. "When the president said, 'Please go easy on Flynn,' I know of no obstruction case that begins with the word please. It goes something like this, 'If you don't go easy on Flynn, I'll break your kneecaps," the lawyer said.
The bizarre explanation comes as accusations that Trump obstructed justice have increased after a BuzzFeed news report published on Thursday alleged that two sources from the investigative team of Robert Mueller said that Trump had directed his former lawyer Michael Cohen to lie to Congress about an ongoing Trump Tower Moscow project. A spokesperson for Mueller's team released a rare statement, saying the report was "not accurate."
But on Sunday, Anthony Cormier, one of the BuzzFeed reporters who wrote the article, insisted that his sources were correct. "I have further confirmation that this is right. We are being told to stand our ground," he said on CNN's Reliable Sources . If true, analysts have pointed out the allegations would be very similar to the actions that led to the resignation of President Richard Nixon and the impeachment of President Clinton.
Giuliani, however, insisted on Meet the Press that Trump had definitely not obstructed justice, saying he was "100 percent certain of that."
"To answer your question, categorically I can tell you his counsel to Michael Cohen throughout that entire period was 'tell the truth,'" he said.
Trump himself responded to the BuzzFeed report in a Friday tweet, concluding: "Fake News is truly the ENEMY OF THE PEOPLE!"