Gloria Steinem Says White Replacement Fears at Heart of Abortion Bans
Gloria Steinem joined a number of celebrities speaking out about the Supreme Court's overturning Roe v. Wade last week, saying that she believes that the white replacement conspiracy theory influenced the decision.
Sitting down for an interview in Vogue with Meghan Markle about the repeal of the landmark 1973 case that guaranteed abortion rights, the women discussed Illinois Representative Mary Miller, who thanked former President Donald Trump in a speech for "the historic victory for white life in the Supreme Court."
Miller's campaign stated that the freshman congresswoman had meant to say "right to life" in her speech but the language she actually used "does track with a strain of thought in the antiabortion movement that's about race and demographics," Markle said.
Steinem referenced what is often referred to as "The Great Replacement Theory" and said that there is a "proportion of this country that is well aware that the first generation of babies who are majority babies of color has already been born."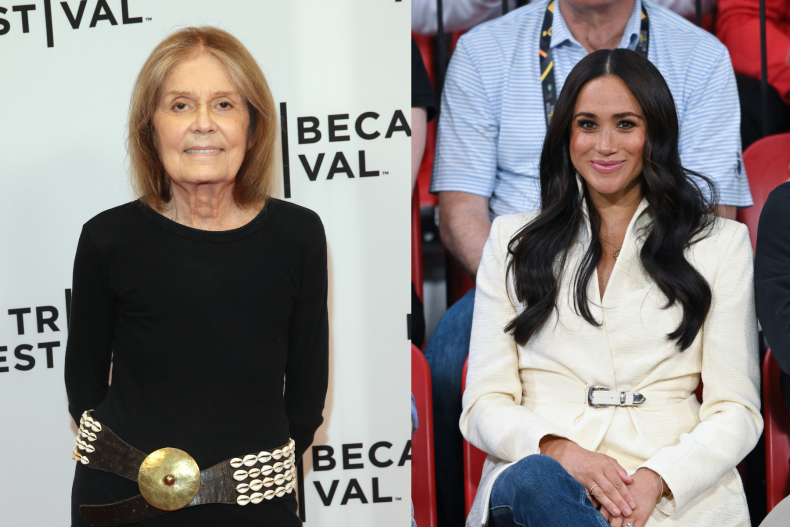 "And that means that the country could and would become a country where people of color are the majority," she continued. "Then we'll look more like the rest of the world. But if you're a white racist, it's obviously frightening. So the same forces that were in favor of the forced sterilization of women of color on welfare are now frequently against abortion."
Believers of "The Great Replacement Theory" believe a conspiracy is underway to replace white Americans with immigrants and people of color. The so-called replacement theory has inspired recent violence, including the 2019 mosque shootings in Christchurch, New Zealand, and the 2018 shooting at a synagogue in Pittsburgh.
Ideas from the conspiracy theory reportedly filled a manifesto apparently posted online by Payton Gendron, the white 18-year-old who authorities identified as the gunman who targeted Black people in May's rampage at a supermarket in Buffalo.
Once a fringe conspiracy theory pushed by white supremacists, the replacement theory has found its way into the mainstream and has been promoted by some conservative politicians and commentators, including Fox News' Tucker Carlson.
Elsewhere in the interview, Markle said that women's physical safety is being "put in danger" by the Supreme Court's decision to overturn Roe v. Wade and discussed how her miscarriage influenced her views.
"I think about how fortunate I felt to be able to have both of my children. I know what it feels like to have a connection to what is growing inside of your body," Meghan said.
"What happens with our bodies is so deeply personal, which can also lead to silence and stigma, even though so many of us deal with personal health crises. I know what miscarrying feels like, which I've talked about publicly.
"The more that we normalize conversation about the things that affect our lives and bodies, the more people are going to understand how necessary it is to have protections in place."
She added: "Nobody should be forced to make a decision they do not want to make, or is unsafe, or puts their own life in jeopardy."