'The Goldbergs' Fans Split Over What the Show Should Do About Jeff Garlin
Jeff Garlin and The Goldbergs are back in the headlines, three months after the Curb Your Enthusiasm actor left the show following a human resources investigation into his on-set behavior.
The ABC sitcom has dealt with the actor's departure by using body doubles with Garlin's face superimposed on them – a workaround that has had some fans complaining about the uncanny effect of the CGI.
Goldbergs' star Wendi McLendon-Covey reacted to one journalist's complaints by tweeting: "This season threw us for a loop because a.) it's hard to incorporate someone who doesn't want to be there and wants to leave mid-scene, and b.) we werent about to re-write the 2nd half of the season. We're doing our best."
This comment (the first public one from a member of the ABC comedy's cast), however, has not stopped fans from arguing about exactly what the show should do about Garlin's character Murray – or whether the network should just cancel the long-running comedy outright.
One camp on Twitter is advocating for the character to be recast. An example tweet from this camp reads: "They really need to recast Jeff Garlin. It would be less jarring than what they are currently doing (which apparently involves more CG than a Marvel movie). The Bev-olution deserves better and we'll adjust." Another wrote: "Just a suggestion. Completely replace Garlin. New actor, like Bewitched, Fresh Prince, Roseanne, etc. Make a meta reference or two. Or not. The show is so well written, you can find a way."
As that tweet suggests, the show would be far from the only sitcom to recast a lead character – the most famous examples being the recasting of Aunt Viv on The Fresh Prince of Bel-Air and of Becky Conner in Roseanne.
(Roseanne also suggests another route The Goldbergs could take that we will get to.)
It would not even be the first time that the show has recast a role. The role of Adam's (Sean Giambrone) girlfriend Jackie was played by Rowan Blanchard in Season 4 and Alexis G. Zall in Season 6, while the role of Ren moved from Kelli Berglund to Carrie Wampler.
Others want the show to just draw a line under the whole thing by killing off Murray. One fan tweeted: "I hope #TheGoldbergs gets renewed for one more season. Perhaps a recast or an off screen death of the Murray character can be written into the show. Other shows have survived departures of key cast members so I don't see any reason why this one can't."
The most famous recent example of this was when Roseanne's title character was killed off following a controversy, with the show rebranding itself as The Conners. The Goldbergs also previously had to kill off Pops following the death of the actor who played him, George Segal.
As McLendon-Covey's comment hints, these two options are likely to be discussed for Season 10 if the show gets one, but were not put into practice for Season 9 to prevent the writers having to rewrite the entire series. There is also the issue of Garlin's contract, which could prevent certain options.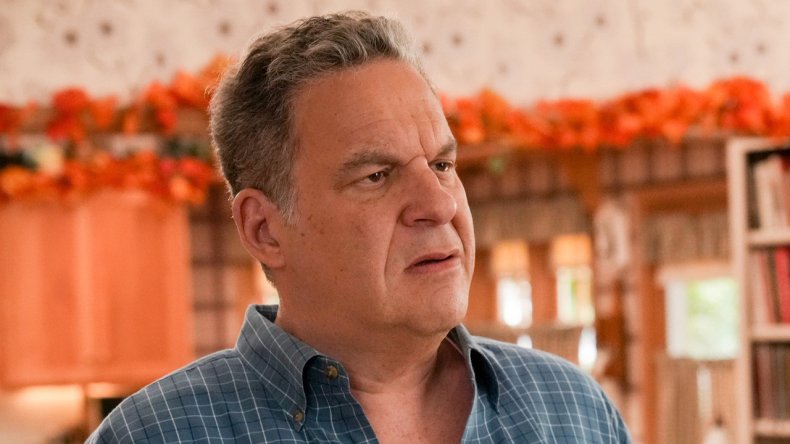 Former fans, meanwhile, have been arguing that Garlin's exit is a sign that the show should come to an end. Sharing a story about how the show was dealing with Garlin leaving, one viewer tweeted: "I hate to say this but just go ahead and cancel the series. It's no longer the '80s. Adam is about to graduate and due to his age he would have graduated in 1993 or 1994."
Another tweeted: "I watched the latest episode of #TheGoldbergs and boy, that editing in old footage of Jeff Garlin to make his character Murray still part of the show was painfully obvious and awkward. Yikes. I still enjoy the show, but I'm thinking it's best to let this one end this season."
The cast and crew of The Goldbergs, a semi-autobiographical comedy based on the childhood of series creator Adam F. Goldberg, were told that Garlin had departed by mutual agreement with Sony Pictures Television, The Hollywood Reporter and Deadline reported last December.
A few weeks earlier, Vanity Fair had published an investigation into Garlin's alleged verbal and physical conduct on the set of the show, which was reported to have made staffers uncomfortable.
Confirming he had been investigated by HR, Garlin told Vanity Fair's Maureen Ryan then: "It's always the same thing. It's about me and my silliness on set. They don't think it's appropriate. I do. That's where we're at. I've not been fired because of it. We just think differently."
So far, ABC has not announced whether there will be another season of the sitcom. However, a cancellation seems unlikely, with the show still delivering the network solid ratings.
Another unlikely option is being advocated by some fans. One Goldbergs watcher recently tweeted: "​​Murray is at a...wait for it...'furniture convention.' God, @TheGoldbergsABC, can y'all please just let bygones be bygones and bring Jeff Garlin back to finish this thing out?"
Garlin's actions since leaving the show may have burned his bridges to return to the series. In November 2021, Variety reported on a Garlin standup set that they said, "revolved largely around how much he hated The Goldbergs."
The Goldbergs Season 9 airs Wednesdays at 8 p.m. ET on ABC.